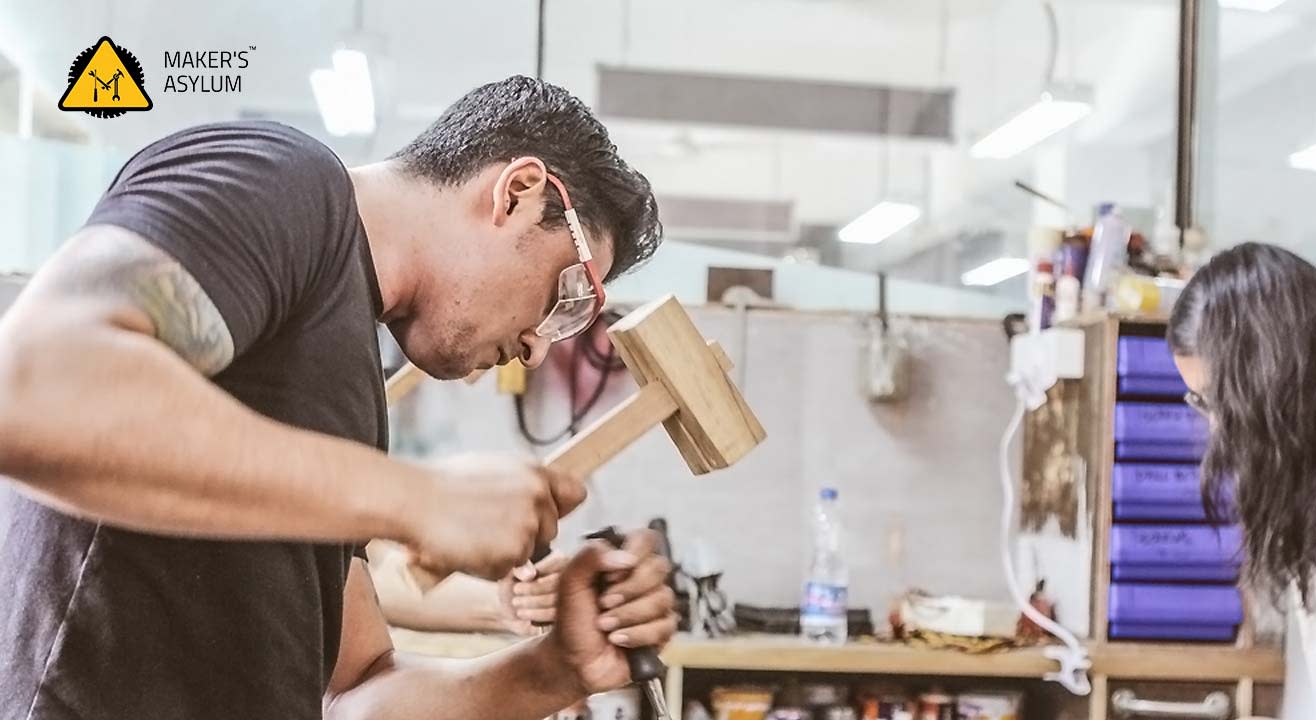 Learn
Wood Working Workshop For the Beginners
About
Maker's Asylum unveils the mystery that is wood working and how you can use it to shape the world around you and populate your space with items that are truly you.


Working wood is one of the oldest skills in the world and one that brings you closest to the complexities of nature. Along with stone and mud, it is the first material to be used by early man. Wood is very versatile. You could carve it into a sculpture or make it into a table.
It is strong enough to hold up a roof and yet can be light enough to fly. It can be cut into beautifully figured grain or made into bland unsightly ply.
In spite of your busy lives, you can still make time for small jobs around the house where one must apply one's own skill. A few basic wood-working tools and a few clamps is all one needs to be able to make a jewelry cabinet for the wife or a cool custom pencil box for the son or even a laptop table for the husband. One must not only learn carpentry but, must also know what the local timber shop sells, what is BT saag and CP saag and a host of other mysterious terms!
2 weekends, each day will have 2 hours of instruction concentrating on how to complete a particular portion of the build, followed by "hands on time" where participants will work on their pieces with the instructor.

DAY 1 (17 th March: Introduction and cutting wood to size.
DAY 2: (18 th March) Joinery, dry fitting and final assembly
DAY 3: (24 th March) Polish and finish.
DAY 4: (25 th March) Spillover.
In this class you will learn about wood and its make up. About grain orientation and strength. You will learn the ways in which 2 pieces of wood can be joined and the strengths and weaknesses of a number of common joints. Together, you will build a small bed tray/laptop table.

Along the way, you will use each of the joints. Participants will work with the saw, chisel, hammer and more to immediately practice what is being taught. Finally, you will apply the first coat of varnish to the piece. It is the aim of the course to make sure that each participant has acquired expertise in basic joinery, as well as the confidence that most woodworking projects are now within reach.

Prerequisites: Enthusiasm
Materials Provided: Timber, wood working tools, plans.
What to bring: Notebook, if you wish to take notes.
Viren Vaz can best be described as a software professional by day and a tinkerer by night. For the last 7 years, he is a living proof that even a small home in Mumbai can turn into a wood-working workshop. Working from 10 PM to midnight, he has, over the years, turned out items of furniture ranging from a small shoe rack to a large 7×6 foot bed. He also makes wood puzzles and miniature furniture and is obsessed with designs that do not need metal fasteners. In addition to working wood, Viren can also repair a leaky tap, replace a switchboard and bake a cake. He hopes to add pottery and working leather to the list.
About the Organizer & Venue
Maker's Asylum is a community MakerSpace based in Mumbai and Delhi, that allows collaborative ideation. It brings together interdisciplinary activities covering Science, Technology, Engineering, Art and Math (STEAM) to foster a culture of innovation, exploration and learning.
Venue
Maker's Asylum, Mumbai
D-11/1, Road No. 21, Opposite Passport Seva Kendra, MIDC, Marol Industrial Area, Andheri East, Mumbai, Maharashtra 400093