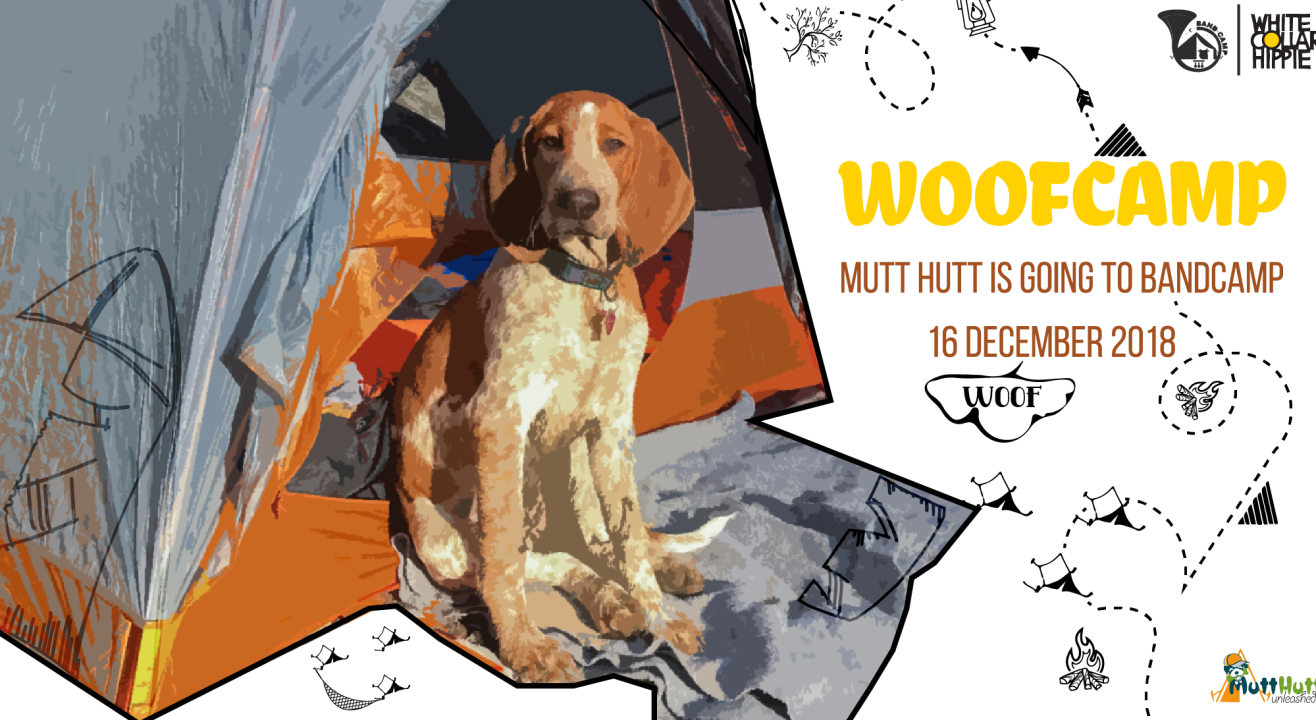 Camping
WoofCamp: Mutt Hutt at BandCamp
BandCamp, White Collar Hippie Camping Ground
2500 - 3000 (per person / per pet)
About
Come wag your tail & wiggle your ears as Mutt Hutt invites you to the first ever Pet camp at BandCamp!
A Sunday dedicated to pets & their hoomans, enjoying music, drinking, playing games, interacting with pet professionals, & camping under the stars, celebrating this amazing Human-Pet bond as Mutt Hutt comes to BandCamp.
There will also be bonfires, a sundown barbeque, a village sunset walk, and some great food! The campsite has large grounds and they've added hammocks, books, and games to ensure that there is something for everyone.

About Mutt Hutt
This city offers us very few reasons to just hang out with our furry companions. So, while we work towards creating an ideal Hutt for you & your Mutt, we endeavour to make Mumbai a little more pet-friendly, one space at a time.
Introducing newer ways for pet parents to socialize with their dogs, while being socially responsible, is what our team of K9 professionals is all about. And we can't wait to pamper all the doggos joining us at BandCamp to have a howling good time!
About the site:
A stone's throw away from the city (clock says 60 mins!), BANDCAMP is located off Gorai beach. The layout is such that you can enjoy nature and have your privacy even though it's a bustling campsite. Expect tents, sleeping bags and camping goodies, unwind in the main area or walk around the fishing village down to the sea anytime.
Since Uttan is a coastal town (home to the Koli community), meals are freshly made by locals.
Movie: A Fish called Wanda
Wanda, a con artist, tries to double-cross her lover and the two members of the gang with whom she conducts a diamond heist. Her plan goes awry when she falls in love.
Stay
1 spacious tent to be shared by two campers & your pet(s)
Foam mattress
1 sleeping bag & 1 pillow per person
1 solar lamp per tent
White Collar Hippie & Mutt Hutt Goodie bags
Meals
Afternoon & Evening: tea, coffee, heavy snacks
A super barbeque (veg, non-veg & Jain options)
Elaborate dinner (veg, non-veg & Jain options)
Hearty breakfast
Chips, biscuits and other munchies all day
Other Things
Band performance and/or movie screening.
Clean and well-functional loos and showers.
House full of board games, books, etc for entertainment.
Beautiful walks, conversations and memories.
Bonfire, which you can also help build.
White Collar Hippie's curated stash of music
For your pet
Doggie Pool & Sprinklers
Backyard activities
Agility course
Pet Photography
Tips & Treats by K9 professionals
Doggie dinner & breakfast (Boiled - chicken, eggs, vegetables, rice)
Travel to the campsite and back
Alcohol and aerated drinks purchased at the bar. (Outside alcohol not allowed)
Any purchase/extra cost you incur
Any extra meals
Boat ride/swimming pool charges
Personal toiletries and medicines (including your pet's medication, if any)
A shawl or a jacket to keep you warm (full sleeves to ward away the mosquitoes!
A bed sheet if required
Any munchies or snacks you might want to nibble on
A camper attitude
Your pet's food, incase of dietary preferences
Towel for your pet during water activities

Car
You can drive down to the campsite and put the location as: U-Tan Sea Resort.

Cab
A cab from anywhere in Mumbai will typically cost you ₹ 400-1000 and will get you right to the campsite. Best options: Uber, Ola, Meru. Drop Location: U-Tan Sea Resort.

Train
Take a train to Bhayander, get out on the west side and then a rickshaw (₹ 180) to U-Tan Sea Resort, Chowk, Uttan. Or stake a sharing rickshaw to Uttan Market (₹ 25 per seat) and then another rickshaw to U-Tan Sea Resort (₹ 10 per seat). The campsite is right behind the resort. You can take the Bus No. 1, which will be your cheapest option.

Ferry
From Borivali, take a ferry from Gorai Creek which will get you to Gorai Village. Hire a rickshaw directly to the resort or take a bus to Uttan and thereafter, Bus No. 1 to the resort.

5 days or more prior – 50% of the ticket price to be refunded
2 - 4 days prior - 50% of the ticket price to be refunded
Less than 2 days prior - NIL
Please write a mail at bandcamp@whitecollarhippie.com or help@insider.in

• All Dogs are welcome & must be accompanied with their Pet Parents.
• Dogs must stay on a leash at all times during their visit.
• Dogs that are in heat or sick are not allowed.
• Dogs attending must be vaccinated & free of internal & external parasites (fleas/ticks & intestinal/tape worms).
• Dogs will not be allowed to cause nuisance (biting/injuring, excessive barking, damaging of private property) & the respective Pet Parents will be liable for their actions.
• Pet Parents are required to pick up after their Dogs & dispose of the poop in a suitable, sanitary manner.
• Pet Parents are solely liable for the safety & security of their Dogs. The 'Mutt Hutt' Team & 'BandCamp' Team are not liable for any injury/mishap to humans &/or dogs.
• Rights of admission are reserved by the 'Mutt Hutt' Team & 'BandCamp' Team.
• Any Person bringing a dog(s) into 'Mutt Hutt'- Unleashed & 'BandCamp' event, assumes the legal responsibility, jointly & severally, with the owner of the dog(s), for any damage, disease, disappearance, theft, or injury to person(s), other dog(s), or property, or otherwise caused by the dog, other dog(s) or person(s).
• All persons using this space, by entering it, agree to indemnify the 'Mutt Hutt' team & 'BandCamp' team & do not hold the 'Mutt Hutt' team & 'BandCamp' team liable of any harm resulting from the use of this space/service.
• Any photos taken by The Mutt Hutt Team or BandCamp Team Representatives may be used in future for promotion of the event.
For any pet specific queries please contact: +91- 9930122310 / +91- 9820029579 or mail us at mutthuttcafe@gmail.com