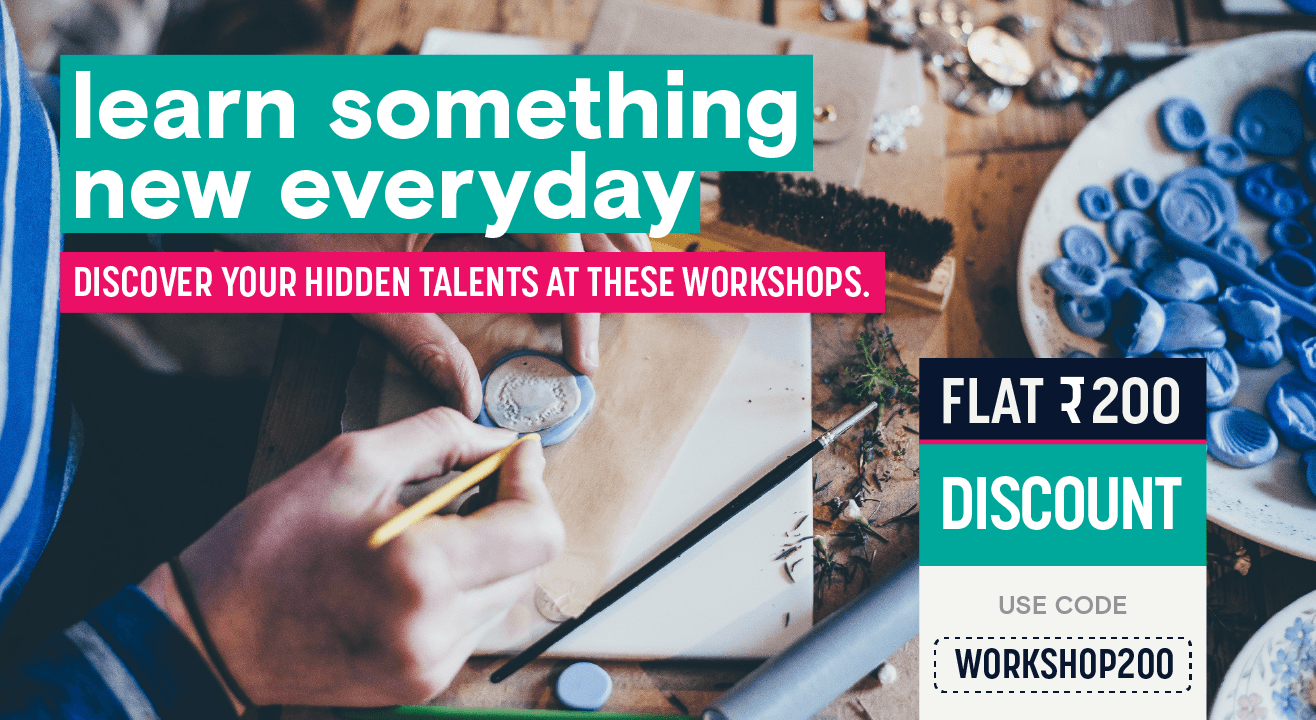 Workshops
Get ahead of Sharmaji ka beta at these workshops in Delhi NCR!
Check out workshops in and around the Capital City where you can find some hacks and own your learning.
Unlearn the older stuff and explore what truly fascinates you at these workshops in Delhi! Check out workshops for every kind of student, young and old, space admirals and space cadets, Jedi masters and Jedis in training, wizards and Muggles - okay, maybe not Muggles. And maybe not Sharmaji ka beta either.
What kind of workshops can I find?
Arts and Humanities

Whether you want to learn painting, click away with your DSLR or dance till you run out of breath, there are workshops for everything and everyone! Discover the joy of using colours with knife painting at these painting workshops, or choose from many more art workshops - like sketching what you see in a unique city walk at Lodhi Garden. Get shufflin' at Breezer Vivid Shuffle dance workshop or learn acting through an eight-week theatre workshop. If you are more interested in capturing some beautiful moments, you can enrol in the photography workshop, but if writing is your passion, attend AIB's screenwriting workshop.
Lifestyle
From urban farming to reiki healing, step towards learning something interesting. Learn to earn and sell on Amazon! Get introduced to sign language and more such learning workshops. If you're a parent and have doubts on how to talk to your children about sex education and more important things, browse through these health workshops. It's even got one where you can learn an ancient Japanese technique for body and mind healing.
Food: Treat yourself to something new!
Do you love art and design? And also, have a passion for baking and creating high-quality pastries? Well, this cake decorating diploma workshop is for you. If you're just a good-old-coffee-lover, here's a one-of-a-kind coffee workshop for you to learn brewing techniques.
Self-Improvement: Time to focus on your own skills!
Change your life and others using public speaking across issues in this self-improvement workshop.

Where do these workshops usually happen?

Featuring lessons at venues across Delhi NCR such as Studio Pepperfry, 91springboard, CCDS and many more, here's where you can find an enthusiasm to learn about everything there is in mentors and peers alike. Quite often, these venues hold events with other creatives as well, so you might meet folks who've made a career in the same field! What you can definitely expect is to find all kinds of ideas that'll make you see things from new perspectives (*cue a mindblown GIF*).
Don't see your city listed here? No problem. Just select your city on Insider.in, and hover over the 'events' tab to find out if there are any workshops in your city.
Subscribe to receive our newsletter!
Find the best experiences happening out there in your city or enjoy handpicked content while sitting comfortably at home. Paytm Insider is your go-to place to figure out what to do today!