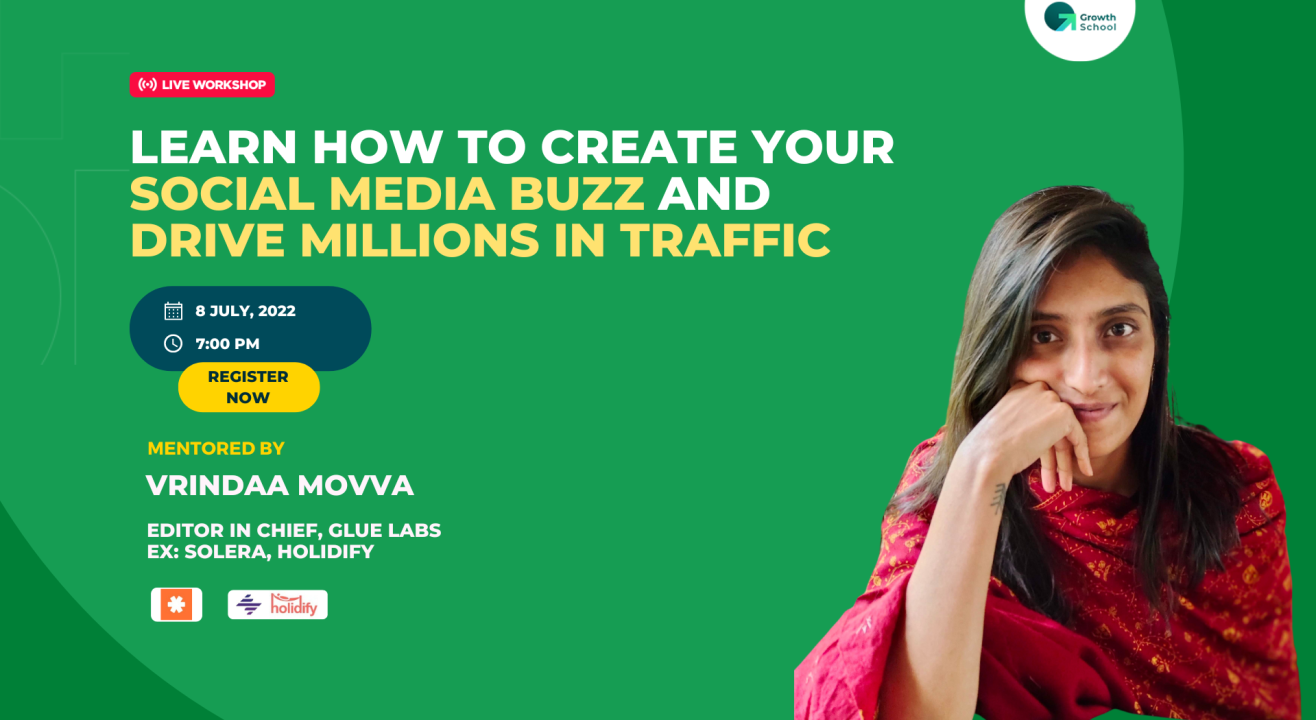 Live Workshop on Social Media Marketing by Vrindaa Movva
Event Guide
Masterclass
Learn from an expert
Invite your friends
and enjoy a shared experience
Live Workshop on Social Media Marketing by Vrindaa Movva
Event Guide
Masterclass
Learn from an expert
Invite your friends
and enjoy a shared experience
Event Guide
Masterclass
Learn from an expert
Invite your friends
and enjoy a shared experience
Learn how to Drive Millions of Users and Create a Social Media Buzz!
Sign up for this Workshop on Social Media Marketing by Vrindaa Movva and Learn how to set the Tone of your Content to align with your Objectives
This Workshop is for:
- Social Media Marketers
- Marketing Professionals looking to upskill
- People starting out in their Marketing Career
- Founders & Entrepreneurs
- Anyone looking to upskill in the Social Media Marketing Domain
What will you be learning with us?
- Understand 0 to 1 stage : Building and Scaling your social media
- Learn Strategies & Insights of different social media platforms
- Understand how to set the Tone of your Content to align with your Objectives
- Know the best Tips and Tricks to grow your Social Media!
About the Mentor
Vrindaa is driving Organic Growth Since 2013. She is currrently Editor in Chief at Glue Labs and has previosuly worked in companies like Solera, Holidify, Don't Be Content, Sai.Coach. Her expertise involves in SEO, content marketing, brand and community building, writing and editing, social media, communication channels, funnels, and influencer management.
About GrowthSchool
We partner with the top 1% of industry experts to create high-impact programs for learners all over the world. The Workshop Series is where we conduct free workshops everyday on multiple topics. Get your pass to learn from these industry experts for FREE.
See you on the other side✨
We partner with the top 1% of instructors to create high-impact CBCs on personal and professional growth for learners all over the world. GrowthSchool does what colleges still don't provide - an engaging learning experience. We stay relevant by co-creating hands-on programs with the top professionals who find bookish knowledge as dull as we do.
Q) Is this a live webinar?
A) Yes, this would be a one hour live webinar, where the mentor would take you through various aspects and topics as mentioned above.

Q) Will I get a recording of this webinar later?
A) No, there would not be a recording provided. It would be a one time live webinar.

Q) Why should I attend this webinar?
A) This webinar will help you keep up to date with the domain and learn from the industry's best. We have selected the top mentors from across domains to mentor you.

Q) Are there any prerequisites for this webinar?
A) No, there aren't any prerequisites. This webinar would cover the basics of the domain, taking you through the various opportunities and potential that the field holds.

Q) How do I know if this program is right for me?
A) If you checklist any one of the points mentioned in the 'Who is this webinar for?', we assure you that this would be one of the best and most informative journeys for you.

Q) Is there any refund policy?
A) Our coupons ensure you access the best of content at the best prices. However, there will not be any refund issued for the webinars.
Live Workshop on Social Media Marketing by Vrindaa Movva
Event Guide
Masterclass
Learn from an expert
Invite your friends
and enjoy a shared experience