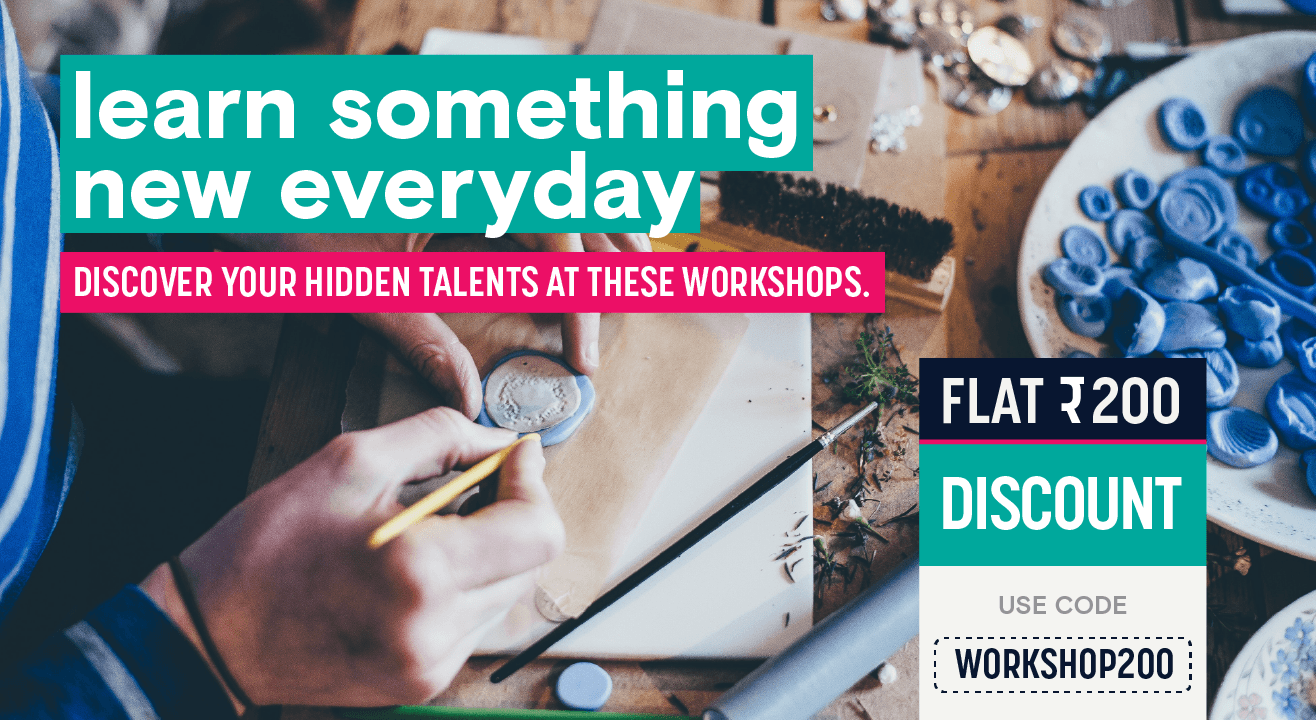 Workshops
Get ahead of Sharmaji ka beta at these workshops!
Check out workshops where you can hack the education system and own your learning.

Unlearn the useless stuff and explore what truly fascinates you at workshops in your city! Check out workshops for every kind of student, young and old, space admirals and space cadets, jedi masters and jedis in training, wizards and Muggles - okay, maybe not Muggles. And maybe not Sharmaji ka beta either.


Don't see your city listed here? No problem. Just select your city on Insider.in, and hover over the 'events' tab to find out if there are any workshops in your city.
What kind of workshops can I find?

Hone in on your art skills with decoupage, sketching, origami workshops and more. You could choose to learn painting, in all kinds of mediums too - acrylic, ink wash, and alcohol ink to name a few. If you'd prefer alcohol in your drink, there are workshops covering matters like gin infusion and wine tasting. Get enlightened about activating the taste buds with baking and cooking workshops guiding you through world cuisine, pastries you can't pronounce and healthy, wholesome diets.


To keep you on your toes, there are physical workshops including zumba, dance, yoga, and free movement. For the musically inclined, there are instrumental workshops (guitar, drums - you name it) songwriting workshops, and music production workshops. Be guided through becoming a Youtuber, hydroponics, publishing a book - there's an exhaustive list of subjects that surprises even us. And there are the essentials you might want to pick up in photography, film-making and more.

Basically, every kind of workshop that allows you to go beyond the textbook!


Where do these workshops usually happen?

Featuring lessons at venues across India such as True School of Music, Magazine Street Kitchen, Thotpot Studio, Arpana Fine Arts Gallery, and Dialogues Café, here's where you can find an enthusiasm to learn about everything there is in mentors and peers alike. Quite often, these venues hold events with other creatives as well, so you might meet folks who've made a career in the same field! What you can definitely expect is to find all kinds of ideas that'll make you see things from new perspectives (*cue a mindblown GIF*).

Subscribe to receive our newsletter!
Find the best experiences happening out there in your city or enjoy handpicked content while sitting comfortably at home. Paytm Insider is your go-to place to figure out what to do today!