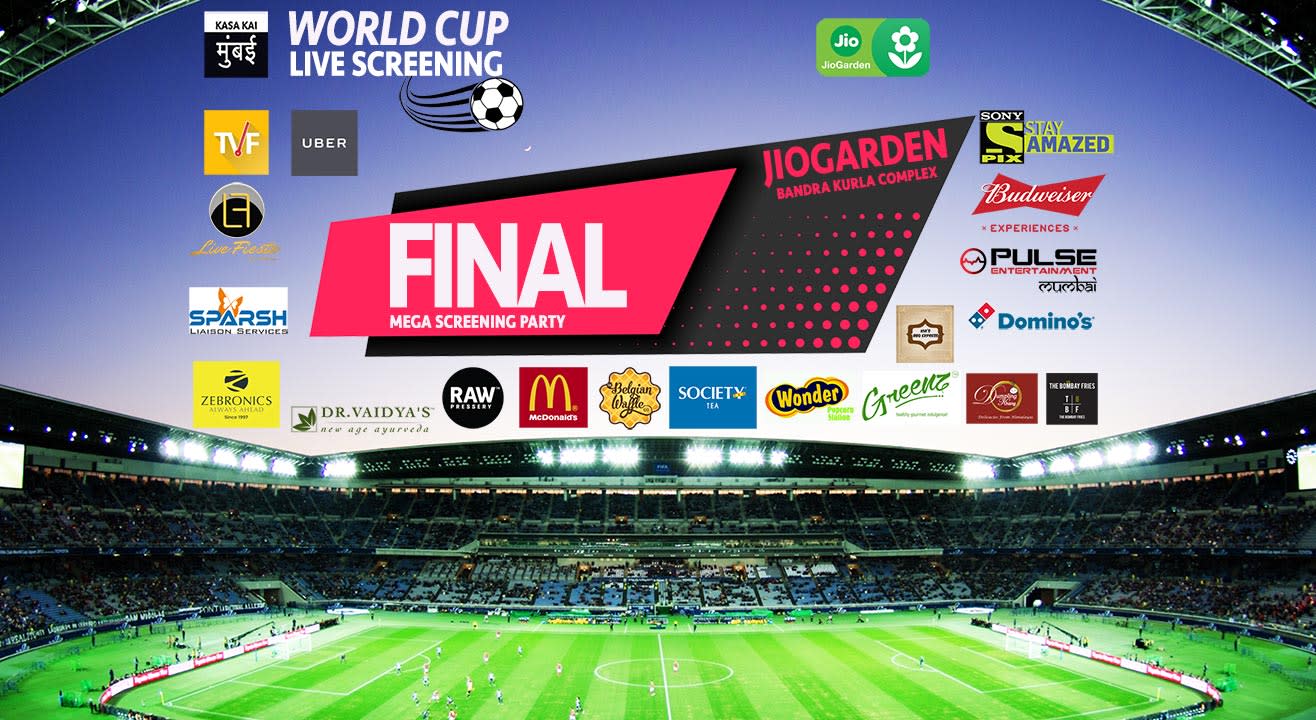 FIFA Finals
World Cup Final Mega Screening Party at JioGarden
About
The 30 day long battle to supremacy is finally coming to an end. Two teams battle it out to acquire bragging rights to be titled as undisputed champions of the world.
This edition of the World Cup has been a roller coaster ride with most of the big dogs being eliminated in the early stages. The final is being touted as a "David vs Goliath' matchup where the might of France is to be challenged by the never say die attitude of the Croatians.
Come and join us as the stage is set for the biggest football live screening the city has ever seen. Chant with thousands of fans and let the echoes be heard around the city. Book your tickets NOW!
Q: Will the match commentary be played on the audio system?
A: Yes.

Q: Are stag entries allowed?
A: Yes.

Q: What are the provisions if it rains?
A: We have arranged for the screen and sound to be safe from the rains by having a roof over them. Hence the screening will be unobstructed. We feel that if it rains, it would add to the viewing experience. however, we advise guests to come with their raincoats/windcheaters for the best possible experience!

Q: Can I purchase tickets on the spot?
A: Yes, however, ticket prices may be more if purchased directly at the venue.

Q: Is parking available inside the premises?
A: Yes, parking is available on a pay and park basis.

Q: Is reentry available?
A: Reentry to the venue won't be allowed apart from reasonable cases.

Q: Is there any age restriction for entry to the event?
A: The event is open for 18+-year-olds. Anyone below that must be accompanied by someone of the requisite age.

Q: Will the full match be shown?
A: The entire match, as well as the post match celebrations, will be shown.

Q: Is there a dress code for the event?
A: No. You can be dressed as casually as you'd like.

Q: Is there going to be specific seats assigned for my ticket?
A: No, you could watch the match from anywhere in the garden lawns.

Q: What about food and beverage options?
A: The fee charged is a flat entry fee. We are getting onboard various food and beverage partners who would be setting stalls at the venue. You can pay and eat/drink
4:00pm : Gates Open
4:00pm – 6:00pm : Fun Activities and Games
6:00pm – 8:00pm : EDM Party
8:00pm onwards : Live Screening of the FIFA World Cup Final
Don't carry your food and beverages. There are going to be food and beverage stalls at the venue. Alcohol will be served. You can purchase whatever you like.
Keep the banter healthy. We don't support fights among supporters. The management has the right to evict miscreants causing trouble.
If it's a rainy day, make sure you carry your raincoats/wind cheaters as it is an open-air venue. Beer + Rain + Football --> Game On!
Please don't carry umbrellas or bags. It is also a no smoking zone, so lighters and cigarettes won't be allowed at the venue. Wallets and purses will be allowed though, duh!
Carry phone covers as it might be a rainy day.
There is no restriction on entry for stags. No age restrictions. Minors need to be accompanied by adults.
Carry your ID cards to the venue compulsorily.
There is no dress code for the event. Dress light, dance in the rain, have fun.
There is no seat reservation through booking of the ticket. You may choose to sit on the lawns or stand, and watch the match.
The match commentary would be played on the audio system.
The current price is an early bird price. Book your tickets early to avail the discount. Do not share your tickets with anyone.
Keep following this page to get further updates about the event.
Come early to avoid lines.
The match starts at 8:30pm but we have planned a few fun activities and music beforehand. The gates will open at 4pm.
We would love if you join us then and pre-drink/gear up for the game with us!
If any queries, contact us only through WhatsApp on 9930931616.

We are a group of young individuals from IIM Calcutta, IIT-Delhi, Jamnalal Bajaj and Institute of Chemical Technology, and we run this exciting community and hobby-driven company. We make people gather over chai, coffee or drinks and discuss books, epics; watch matches, movies or TV shows; or compete for board game supremacy! Started in Mumbai, we now have our supporters' groups in 11 cities across India. With an experience of hosting screenings for 80+ sporting events, we are sure you would love watching the final with us!
Venue
JioGarden, BKC, Mumbai
Pt No: RG1A, G Block, Bandra Kurla Complex, Bandra East, Mumbai, Maharashtra 400051