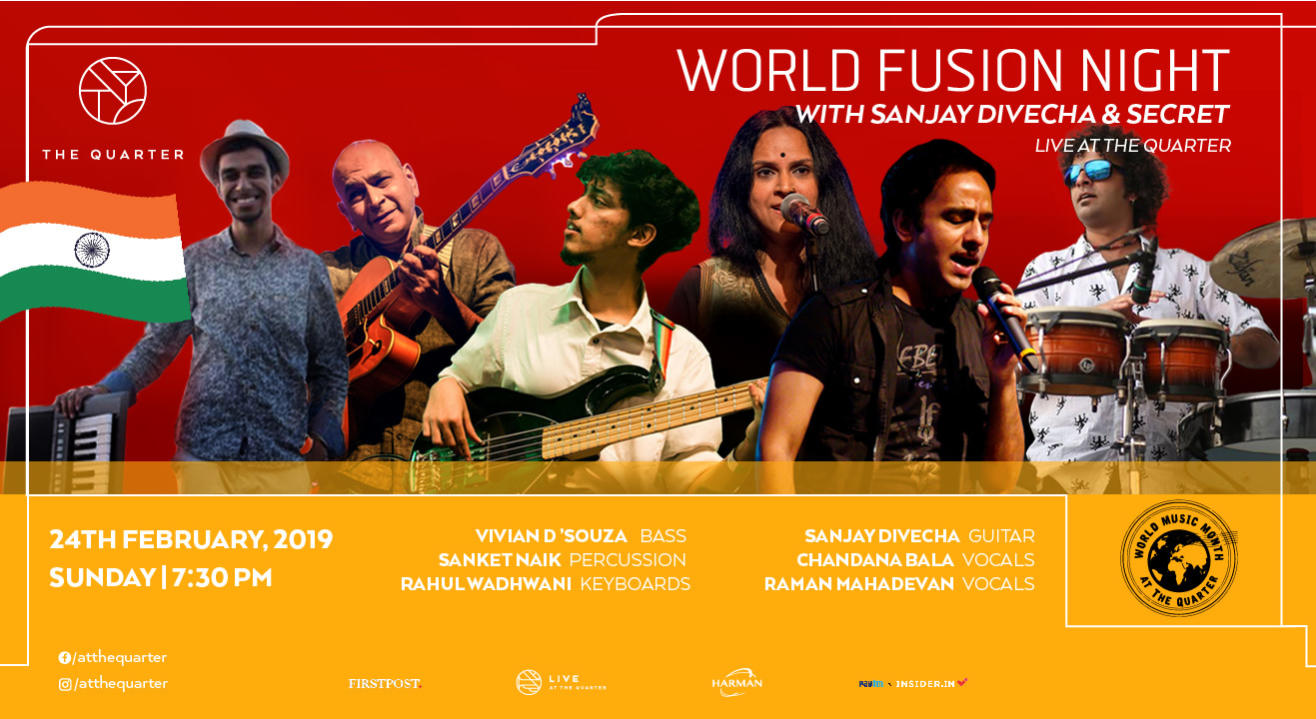 Music
World Fusion Night with Sanjay Divecha & Secret at The Quarter
Sunday | February 24 | 7:30PM
499 - 1,299 (Prices subject to change)
About
WORLD MUSIC MONTH AT THE QUARTER!
The album "secret" pays tribute to the great breadth of the indian tradition on a bed of solid western orchestration inspired by global music.
The band explores indo- centric folk traditions; hindustani and carnatic with the music of brazil, africa and the americas - all with acoustic sensibilities. His band performs music that traverses borders and genres all the while resonating close to the heartland.
The band approaches music as a myriad web of harmonies, global rhythms and soaring melodies.
Secret goes beyond tributing essential influences such as the wealth of classical Indian music.
Improvisation is a core aspect of the group's performance. Each member brings their strengths to enhance a music that is built on a bed of sophisticated arranging, interplay and orchestration.
The centrepiece of the music however is a deep rooted respect for Indian music; both Hindustani and Carnatic coupled with its reinterpretation within a framework of jazz and world styles.
The audience can expect a night of memorable and soulful melodies, tight musicianship and interplay and a truly global expression that is influenced by sounds around the world.
**We are serving specially curated cocktails like Rum Panna, Jamuntini, Jal Jeera Vodka for the night
Sanjay Divecha - Guitar
Chandana Bala - vocals
Raman Mahadevan - vocals
Vivian d'souza - bass
Sanket Naik - percussion
Rahul Wadhwani - Keyboards
Madras Curried Fish Cake, Cumin Yoghurt Dip
Rum Panna / Jamuntini/ Jal Jeera Vodka
Venue
The Quarter
Royal Opera House, Mathew Rd, Opera House, Girgaon, Opera House, Girgaon, Mumbai, Maharashtra 400004, India