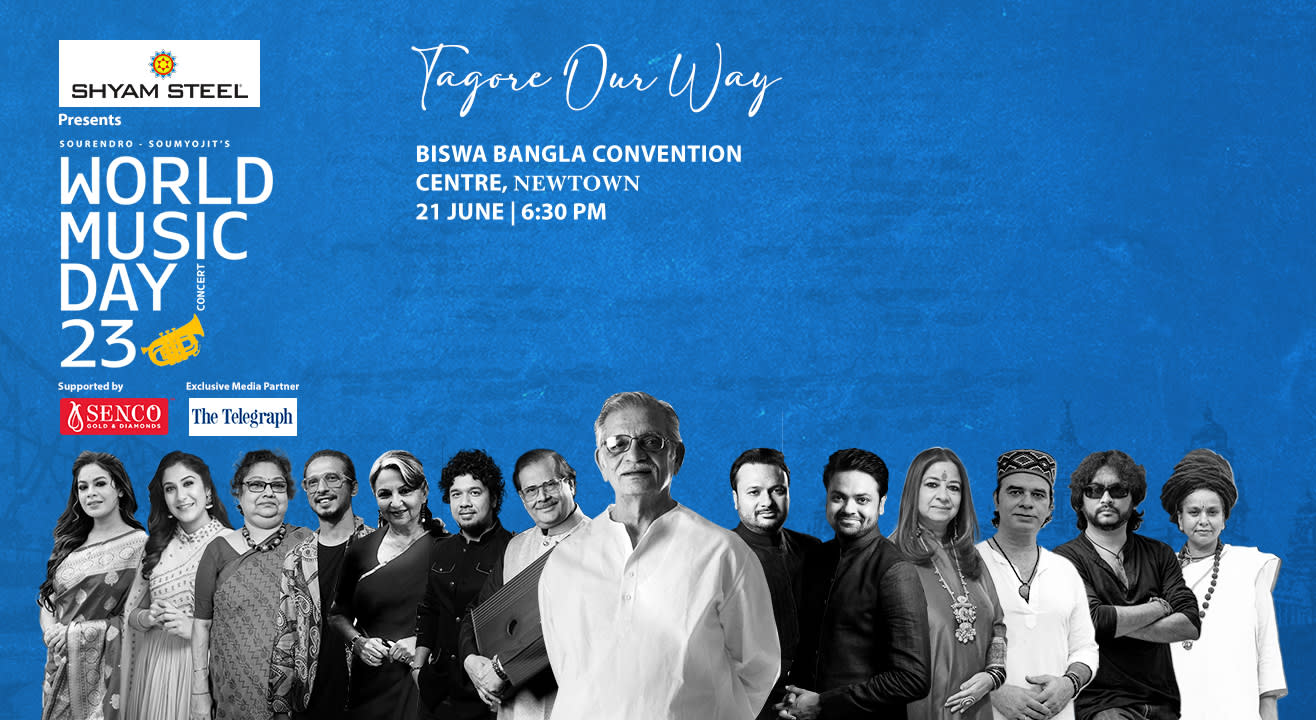 World Music Day Concert I Tagore Our Way | World Music Week 2023
Biswa Bangla Convention Centre, Kolkata
Event Guide
For Age(s)
Family Friendly
Invite your friends
and enjoy a shared experience
World Music Day Concert I Tagore Our Way | World Music Week 2023
Biswa Bangla Convention Centre, Kolkata
Event Guide
For Age(s)
Family Friendly
Invite your friends
and enjoy a shared experience
Event Guide
For Age(s)
Family Friendly
Invite your friends
and enjoy a shared experience
Sourendro- Soumyojit's World Music Day Concert on its 13th edition will celebrate Rabindranath Tagore, the true ambassador of world music. The concert has a bi-line that says 'Tagore- our way' " - The concert shall present some of the finer artists of the country in collaboration with Sourendro and Soumyojit to perform diverse compositions of Tagore in their own styles and interpretations.
The evening shall feature
The living legend Gulzar reading out exclusive poems written for this evening.
Sharmila Tagore shall have a very special appearance celebrating Tagore's early muse, his Notun Bouthan.
In songs the evening shall listen to Pt Ajoy Chakraborty, Papon, Rekha Bhardwaj, Srabani Sen, Mohit Chauhan, Rupam Islam, Iman Chakravarty , Parvathy Baul , Shayan Chowdhury Arnab (Bangladesh), Shweta Mohan and ofcourse Sourendro-Soumyojit.
This is a special curated concert that will be staged just once, to mark Sourendro-Soumyojit's World Music Day Concert 2023. This would be a two hour long concert and will start at 6.30pm on Wednesday, 21st of June at Biswa Bangla Convention Centre, Kolkata.
Join us
Ticket required for age 5 and above.
Biswa Bangla Convention Centre
HFJF+XMC, Canal Bank Rd, DG Block(Newtown), Action Area I, Newtown, New Town, West Bengal 700156, India
GET DIRECTIONS
World Music Day Concert I Tagore Our Way | World Music Week 2023
Biswa Bangla Convention Centre, Kolkata
Event Guide
For Age(s)
Family Friendly
Invite your friends
and enjoy a shared experience