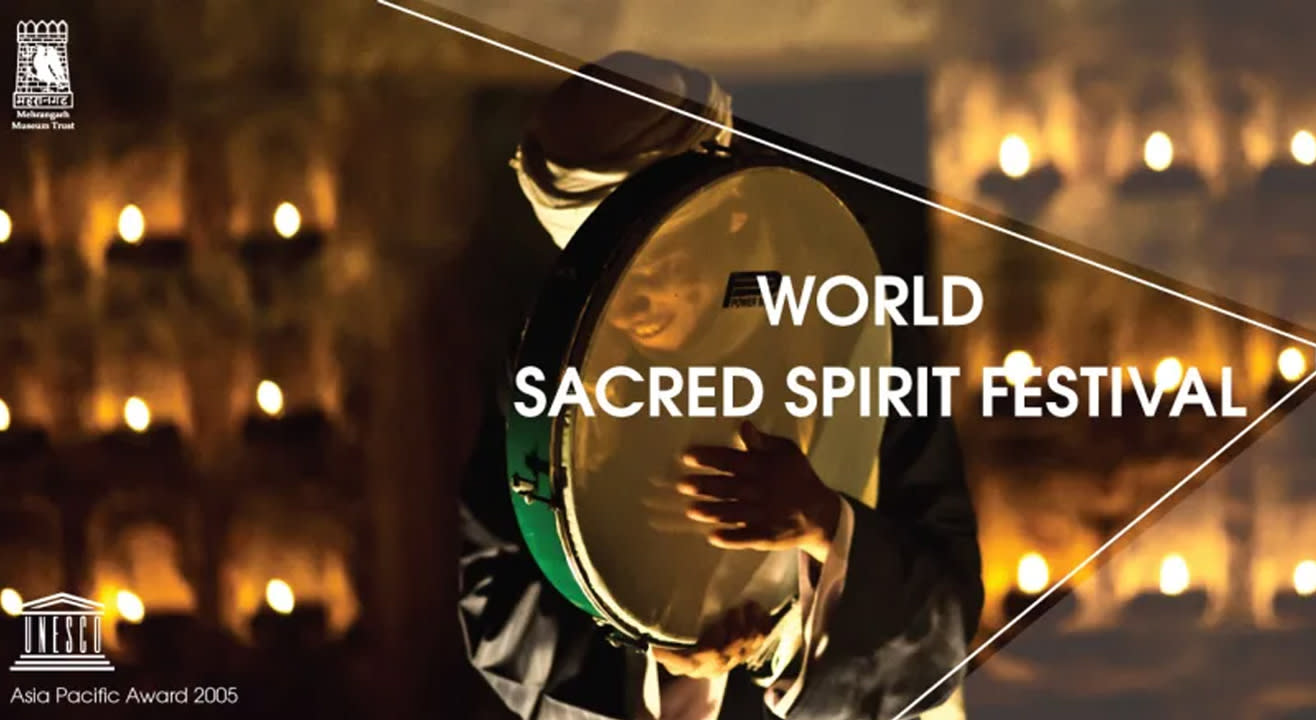 Music
Walk through time with spiritual music at World Sacred Spirit Festival!
Discover the music, dance, and philosophy of the mystics, as renowned musicians from across the world bring the magic to World Sacred Spirit Festival.
Remember the first time you got lost in the music? For some, it was when they heard A.R. Rahman's voice reaching out to the heavens with 'Kun Faya Kun'. For others, it was listening to the Wadali Brothers create magic with 'Tu Mane Ya Mane' - but the search for one's soul has gone several ways throughout the ages, and WSSF offers another such opportunity. Come check out the different music traditions at World Sacred Spirit Festival this February!
Watch amazing Sufi performances, enchanting instrumental music from China, and even witness the whirling Ghair dance from Rajasthan. These are a few things you can experience at the World Sacred Spirit Festival. In addition to these, there are breathtaking acts from across countries like Mongolia, Afghanistan, France, Turkey, Egypt and more! See them perform in the magnificent settings of the Mehrangarh Fort, Jaipur as various times and geographies merge into each other.
WSSF brings the various traditions of the East, Asia and Africa to the rich heritage of India. Some of the acts we've seen in the past at World Sacred Spirit Festival include Rabbi Shergil, Kavita Seth, Kailash Kher, Sabri brothers, Ustad Shujat Khan, Rock Veda Band, Maati Baani, Char Yaar, Thagni group, and this edition is going to be much bigger as World Sacred Spirit Festival starts on the 13th of February, 2020 at Mehrangarh Fort. So, we'll see you in Jodhpur, right?
Artists that we're looking forward to watching at WSSF:
Ustad Shujaat Hussain Khan - With his mastery over the sitar, he's left many a listener in trance. The way he plays Imdadkhani Gharana - a school of sitar music, is something you have to witness for yourself to understand why he's called the 'melody maker'.
Lingling Yu - The way she plays the pipa, a four-stringed Chinese lute, is spell-binding. Her performances are full of blissful balance - it's like she's blending yin and yang when she's on stage.
Ambi Subramaniam - This young talented Carnatic violinist is known for quite a few feats, one of them being his album release at the age of 16 that won the GIMA and BIMA awards! There's a unique style and quality to his violin music that you shouldn't miss.
Subscribe to receive our newsletter!
Find the best experiences happening out there in your city or enjoy handpicked content while sitting comfortably at home. Paytm Insider is your go-to place to figure out what to do today!