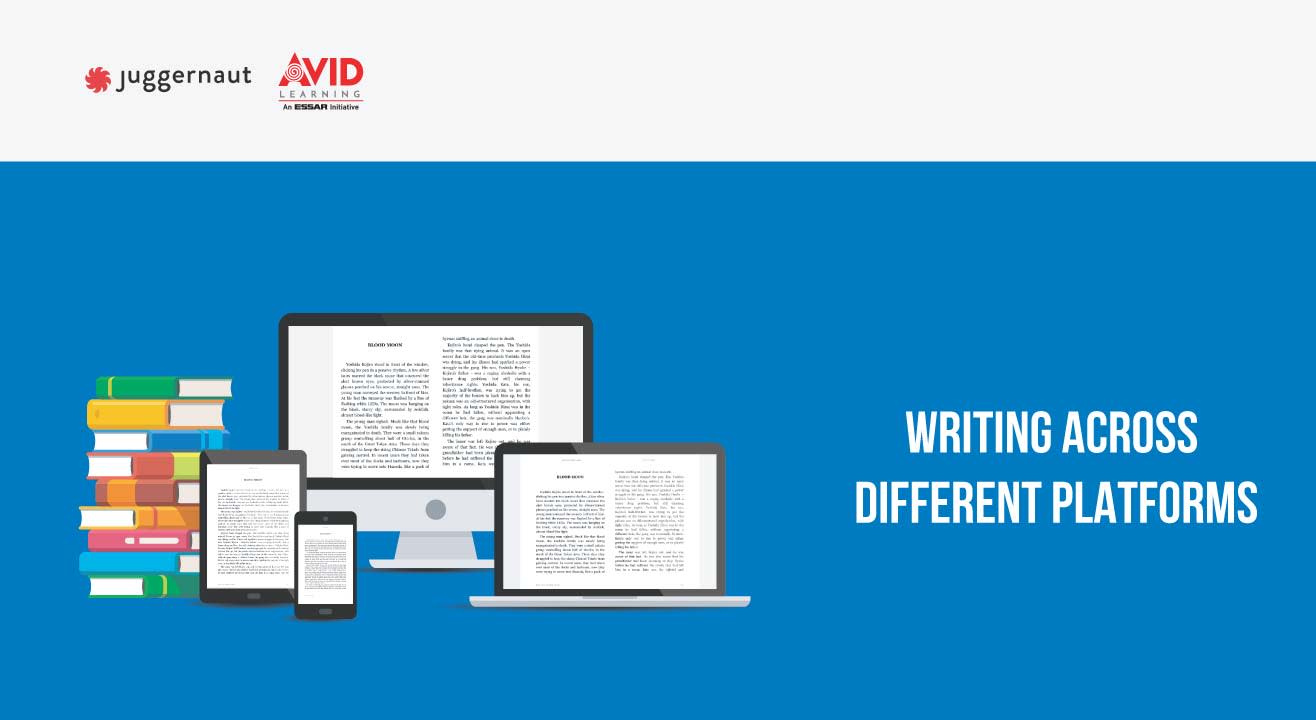 Writing
Writing Across Different Platforms
Essar House, Mahalaxmi, Mumbai
About
Avid Learning, in association with Juggernaut Books, presents Writing Across Different Platforms; a unique opportunity to explore the art of writing across various platforms and genres through a workshop with celebrated author and blogger, Kiran Manral.


In the age of social media, writing across different platforms is not uncommon, but is definitely not easy, all intricacies and techniques considered. There are infinite ways to get your story and your voice out there, but often it is easy to get caught up in the multitude of platforms available to you. Learn how to seamlessly transition between these different platforms and how to build a strong base in writing across the board. Receive a rare publisher's perspective on how to write compelling, engaging and interesting content in both social media and print media.


This workshop will especially highlight how to write across different platforms, how to find the right platform for you, how to smoothly transition between the options available to you and will provide an editor's insight on how to write for different types of media.


Kiran will be joined later in the session by special guest speaker, journalist and editor of Scroll.in Naresh Fernandes will speak about his journalistic journey from print media to digital and give insights into concepts like short form journalism. He will expand further on necessary innovations in journalism and, using Scroll.in, a leading digital venture, as a case study, will give insights on running, editing, distributing and funding this unique platform.
Writing across different platforms
Finding the right platform for you
How to transition between different platforms
Editors perspective: What agents and publishers are looking for
Social media vs print media writing

This is the fourth in the new series of writing workshops in collaboration with Juggernaut Books, to help bring out the inner author in you. These workshops are led by some of the most well-regarded authors and experts, and aim to explore and demystify every aspect, technique and convention of writing for and publishing in popular genres. Publisher and founder of Juggernaut Books, Chiki Sarkar, and literary agent Urmila Dasgupta kicked off the series with a workshop on how to get published. Next, author, journalist and columnist, Bachi Karkaria and author and journalist Raghu Karnad schooled participants on writing creative non-fiction. Author and journalist Sathya Saran and editor-in-chief of Harper's Bazaar India, Nonita Kalra gave participants insights into how to navigate the competitive world of fashion journalism.

Join in for this workshop to gain access to a wealth of information on the art of crafting your unique voice in a digital age.
Kiran Manral, an award winning author, TEDx speaker, columnist and mentor, has been in various avatars, a journalist, India culture lead and trend spotter, qualitative market researcher, and is currently ideas editor with a women centric news portal. She was awarded the Women Achievers Award by Young Environmentalists Association in 2014, the WOW Award in 2016, was shortlisted for the Femina Women Awards for literary contribution in 2017. The Indian Council of UN Relations (ICUNR) supported by the Ministry for Women and Child Development, Government of India, awarded her the International Women's Day Award 2018 for excellence in the field of writing. Her books include The Reluctant Detective, Once Upon A Crush, All Aboard, Karmic Kids - The Story of Parenting Nobody Told You, The Face at the Window, A Boy's Guide to Growing Up, True Love Stories and Saving Maya.
About the Special Guest Speaker
Naresh Fernandes is a journalist who lives in Bombay. He is the editor of Scroll.in, a digital daily. He is the author of City Adrift: A Short Biography of Bombay and Taj Mahal Foxtrot: The Story of Bombay's Jazz Age.
Avid Learning, a public programming platform and cultural arm of the Essar Group, has conducted over 750 programs and connected with more than 65,000 individuals since its inception in 2009. Driven by the belief that learning never stops, AVID's multiple formats like workshops, panel discussions, gallery walkthroughs, and festival platforms create a dynamic and interactive atmosphere that stimulates intellectual and creative growth across the fields of culture & heritage, literature, art and innovation.

Focused on the growing mobile usage in India, Juggernaut Books aims to give authors both a digital and a physical platform. Its mobile technology and list obsessively engage both a serious reading audience and the new mobile audience. Juggernaut's authors include Arundhati Roy, William Dalrymple, Prashant Kishor, Twinkle Khanna, Sunny Leone, Rujuta Diwekar, Husain Haqqani, Svetlana Alexievich, Rajdeep Sardesai, Rajat Gupta, Kanhaiya Kumar and Sourav Ganguly. Juggernaut launched its physical list in June 2016. The Juggernaut App has been live on Android and iOS since April 2016 and the website since November 2016. It has recently launched a writing platform as well as Hindi content. More information on juggernaut.in
Venue
Essar House, Mahalaxmi, Mumbai
Essar House, 11 K K Marg, Opp Race Course,, Mumbai, Maharashtra 400034