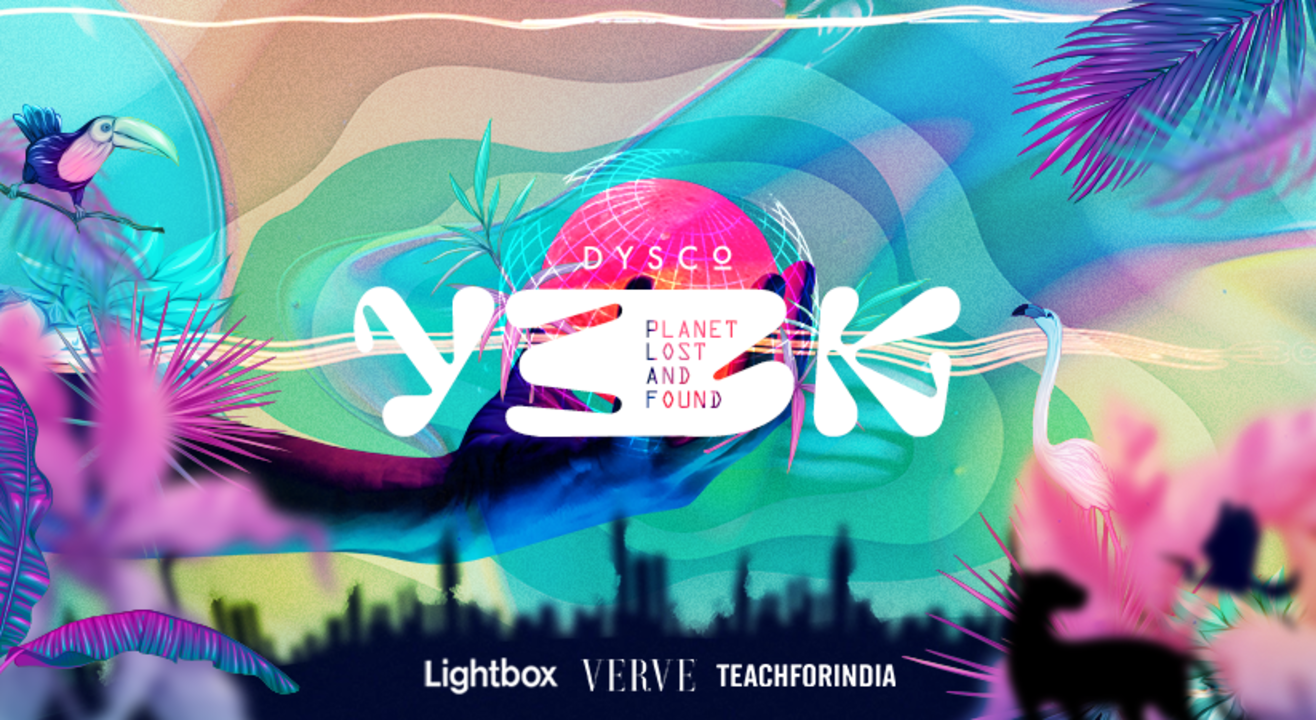 February 8 | 10 AM - 10 PM
Step out and enjoy this event
Invite your friends
and enjoy a shared experience
Invite your friends
and enjoy a shared experience
About the Event
Icecaps are melting. Fish are drowning.
Forests are burning. Cities are flooding.
We are choking.
A climate emergency is here and now.
This is no time to point fingers.
It's the time to come together.
It's time to pivot.
Y3K is a call to renew, regenerate and regrow what we have lost. We are envisioning a vibrant future: one where humans, technology and nature live in symbiotic harmony. This is a celebration of the deep passion, commitment and innovation exhibited by diverse and determined people, to protect and preserve the wonder and biodiversity of our planet.
We're bringing together all those that care about our planet, to learn, unlearn, innovate and collaborate. And you're invited. Let's step into the new decade with renewed focus. Together.
Y3K is an acknowledgement of the challenges that we currently face. An homage to the strength and fragility of nature. An organic coming together of synergistic ideas in areas of animal welfare, renewable energy, sustainable food and fashion, co-living, urban planning and circular economy.
We're gathering around stories, talks and panels by a curated group of eco champions to share their insights, challenge established practises and propose solutions.
There will be experiences, installations, workshops, networking fairs for you to discover likeminded people including policy experts, journalists, technologists, content creators, researchers, startups and more.
Lightbox - Event Sponsor
Istituto Marangoni - Event Sponsor
Verve - Media Partner
Climate Launchpad - Innovation Partner
Teach For India - Education Partner
The Good Food Institute - Food Curation Partner
Current Conservation - Content Partner
Skrap - Waste Management Partner
Cityflo - Transportation Partner
Pretty Things - Decor Partner
Sienna - Music Curator
Monks Bouffe - Beverage Partner

All workshops will take place on February 8th, between 10AM and 12PM. You can only attend one workshop as they are all taking place at the same time. Workshops are priced separately and you have to RSVP for workshops in addition to general event tickets (i.e. you cannot only attend a workshop).

1. Bare Necessities, Zero Waste in 30 Walk Through and Workshop: Learn how to make a difference through everyday choices and make a seamless transition to a zero waste lifestyle.

2. Current Conservation, Zine Making Workshop: Learn how to ideas together and make different types of zines around the theme ' What Does Conservation Mean to You?'


Our speakers (more to be announced)
Anish Andheria, President at Wildlife Conservation Trust
Amita Ramachandran, Program Lead, India Climate Collective
Avijit Michael, Founder at Jhatkaa
Sumit Gambhir, Co-founder at The Pantry
Sara Mahdi, Creative Conservationist & Ex-Sanctuary Asia / ReefWatch India
Varun Deshpande, The Good Food Institute
Pratap Raju, Climate Launchpad & Climate Collective
Rushikesh Chavan, Wildlife Conservation Trust
Abhay Bhatia, Co-Founder at OOO Farms
Arina Suchde, Sustainable Chef & Mixologist
Shweta Wagh & Hussain Indorewala, Centre for Spatial Alternatives
Subham Kar Chauduri, Extinction Rebellion India
Alisha Sadikot, The Inheritage Project
Sandeep Murthy, Partner at Lightbox
Latha Sreesandesh, German International Academy, Chennai
Nandan, Student at German International Academy, Chennai
Dhvani Solani, Associate Editor, Vice
Mae Miriyam Thomas, Founder at Maed in India

Pitch-a PechaKucha powered by Lightbox
This segment will run for 1.5 hours on the event day.
PechaKucha means 'chit-chat' in Japanese, and got popularised as a spontaneous and visual format of storytelling. This 20x20 presentation format offers 20 seconds to explain 20 slides - a total of 400 seconds to share an idea. It focuses on talking less and showing more. Dysco's version, Pitch-a PechaKucha is for 8-10 talented people to pitch their world-changing ideas, giving audiences 6 minutes + 40 seconds to decide if they want to collaborate, join or invest in each pitch-er. It's a chance to hear about incredible innovations, in a high-energy setting.

Both Lightbox & Climate Launchpad are focussed on supporting the emerging innovation ecosystem around climate and sustainability. To further that goal, at least one of the participants in this segment will get automatic admission into the Climate Launchpad India accelerator in 2020.

ClimateLaunchpad is the world's leading green business ideas competition, a programme by EIT Climate-KIC (European Union). The competition scouts cleantech talent and helps them grow their sustainable idea into a global business.

Better, Karan Bajaj & Keertida Phadke
Ethico, Indranil Sengupta & Rabia Tewari
Coco Custo, Shaan Lalwani
Belgadia Palace, Akshita Bhanjdeo
Bombay Greenway, Alan Abraham & Anca Abraham
Purpose Climate Lab, Sonali Bhasin
Skrap, Divya Ravichandran

Clients & Collaborators Fair
This segment will run for 2 hours on the event day.
We've put a spin on the concept of a regular 'Careers Fair'. We're offering a dedicated space and time where you can market and advertise that you're looking for new business relationships. This is an opportunity to network with experts and enthusiasts in your field, tell them about the work you do and find new collaborators, clients, and professional partnerships. Here you can expect to meet experts who focus on climate consciousness, environmental awareness and sustainability: freelance writers, researchers; policy experts; lawyers; content creators; chefs; startups; marketing and PR agencies; and investors too.

Participants
Thought Over Design
Jhatkaa
CORE
Site Practice
Coco Custo
Doorbeen Creatives
BOHECO
Verve
Istituto Marangoni
Purpose Climate Lab
The Good Food Institute India
Climate Launchpad
Love Your Parks Mumbai
Shraddha Bhansali, Candy & Green

Installations & Screenings
The Gaia People - film screenings
Crossroads by Maithilee Suryawanshi & Ankita Trivedi
Jai Ranjit Printmaking & #LiveArtwithZaiu
Installation by Shirali Tyabji, Art&Found
Fridays for Future X Extinction Rebellion
Bombay Shirt Company
Tomorrow by Lightbox

Yellow Pine
Organic Riot
Slow
Happy Little Store
Current Conservation
Soot
Kal Hans
Pretty Things
Teach for India
Patrah
Sanctuary Asia

Better
Monks Bouffe
Cupable
Easyhuman
Prana Kitchen
Purebrot
The Fromagerie
Good Food Lab
Great State Aleworks
Thirsty Fox
GoodDO The Vegan Eatery

Pioneer Hall Bandra
Pioneer House, 9, St John Baptist Rd, Bandra West, Mumbai, Maharashtra 400050
GET DIRECTIONS