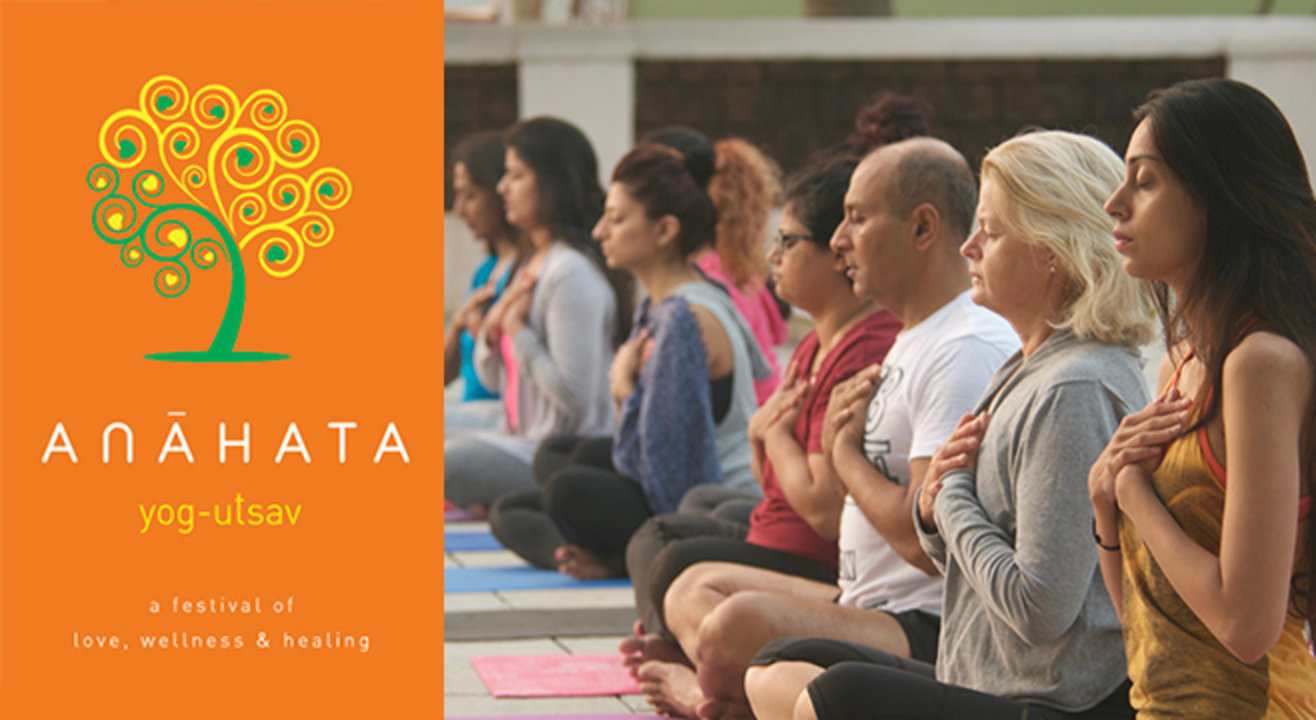 Workshops
Yog Utsav
The Devaaya Ayurveda & Naturopathy Resort, Goa
About
Join us for The Anahata Yog Utsav, an event that will bring together wellness experts in the field of Yoga, Ayurveda, healing and nature therapies from all around the world. This is event perfect for health, wellness and fitness enthusiasts, both beginner and advanced level practitioners. Those in search of alternate healing therapies may also find cures for long standing issues. In these 5 days, you will practice authentic forms of yoga like Hatha, Ashthanga Vinyasa and Kundalini yoga.
The sessions will be held at The Devaaya Ayurveda & Naturopathy Resort, located on the serene and peaceful island of Divar. Devaaya is the only resort on the island and sits pretty amongst the peace loving, happy and ever-smiling population of a few hundred. A short boat ride from mainland Goa, Divar is adjacent to the acclaimed Salim Ali's Bird Sanctuary. Backwaters of the beautiful Mandovi river surround the island, enriching our experience with a spectacular view at all times
The menu for the guests is personally prepared by Bijay J. Anand, in consultation with Ayurveda and Naturopathic doctors of Devaaya. Delicious vegetarian Indian cuisine, balanced to nourish the three Doshas of Kapha, Vata and Ppita, the cuisine is designed to be healing and detoxifying.
For enquiries please call 9324533333 - Sonali
8th October, 2016
3:30pm - 4:30pm Orientation programme
4:30pm - 4:45pm Evening tea and refreshments
4:45pm - 5:45pm Ayurveda Talk by Dr. Arun Gupta
6:00pm - 7:15pm Ganga Yoga with Laura Plumb
7:30pm - 8:30pm Dinner
8:45pm - 9:45pm Ci + Meditation with Maa Gyaan Suveera
9th October, 2016
5:30am - 6:30am Kundalini Yoga with Marieke Janna De Lange
6:30am - 7.15am Fruits and Refreshments
7:30am - 8:30am Floor Pilates with Yasmin Karachiwala
8:30am - 9:30am Breakfast
11:00am - 12:15pm Kundalini Yoga with Bijay Anand
12:30pm - 1:30pm Lunch
3:30pm - 4:30pm Ci + Meditation with Maa Gyaan Suveera
4:30pm - 5:00pm Evening tea and refreshments
5:00pm -6:00pm Ashtang Yoga with Sian Pascale
6:15pm - 7:30pm Iyengar Yoga with Shraddha Vora
7:30pm - 8:30pm Dinner
8:45pm - 9:45pm Tibetian Singing Bowls with Honey Lulla
10th October, 2016
5:30am - 6:30am Kundalini Yoga with Bijay Anand
6:30am - 7.15am Fruits and Refreshments
7:30am - 8:30am Iyengar Yoga with Shraddha Vora
8:30am - 9:30am Breakfast
11:00am - 12:15pm Floor Pilates with Yasmin Karachiwala
12:30pm - 1:30pm Lunch
3:30pm - 4:30pm Sacred Dances with Zia Nath
4:30pm - 5:00pm Evening tea and refreshments
5:00pm -6:00pm Ganga Yoga with Laura Plumb
6:15pm - 7:30pm Kundalini Yoga with Marieke Janna De Lange
7:30pm - 8:30pm Dinner
8:45pm - 9:45pm Ayurveda Talk by Dr. Arun Gupta
11th October, 2016
5:30am - 6:30am Ci + Meditation with Maa Gyaan Suveera
6:30am - 7.15am Fruits and Refreshments
7:30am - 8:30am Sacred Dances with Zia Nath
8:30am - 9:30am Breakfast
11:00am - 12:15pm Ashtang Yoga with Sian Pascale
12:30pm - 1:30pm Lunch
3:30pm - 4:30pm Ayurveda Talk by Dr. Arun Gupta
4:30pm - 5:00pm Evening tea and refreshments
5:00pm -6:00pm Iyengar Yoga with Shraddha Vora
6:15pm - 7:30pm Kundalini Yoga with Bijay Anand
7:30pm - 8:30pm Dinner
8:45pm - 9:45pm To be Announced
12th October, 2016
5:30am - 6:30am Kundalini Yoga with Marieke Janna De Lange
6:30am - 7.15am Fruits and Refreshments
7:30am - 8:30am Ganga Yoga with Laura Plumb
8:30am - 9:30am Breakfast
11:00am - 12:15pm Floor Pilates with Yasmin Karachiwala
12:30pm - 1:30pm Lunch
1:30pm Leave for your respected homes with fond memories
Venue
The Devaaya Ayurveda & Naturopathy Resort, Goa
Devaaya Ayurveda And Nature Cure Center Divar Island ,Goa 403 403,India