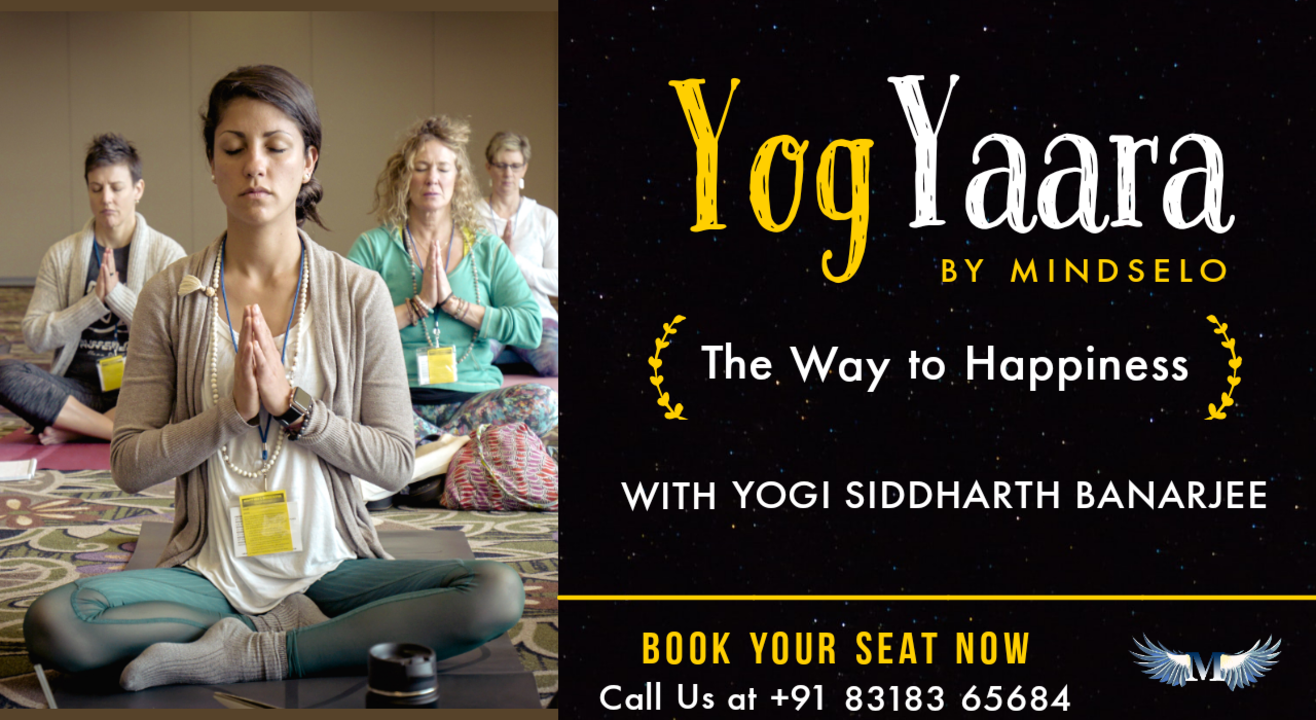 21-Days Scientific proven Yoga program
December 1 | 7:30AM - December 21 | 8:30AM
Enjoy this event from your home
Invite your friends
and enjoy a shared experience
Invite your friends
and enjoy a shared experience
About the Event
We all want to lead a joyful life and want the people we love to be happy too. Despite economic, material, and technological growth, the Society is still not as happy and contented as it used to be around fifty years ago. We need to re-think about our priorities. We Need to Understand that What makes us happy has less to do with our money or possessions but more to do with our attitudes and relationships with others.
Yog Yaara-The Way To Happiness
21-Days Scientific proven life-changing yoga course to help you deep dive to build a deep understanding of Yoga. Join this program and empower yourself in every aspects of your life.
This Program aims to Seattle to people from all walks of life. Bring positivity In their personal lives, communities and work-places, help them create a happier and healthier environment with mutual respect and care for each other. The topics covered in the workshop will help people learn practical scientific and logical ways to improve their well-being and further impart this joy and wisdom to others. The workshop is based on the eternal Vedic knowledge which has stood the test of time.
Meet your Educator
Yogi Siddharth is a Himalayan yogi who has a metropolitan origin. He has pursued his education from premier educational institutions in India. An academic genius, he undertook his spiritual sojourn which was fuelled by his natural instinct and quest for knowing the truth. In the process, he stayed with many Mystics including HH the Dalai Lama and later on, amalgamated his spiritual understanding by completing an ATTC-500 Under yoga Alliance.
His understanding and teaching of yoga are backed by his scientific aptitude and his genuine spiritual quest. Therefore his teaching methodologies are extremely rational, relatable and logical, explained with a deeply spiritual and scientific understanding ingrained in each step of his organised classes. As a good listener and a veteran speaker, he is approachable to students and explains everything with pure logic and scientific reasoning.
Week 1- Increase flexibility & build healthy bones, Drop your BP level & lower the risk of heart disease. ​
You'll begin your first week of the Mindselo'sYog Yaara Program by creating space to energize your body. A big goal here is not to strive for perfection, but to release all judgment and flow in the direction your body feels like. The tensions and frictions you release in this first week will help you begin expanding your boundaries, and get the most from the coming weeks.
Highlights include:
Strengthen your core and upper body, allowing you to stand strong in your power and grace.
a simple yet effective way to strengthen your hamstrings, calves, and back
Gentle movements that center you and bring energy back into your
A Strong flow focused on your legs; get ready to work up a nice
Week 2- Improve Mental & Psychological Wellbeing, Reduce Anxiety and Depression, Strength Memory & Improve Concentration.
In your second week you'll move onto strengthening your base and core, so you can access greater confidence and stability, on and off the mat. The benefits of this are life-changing and include better resistance to injury and back pain, hardier inner organs, a healthier central nervous system, and better posture.
Learn how to calm down immediately in any situation
Highlights include:
Improving focus, concentration, and memory
Improve mental as well as psychological well-being.
Stimulating thinkin
Week 3- Improve Relationships & Mood, Attain Inner Peace & learn to deal with hardships.
Your final week takes your yoga journey to uplift you to the next levels. You'll harness the energy and strength you've gained so far to soar beyond the limitations and frustrations that once pinned you down – and create a new reality defined by unbreakable courage and authenticity. This week may challenge you a little more, but the rewards are life-changing.
Highlights include:
Distributing energy levels and inducing calmness.
Increasing mental energy.
Making you more creative.
Developing cognitive powers.
Boosting decision-making skills.
Making you more psychologically balanced.
For further information, visit https://mindselo.com/all-programs/yog-yaara/
If you want deep information about this program, call/whatsapp at +91 9557178303.