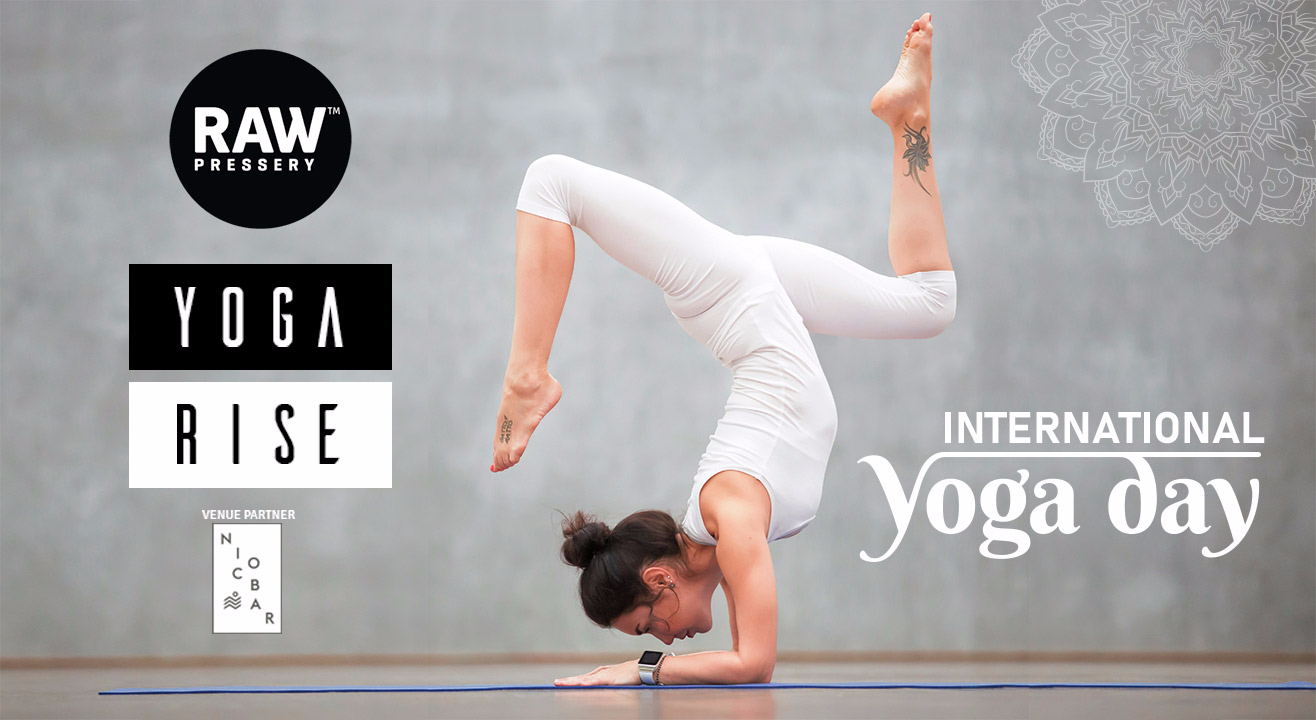 Yoga
Yoga Rise
Nicobar & NicoCaara, The Chanakya, Delhi
About
Channelize your inner yogi this International Yoga Day.

RAW Pressery brings to you a morning filled with relaxing yoga, conducted by Noor, Tanya and Charu along with their fresh cold-pressed juices, healthy smoothie bowls topped with organic + nutritious nuts & seeds by Nourish organics and delicious coffee by third-wave coffee roasters.

Psst: All this and some rad yoga goodies to take home with you so you can Nama'slay all day, everyday!
As India's first clean- label beverage brand, we believe that healthy and tasty can also be fresh and nutritious. We started off in January 2014, with just cold-pressed juices, and 4 years later our family has grown to include soups, smoothies, dairy-free almond milks and 27 juices. we're excited to bring all this and more to the table – by staying true to our roots of #allgoodnobad!
Yoga is core to our DNA – from doing chair yoga workshops in office to painting the city blue with our yoga mats; we couldn't have found a better day to celebrate with you!
Noor is a certified Classical Hatha yoga teacher, having conducted yoga and wellness sessions at prestigious institutions like Embassy of the United States, Elle India and We Work; she is qualified to train diverse students i.e. senior citizens, bigger bodies, pre and post natal, still bodies, children, visually impaired and for those hard on hearing.
Charu is an internationally certified Hatha Yoga teacher. She specializes in making traditional yoga and meditation accessible for everyone helping people struggling with stress and challenges of modern lifestyle.
For Tanya, yoga has been a journey of joy & wonder, connecting with her inner soul and finding meaning in things around her. She takes great passion and immense joy in being able to extend these benefits of yoga connecting one's mind, body and soul, recharging and rejuvenating it.
Venue
Nicobar & NicoCaara, The Chanakya, Delhi
Shop no. 214 and 215, 2nd Floor, 13A-16D, Tikendrajit Marg, Chanakyapuri, New Delhi, Delhi 110021