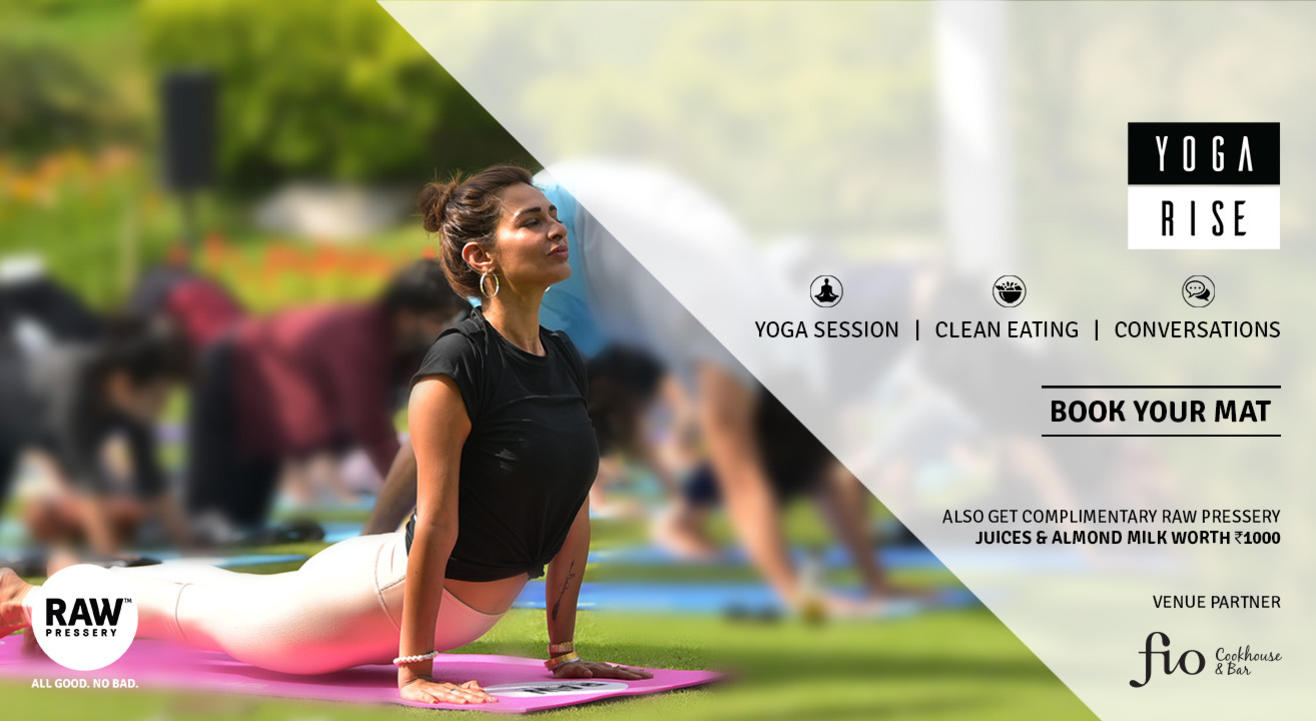 Fio Cookhouse & Bar, Delhi, Delhi
Step out and enjoy this event
Invite your friends
and enjoy a shared experience
Fio Cookhouse & Bar, Delhi, Delhi
Step out and enjoy this event
Invite your friends
and enjoy a shared experience
Invite your friends
and enjoy a shared experience
Redeem ₹1000 on fresh cold-pressed juices at the venue.

YOGA RISE
Yoga Rise is a community-based wellness property launched by Raw Pressery to celebrate yoga and clean eating. The idea of Yoga Rise is to get together fitness enthusiasts, yoga practitioners and the wellness community at large to perform yoga with well-renowned yoga teachers.
YOGA RISE X INTERNATIONAL YOGA DAY 2019
With more than 10 successful editions, Yoga Rise is back this year to celebrate International Yoga Day. With parallel events running in Mumbai, Delhi & Bangalore on 16th June (Sunday), you can channelize your inner yogi with a relaxing yoga session focusing on cultivating breath, opening the heart chakra whilst keeping the practice challenging. The session will help you reconnect with your inner self and realigning you body mentally & physically.
Post the mindful yoga session, enjoy a Raw brekkie with healthy smoothie bowls topped with organic + nutritious nuts & seeds and some delicious, fresh cold-pressed juices and almond milk.
You also get complimentary Raw Pressery juices & almond milk worth Rs 1000 after the session which you can take home and share with friends and family.
THE AGENDA
9:30 – 10:00 am – Arrive & Pick Your Spot.
10:00 -11:00 am – Yoga Session with Lead Instructor
11:00 – 11:45 am – Raw Brekkie + Conversations + Lots of Insta Stories
12:00 pm – Collect your complimentary Raw Pressery Kit before leaving.
FAQ's
Do I need to get my Yoga Mat?
No. We will provide you yoga mats for the session.
What is the duration of the event?
The yoga session would last for 60 mins followed by light breakfast.
What should I wear?
We recommend something flexible and light. There will be stretching and some muscle relaxing asanas so make sure you wear something that you're truly comfortable in.
Is there a place to take a shower?
Our venues do not have a shower and change facility, however washrooms are always accessible
Can I cancel after booking?
Cancellation & transfer ability of tickets won't be possible after booking.
Can I get my pet?
No pets would be allowed at the venue.
Can I bring my kids?
We recommend not to accompany anyone below age 18
When will I get my complimentary Raw Pressery juices & almond milk?
You can collect the complimentary kit after the yoga session before leaving the venue.
Is there parking space available?
Our venues have limited parking space and available on first come first serve basis.
Fio Cookhouse & Bar, Delhi
Epicuria Mall, R1, Nehru Place, Under Metro Station, Nehru Place, New Delhi, Delhi 110019
GET DIRECTIONS
Fio Cookhouse & Bar, Delhi, Delhi
Step out and enjoy this event
Invite your friends
and enjoy a shared experience