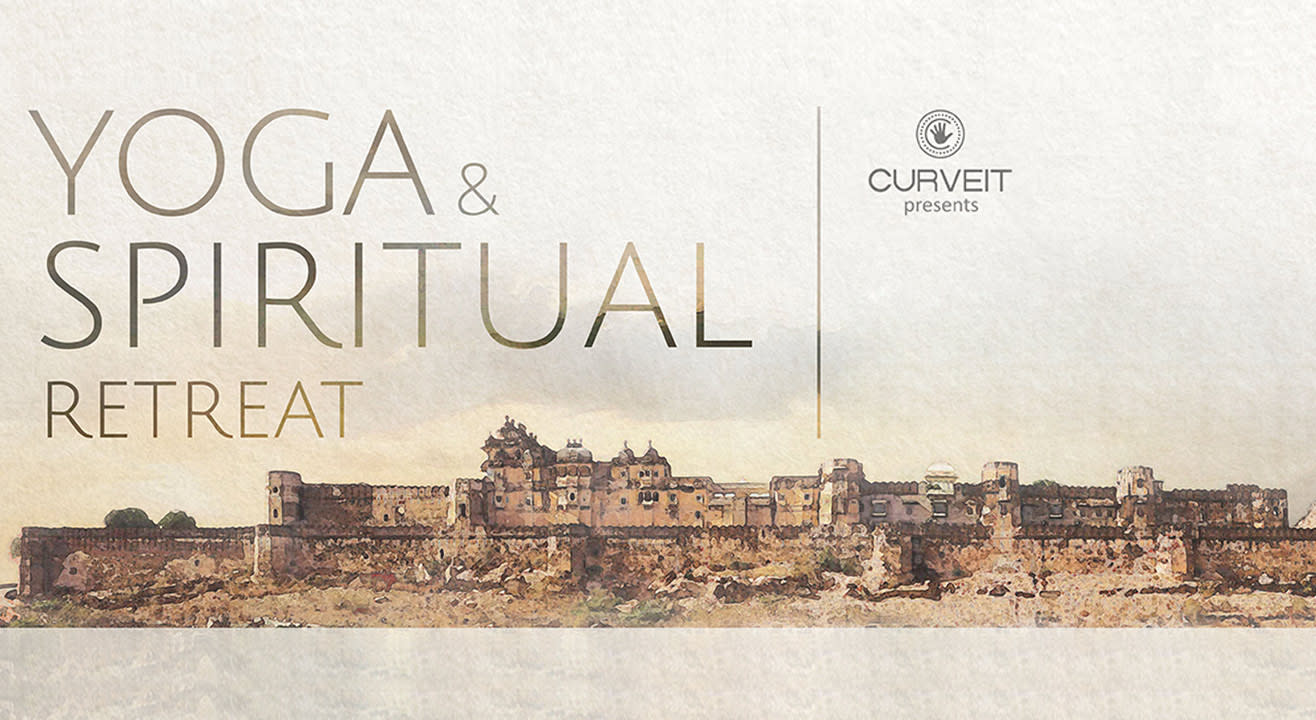 Yoga
Yoga & Spiritual Retreat In Sardargarh Fort - A 300-Year Old Fort Of Rajasthan
Sardargarh Heritage Hotel.
About
Nestled amid mountains and deep forests of Chuppan, two hours away from Udaipur is a splendid 17th century fort. It is here where we're conducting a unique 3N/4D yoga and spiritual retreat. We believe in complete wellness; yoga for your mind and body and spirituality for your soul. There is a lot more to uncover. So, look no further, look within; it's time to awaken! Book your retreat NOW; only 20 rooms available. Hurry up!
Draped in elegance, wearing the crown of might; this fort will entice you into a beautiful bygone era, where battles were fought and won. Away from city chaos, travel back to an ordinary time and experience the extraordinary medley of yoga and royalty. Stay in one of the queens' suites, indulge in yoga sessions, read the life-changing verses of the Bhagwad Gita, unfold the meaning of life, chant and immerse in a spiritual experience like never before and a lot more. It's your chance to not only get in touch with your mind, body and soul, but also emerge as a wholesome human.
A royal stay in a 17th Century fort of Rajasthan, snuggled in the lap of nature
Learn everything yoga by an expert yogi
Understand life through the verses of Bhagwad Gita
Indulge in traditional activities of Rajasthan
Explore the historic era of might, courage and glory
Return home with a rejuvenated YOU
"You cannot always control what goes on outside. But you can always control what goes on inside." – Wayne W. Dyer
The latter is also an art, an art that can be learnt. And we're here to help you master it. From breathing exercises to bhakti yoga to understanding yogic scriptures, here's an opportunity for you to become one with the cosmos, with Yogi Siddharth Pandey
Daily yoga practice
Daily meditation class
Breathing exercises
Introduction to ancient yogic scriptures
Ashtanga yoga
Discussions on Patanjali Yoga Sutra
Bhakti yoga
Bhagwad Gita session
Chanting & Kirtan sessions
Knowledge sharing on diet & nutrition for a healthy mind & body
Yogi Siddharth Pandey is an International yoga trainer, life-skills coach, and wellness consultant for the past 9 years. He has travelled globally, conducting wellness and yoga retreats, meditation sessions and mentored many individuals to lead a happy and stress-free life. Here are a few of his achievements.

Among first 150 certified QCI Level 2 yoga teachers, by Ministry of AYUSH, Govt. of India, from across the globe. Conducted self-development and wellness workshops for employees of esteemed corporates like Wipro, Infosys, etc.

Awarded as one of the leading yoga teachers by the International Federation Of Yoga Professionals. Thereafter, he was appointed as Secretary in this esteemed Yoga Federation. Has been certified in 350-hour training, by the Sri Sri School of Yoga.
A place's culture resides in the hearts of its people and in corners least explored. So, participate not only in yoga and Bhagwad Geeta sessions, but also in a lot other interactive and fun activities. Here's a gist!
Enjoy a traditional Rajasthani welcome ceremony
Learn how to tie safa (turban) the Rajasthani way
Make the most of your evenings with live traditional music and folklores
Take a dip in the pool of the royals and swim away all the heat
Uncover history of the fort with a guided fort tour
Visit a nearby dam and get up, close and personal with village life
Participate in Question & Answer sessions (optional)
Location & Surrounding Area
Grand in its size, simple in its aura, this fort is a magnificent blend of royalty and raw beauty. Situated about 90 km from Udaipur, Rajasthan, it is an intricate structure with huge ramparts and circular bastions with battlements. Massive entrances and gateways, awe-inspiring domes and vaulted spaces, quirky jharokhas (balconies), textured facades, concentric walls with striking arches, and classic cannons make this medieval military fort a sight to behold. Walk in its alleys, hear tales of courage and revel in a timeless era. Practice yoga in lush greenery, soak in breathtaking vistas of hills, and unfurl the meaning of life by stepping into the past.
Spread across 3 lakh square feet with courtyards, this fort has the following to offer and more.
Temples, Gardens, Bath aria, Granaries, Residential suites, Audience halls, Pavilions, Water works, Watch towers , Armories, Treasuries & Mint dungeons
You will be staying in one of the many queens' suites. Each of the suites has derived its name from the queen who stayed there, in medieval times. Also, their favourite colours are used in the décor of the rooms. Staying in a fort is not an-everyday-like experience. It's royal, it's different, and yet something about it is simple and familiar. Get ready for this one of a kind soul-soothing stays.
The water throughout the Hotel goes through a filter, softener and ozoinsed plant.
When it comes to food, we believe in the saying, 'eat healthy, stay healthy'. The fort has adapted the farm-to-plate concept, which means that the food being served to you will come directly from the village's organic farms. We make recipes for the soul; every bite you take is delicious and nutritious Here's what you will savour.
Breakfast, lunch, dinner + evening tea with snacks is included
All food served will be satvik
Dinner will be with live music
We will give away a percentage of our profits to the Udaipur chapter of ISKCON foundation. The funds will be used for teaching spirituality and life skills to the young school and college students. The lessons will help them to cope with the competitive environment, develop a positive outlook towards life and ensure an overall well-being.
Curveit Yoga Mats
All three meals + evening tea
Use of the fort premises and swimming pool, courtyards
All the Yoga and recreational activities mentioned below
Many of our guests come alone and we match up based on guest profile

** Final balance due 30 days before retreat start date.
Ayurvedic massage (available at a discounted rate)
British Era's train ride for 1 hour to a nearby temple (at an extra cost)
Commute from Udaipur (To & fro Airport/train station pick-up & drop facility - at an extra cost on request)
Nearest Airport - Maharana Pratap Airport, Udaipur
Nearest Railway Station - Udaipur City Station

Please get in touch with us on info@curveit.in for more information. Hurry up, limited seats available, and you don't want to miss this simple yet extravagant retreat!