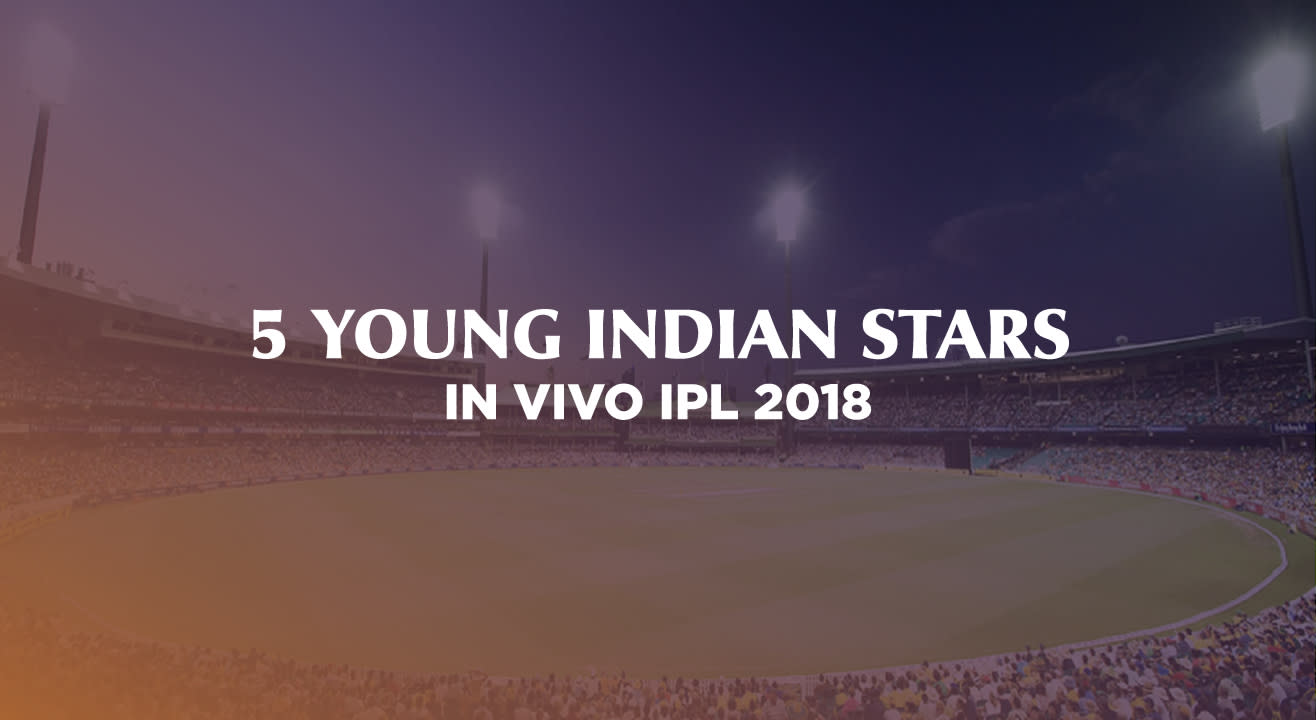 Cricket
Five Young Indians Who Have Lit Up VIVO IPL 2018
The tournament has always been an arena for youngsters to get their place in the sun (floodlights?). This year's edition was no different.
This tournament is renowned for giving young Indian talent a platform to showcase their talents and never fails to throw up some names who perform beyond everyone's expectations and leave their mark. Here are Insider's picks for 5 young Indians that have impressed in VIVO IPL 2018.

Rishabh Pant, 20, DD
20 year old Rishabh Pant has annihilated bowlers in VIVO IPL 2018. Some of his hitting, innovation and audacity has been unbelievable to watch and impossible not to appreciate. He has made the most runs, hit the most fours and the most sixes at a strike rate that is behind only Andre Russell. He delightfully marries the traditional with the outrageous, thus giving the opposition captain no chance of predicting his next hit. His 128* will go down as one of the greatest innings this tournament has ever seen, coming off just 63 deliveries. Toying with the bowlers, regardless of type and reputation, Pant's batting has been exemplary and a delight to watch. The future of Indian cricket certainly looks bright thanks to this ramPant superstar!

Video pick: Watch him hit his maiden tournament ton and make the highest score by an Indian batsman in this tournament ever.

Prithvi Shaw, 18, DD
Pritvhi Shaw got his VIVO IPL 2018 debut only in DD's 6th game but he has certainly made up for lost time. With 2 fifties and over 200 runs, he has helped DD feel the loss of Gautam Gambhir at the top of the order as minimal as possible. Scoring at a strike-rate of 160, he has helped DD get off to quick starts, something that was a problem for them in the tournament. The swashbuckling 18 year old from Mumbai looks at ease at the top level, playing his shots with a style and touch reminiscent of a certain Sachin Tendulkar. His school and domestic records are known to all, but it is fantastic to see him look the part at the highest level of T20 cricket as well. An India call up is surely not far away!

Video pick: Shaw's fantastic 62 in only his second game helped DD to 219/4.

Ishan Kishan, 19, Mumbai Indians
The Mumbai Indians have always been a franchise keen on developing young Indian players and giving them a chance to perform. The loss of Ambati Rayudu for VIVO IPL 2018 was a blow, but it meant they could look to another such youngster to take his place. Ishan Kishan has done that commendably. Comfortable as an opener or at number 3, the big hitting left hander has amassed over 250 runs this tournament at a strike-rate of 157.23. His presence at the top of the order allows the Indians to let the likes of Lewis, Yadav and Sharma play with a bit more freedom. His 62 off 21 deliveries against KKR was an absolute delight to watch, despite being against some of the tournament's best spinners. Still only 19, Kishan will look to build a long and successful career. The way he is playing, one wouldn't bet against him!

Video pick: Watch Kishan dismantle the KKR bowlers on his way to 62.

Mayank Markande, 20, Mumbai Indians
Eyebrows were raised when Mumbai Indians decided not to retain Harbhajan Singh for VIVO IPL 2018. A frontline spinner was very much missing or so it first looked. The Indians have a tendency to find unpolished gems without necessarily spending the big bucks on them. Mayank Markande is the perfect example of this successful policy. The 20 year old leggie has been one the tournament's revelations, bowling with the new ball as and when needed as well. His control and intelligence belie his age, and he has 14 wickets in his debut season to show for it. An economy rate of just 8.02 for a leg spinner who batsmen look to target in this format is commendable too. With the Mumbai Indians looking to defend their tournament title, Markande could well be the previously unheralded star to help them cross the line.

Video picks: Figures of 3/23 and 4/23 in his very first two games for Mumbai Indians!

Shubman Gill, 18, Kolkata Knight Riders
Shubman Gill has scored runs for fun at youth level, for the Indian u19 side as well as for his domestic side Punjab. A free flowing, middle order batsman, the 18 year old has looked majestic at times during VIVO IPL 2018. The comparisons to Virat Kohli may be premature but there is definitely something there. His 57* off 36 balls to help KKR chase 178 against a formidable CSK was a joy to watch. It was no surprise that it was his first opportunity batting at no 4 and not lower down the order like the previous games. His penchant of starting fast is a vital asset in this format and his style and class make him a surety on any 'youngsters to look forward to' list. A call-up to the India A squad recently was well deserved, and the way he is playing, another step up is right around the corner.
Video picks: Watch his terrific 57* that took KKR to victory over CSK.
Insider.in: Official ticketing partner for the VIVO IPL 2018 Playoffs (Eliminator & Qualifier 2) at Eden Gardens, Kolkata; and home games for DD & Kings XI Punjab (now completed).
Stay updated with cricket events that Insider.in will be ticketing in the future: Sign up here.
Need help regarding tickets or your order? Mail help@insider.in or call +91-22-61548585 / +91-9136622662.
For bulk / corporate bookings Mail corporatebookings@insider.in or call +91-22-33604736.
Subscribe to receive our newsletter!
Find the best experiences happening out there in your city or enjoy handpicked content while sitting comfortably at home. Insider is your go-to place to figure out what to do today!