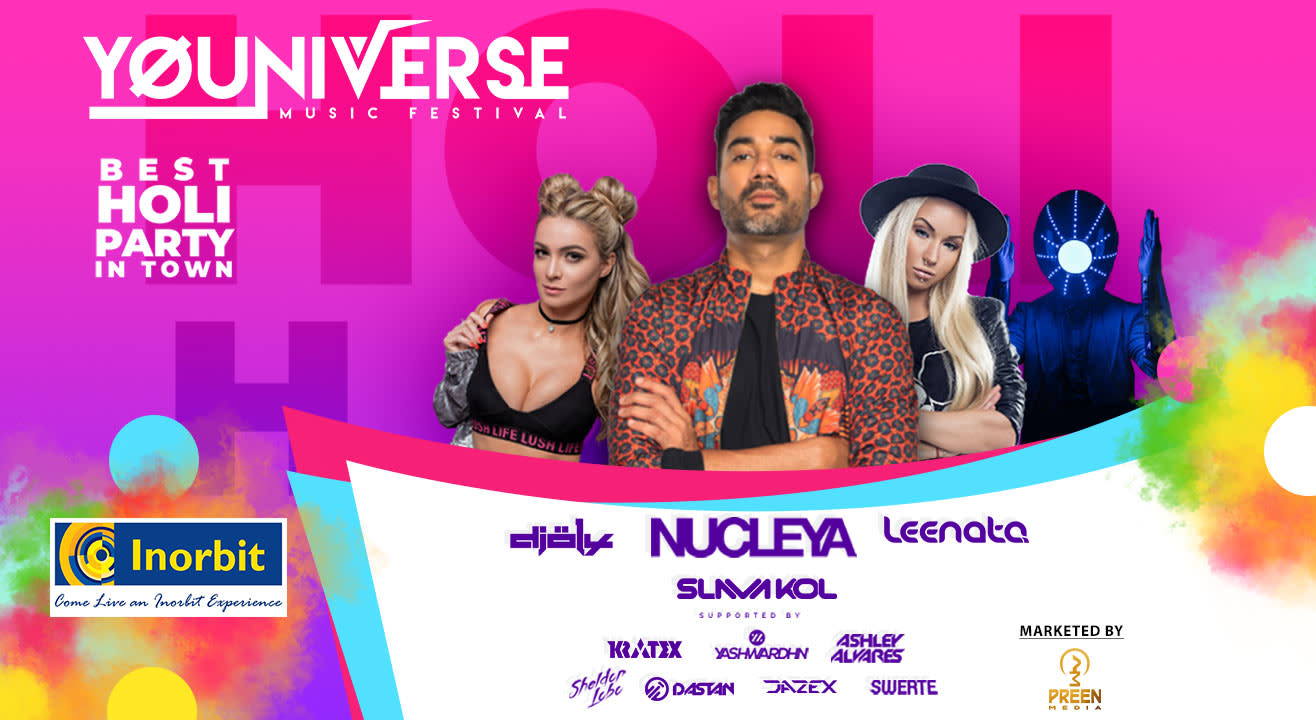 Music
Youniverse Music Festival
About
In true forms, music is devotion.


Youniverse Music Festival is a festival which is going to be held in Mumbai on 2nd March, 2018 at Inorbit Mall.
It's an open genre concert suited for people of all tastes.


There are certainly many music festivals out there, so there might be a question that "why choose Youniverse Music Festival?"
Well, the kind of passion and dedication they have for music, you won't see that in any other festival.
What they solely is to make the people happy.
Nucleya
Single-handedly responsible for building a lexicon of bass music unique to India, Nucleya aka Udyan Sagar is undoubtedly the country's most popular and influential independent artist. This was most evident in September 2016, when he launched his newest album, Raja Baja to a crowd of 12000+ fans at NSCI Stadium, Mumbai, followed by the most ambitious tour by an Indian independent artist – reaching 2,00,000 fans across 18 cities. He also played at the inaugural edition of the prestigious Electric Daisy Carnival (EDC) India and was invited to play at EDC Mexico and the flagship EDC at Las Vegas. It's often said that he did for Indian bass what Skrillex did for dubstep in the United States or how Diplo and Major Lazer introduced global bass into the mainstream.

Leenata
Leenata is International Top DJ #8 in China by DJanemag. She is one of the most popular and touring DJ in Asia. She is also a sound producer and vocalist, who has performed overseas in countries like Egypt, Malaysia, India, China, Moldova, Poland, Belgium, Hong Kong, Macao, Singapore, Germany, France and many others. She started her way as a DJ in 2009. She has also shared the stage in 2011 with the famous DJ and sound producer Fat Boy Slim, Sasha and Sander Van Dorn. Leenata was the best Fashion DJ in 2010 and 2011, according to Play Fashion - Regular Guest Cosmopolitan Fashion Week. Best Asia DJ 2012 according to Chocolate Foreign Performing Company. In 2012, she recorded a joint track "My Minds" with Kain and Vlad-Jet .

Slava Kol
One of the best foreign DJs in Beijing, as well as the most sought after DJs touring Asia. Best Asia DJ 2012 according to Chocolate Foreign Performing Company. Residence of global DJs Radio INON, which is broadcast in New York and Italy.
In 2012, he created a unique LED and laser costume, which in 2013 began touring in Asia with the show. He visited cities in China like Beijing, Shanghai, Chongqing, Jiaxing, Fuzhou, Hohhot, Langfang, Tangzhou, Fangshan, Shenzhen, Chengdu, Baoding, Shenyang, Tieling, Xuzhou, Dongguang, Donggang, Laoshan, Chengyang, Harbin, Shijiazhuang, Xiangtai, Xiamen, Wenzhou, Nanning and many others. Resident of Hyper Club, Linx Club, Muse, Dr. Oscar, 1801 and many others.
Since 2010, he launched a joint project "Art Family." The main objective of the project is the creation of the show and producing artists.
Here's a glimpse of what you can expect!
About the Organizer & Venue
Inorbit Malls, a group company of the K. Raheja Corp, was initiated with an objective to not just create physical structures but also to influence lifestyles. Inorbit Malls, committed to setting benchmarks in retailing in India, provides an excellent shopping experience for customers.
Venue
Inorbit Mall, Mumbai
Link Road, Malad West, Malad West, Mumbai, Maharashtra 400064
GET DIRECTIONS