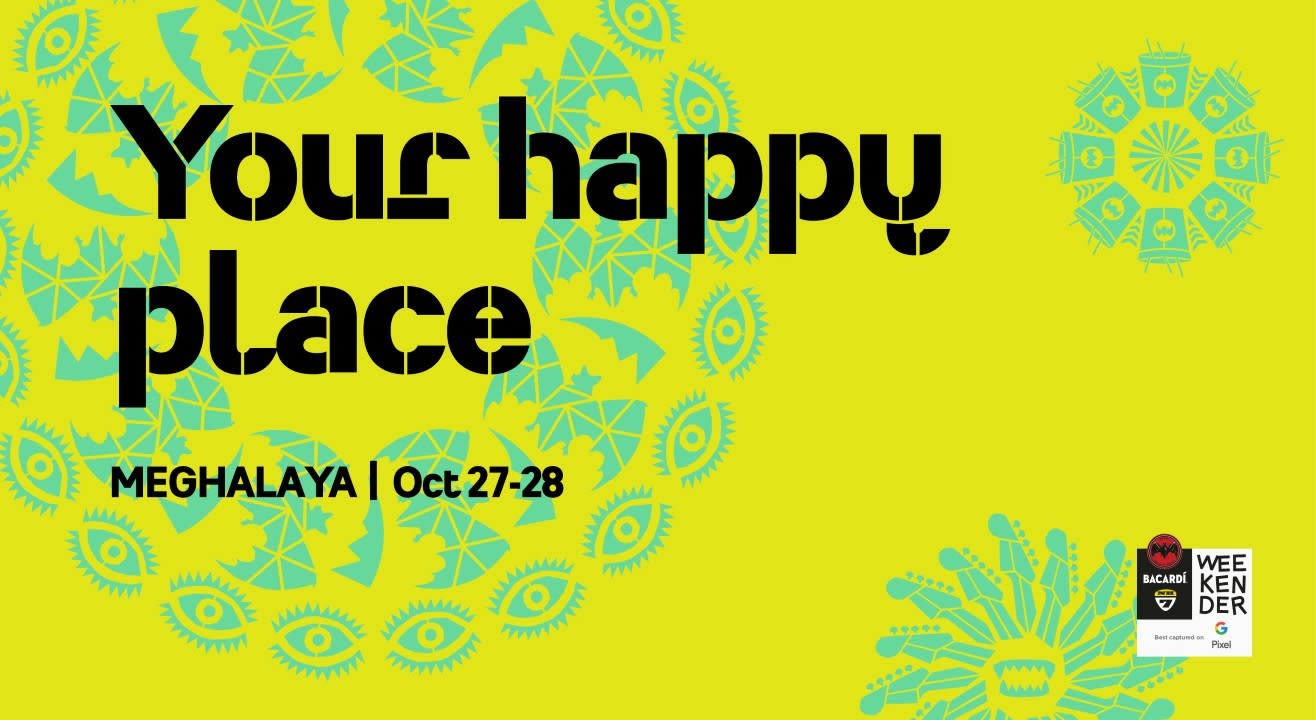 Events
Get your artwork to Bacardi NH7 Weekender Meghalaya!
If you're an artist and have an installation or an idea for one, then The Happiest Music Festival wants you. Bacardi NH7 Weekender opens a call for entries for artists for its Meghalaya edition. Read on for details on 'Your Happy Place'.
Introducing: Your Happy Place
Every year, Bacardi NH7 Weekender gives tens of thousands of attendees a mix of great music, awesome food options and an unmistakable vibe that stays with them long after the festival is over. Part of this vibe is the decor, art installations and graffiti. Serving as atmosphere as well as photo-ops, these installations have come in all shapes in sizes over the last few years: From the iconic 'Rock Ness Monster' in a lake, to the 'Honeycomb', to the giant pinwheel. To a periphery art project to standing frames you could sit in. This year, the festival invites talented artists to bring their ideas and, if selected, will bring them to life under the banner of 'Your Happy Place' at the Meghalaya edition of the Happiest Music Festival, on Oct 27-28.
The Honeycomb: Bacardi NH7 Weekender 2016
Interested? Here's what you need to do and keep in mind!
The Meghalaya edition of Bacardi NH7 Weekender celebrates the North-East and this will be evident in the artist-lineup which features several acts across genres from the Seven Sisters, and lots of local food. In keeping with that theme, preference would be given to local art and artists for this installation. If you are keen on submitting your work for the Pune edition of Bacardi NH7 Weekender (Dec 8-10), keep a watch out on the festival's social handles - submission details for those will be out shortly.
Fill up this form and submit your details, along with a link to your work. This could be a website, or a link to an uploaded PDF / PPF of your proposed installation.
Entries close on 20th September.
Shortlisted artists will be notified by the end of September, via email and will be acknowledged on the festival's social media handles.
Following this, shortlisted artists will get approx. 2 weeks to submit their plan (how to bring the idea to life on-ground)
Closer to the festival, the artist(s) will get 4 days at the festival venue to set up the installation and make sure everything works. All the pre-prep like fabrication, development etc will happen at the artists' respective workplace.
The artist will be compensated for his/her effort, which will be communicated individually on mail.
Guidelines
There are no guidelines or restrictions in terms of dimensions and functionality of the installation. The festival is open to all suggestions and looks forward to them - so let only creativity be a factor! Keep in mind, though, that the installation should be made keeping in mind the weather conditions and will also be a standalone piece that festival goers will interact with, should be steady enough and not consume a lot of ground space, as the festival grounds can be quite uneven.

The only thing an artist should keep in mind is that the installation should fit in with the overall festival 'vibe' and add to it. Bacardi NH7 Weekender prides itself on being 'The Happiest Music Festival' and images that immediately come to mind are happy people in the front row, an iconic Ferris Wheel, yellow buntings with smiley faces, and lots of mugs and buckets for drink! Check out a collage of images below to get a sense of what the festival vibe encompasses.
Questions?
If you have any questions on submissions or the theme (or anything else at all regarding the Your Happy Place project), please write in to yourhappyplace@oml.in, and you can expect a reply within 24 hours.
Subscribe to receive our newsletter!
Find the best experiences happening out there in your city or enjoy handpicked content while sitting comfortably at home. Insider is your go-to place to figure out what to do today!