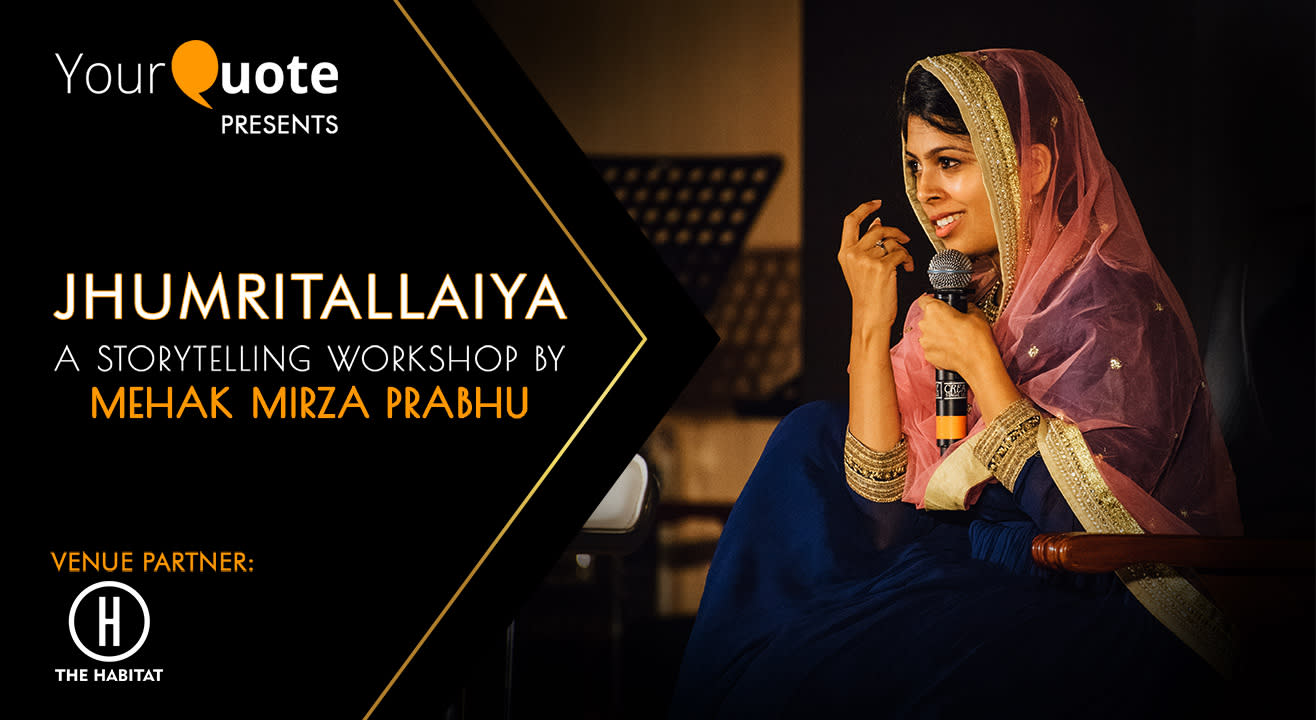 Storytelling
YourQuote presents 'Jhumritallaiya' - A storytelling masterclass with Mehak Mirza Prabhu
About
Bambai sheher ke wasiyon! Storyteller extraordinaire, viral star Mehak Mirza Prabhu, in association with YourQuote - India's favourite mobile app for creative expression, presents an exclusive Storytelling Masterclass: Jhumritallaiya!
If you're a storyteller looking to be the best at what you do, or if you've ever wanted to amaze people with the power of stories, this is something you simply cannot miss out on. Learn the magic of creating and telling stories using your imagination, voice & body.
In this unique and exciting masterclass, you'll learn not just how to write stories, but also to perform them using special techniques from theatre including voice-modulation, facial expressions and much, much more. By the end of it, you'll be ready to take to the stage, perhaps be a part of Jhumritalliya's upcoming shows and... who knows... perhaps even start your own career in storytelling!
Hurry & sign up before all slots get filled!
Mehak Mirza Prabhu is a storyteller, writer, performer and tutor, based in Mumbai, who is passionate about creating and narrating stories in various languages. She has also founded Jhumritaliaya, a one-on-one online storytelling pathshala. Her storytelling act "Zoya Ki Diwali," was listed as one of the 10 best theatre acts of 2017 by Mumbai Theatre Guide. She is also well known for her story "Phir Mohabbat Karni Hai," that has crossed over 3 Million views all over social media.

Book any workshop ticket and get a 7-day cult.fit pass FREE. Offer valid till 31st September. (T&C apply) Click here for more information
Venue
The Habitat
1st Floor, OYO Townhouse (Hotel Unicontinental), Road Number 3, Khar West, Mumbai, Maharashtra 400052