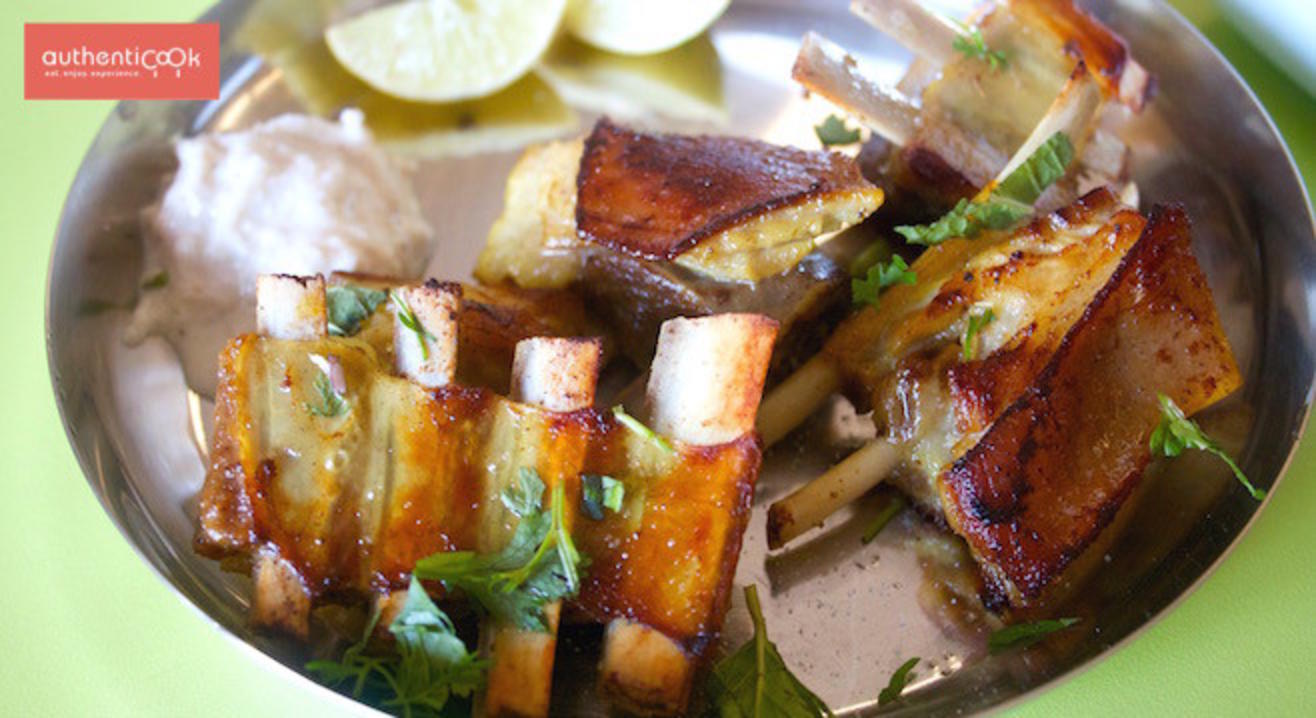 Themed Lunch
Zaika-e-Jannat with Jasleen by Authenticook
About
Real Kashmiri flavours are hard to come by outside a Kashmiri home. Superb preparations and fabulous aromatic flavours of the Kashmiri food is so alluring that even those who are not feeling hungry end up yearning for more! Experience real Kashmiri cuisine and hospitality with home-chef Jasleen in Mumbai.
About Authenticook:
Authenticook makes you experience India one meal at a time. We provide authentic meal experiences at the homes of home-chefs, whether one wants to dine with locals in their own city or at places they are travelling to, thereby showcasing the cultural diversity of India through the medium of food. Imagine getting an opportunity to taste the diverse, unheard-of cuisines of India, at the place they are served best i.e. at the home of a local!
WELCOME DRINK

# CHAAS - Spiced Buttermilk

APPETIZER

# TABAKH MAAZ SERVED WITH MUTTON SHORBA AND MUJI CHETEIN - Mutton ribs slow cooked, first in water and whole spices and then added to a combination of milk and saffron along with a portion of the sieved water and spice broth and finally removed from the broth and roasted in ghee (clarified butter); the broth can be had as a soup and the tabakh maaz goes brilliantly with a radish chutney

MAIN DISHES SERVED ONE AFTER THE OTHER

# ROGAN JOSH - One of the mainstays of a Kashmiri Wazwan, the Rogan Josh is an aromatic mutton stew, with robust flavors from red chillies, Kashmiri spices and yoghurt

# MUTS OR MATSCHGAND - Mutton kheema balls cooked in a gravy of spices and rounded off with yoghurt; the bedrock for this one is the use of spices!

# MAAZ YAKHNI - The culinary secrets of the Valley brought to you in the form of mutton pieces cooked in a broth of spices and then finished in slow cooked yoghurt and topped with mint

# RAJMA - Lets just say very different from the Punjabi Rajma!

# ALL OF THE ABOVE SERVED ON A BED OF RICE!

ACCOMPANIMENTS

# MUJI CHETEIN - Grated radish in yoghurt with green chillies and mint

# ACHAAR - Kashmiri pickle with all the lovely vegetables and mustard oil

# ONION RINGS WITH CHAT MASALA

DESSERT

# KONG PHIRNI - Rawa cooked in milk, saffron and dry fruits

TO END WITH

# KEHWA - Special Kashmiri green tea prepared with saffron, cardamom and almonds; a great digestive!