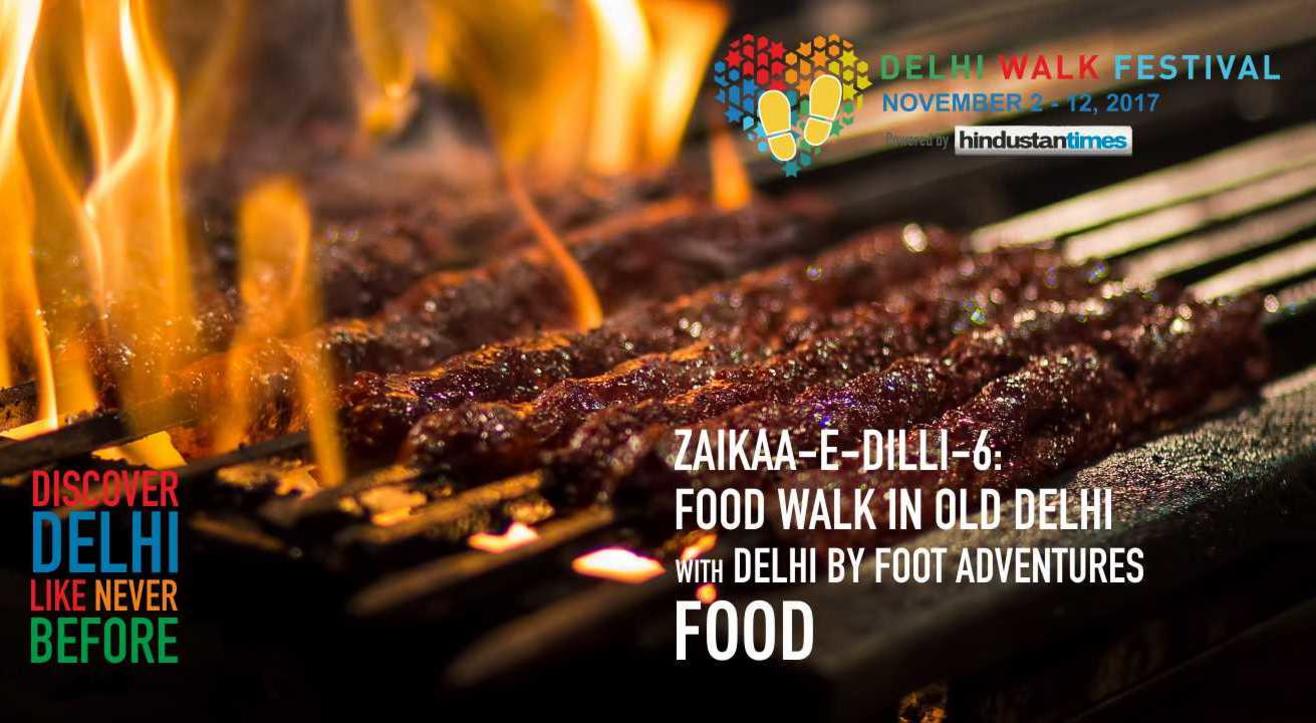 Walk, Food & More
Delhi Walk Festival - Zaikaa-e-Dilli-6: Food Walk in Old Delhi
Chawri Bazar Metro Station
About
Welcome to the DELHI WALK FESTIVAL!
Put on your walking shoes – and join us.
Choose from Nature Walks, Ecology walks, Design Walks, Photography Walks, Alternative and Experimental Walks, Culture Walks, Heritage Walks, Art Walks, Music Walks and Food Walks.
Discover a city that is brimming with experiences that are rich, diverse, vibrant, inclusive, unique and unforgettable.
ABOUT THE WALK
The winter chill is creeping upon Delhi and to Delhiwallas it can mean only one thing… head out to the culinary hotspot of our city, Purani Dilli, for a hearty feast of soul-warming treats! Savour Mughlai dishes, Marwaari snacks and much more. So eat a light lunch, put on your walking shoes and gear up to be pampered on Delhi's most definitive Food Exploration. The street foods of Puraani Dilli are awesome, as diehard foodie Ramit Mitra will guide you through a journey of gastronomical delights and fascinating food stories that you'll cherish forever. You will cover Chawri Bazaar, Sitaram Bazar, Gali Kababiyaa & Jama Masjid areas, savoring Ramit's favorite selection of both veg as well as non-veg delicacies.
ABOUT THE WALK PARTNER
Ramit is co-founder, chief-explorer and lead walker of DelhiByFoot, a community of Dilliwaalas, who have been sharing stories of this ancient city with educational hubs, corporates & curious individuals for the past 12 years. The city stokes Ramit's passion for popular food, history and culture. Through his work, he has been documenting the changing cultural landscape of the city, of which food plays a vital role. With carefully curated walks, he highlights the stories behind Delhi's unique fusion of culture and cuisines.
Contact Number of walk Leader-Ramit - 9871181775
Wear comfortable walking shoes, and clothes that cover your legs.
Mosquito repellant creams/patches will help
Our city is choking on plastic waste, we wish to avoid adding further to the city's woes, hence please carry drinking water in your own bottles.
It helps if you have a Huge Appetite

YES, this is a complete food walk and requires a compulsory additional payment of INR 500 per head for food and beverages at the beginning of the walk.

Venue
Chawri Bazar Metro Station
Ajmere Gate Road, Chawri Bazar, Indraprastha, Deen Dayal Upadhayay Market, Hauz Qazi, Old Delhi, New Delhi, Delhi 110006