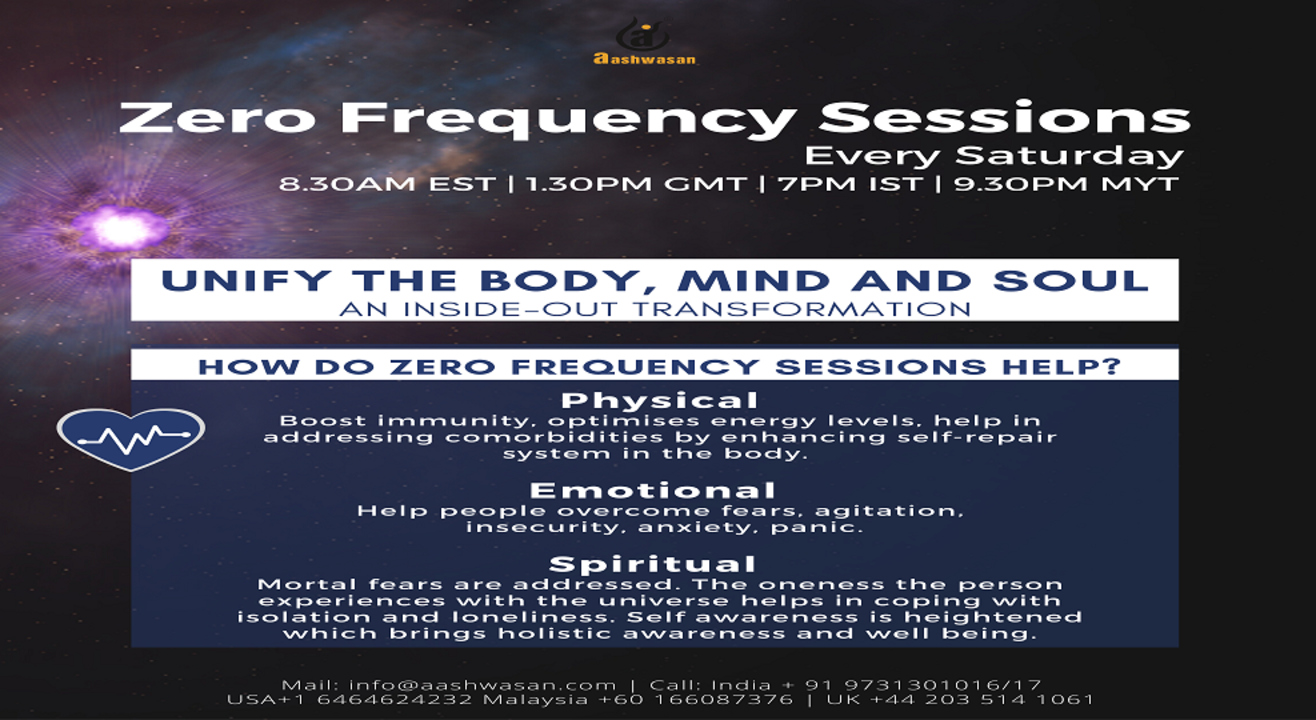 Zero Frequency Session to Align Body, Mind and Soul
Enjoy this event from your home
Invite your friends
and enjoy a shared experience
Invite your friends
and enjoy a shared experience
About the Event
Description :
An energy based scientific medium through which one's innate self-healing ability is brought out to optimize the physical, mental and emotional resilience.
It lays the foundation for holistic well-being in people. Being an energy based service, it addresses many unseen and unexpressed aspects of health and well-being.
Zero frequency is the frequency at which all universal communication happens. This is the frequency at which love manifests in the body-mind system to bring about an inside out transformation.
Take this phase as an opportunity to look at, address, resolve and cross a milestone with respect to any aspect of your life - health, relationships, career or knowing yourself. Come, tune into Zero Frequency and experience your own answers.
Zero Frequency Sessions go beyond the barriers of distance. Thus these sessions can be availed and experienced from anywhere in the world, at time zones specific to that region.
How do Zero Frequency Sessions help?
Physically - boosts immunity, optimises energy levels, helps in addressing comorbidities by enhancing self-repair system in the body. As the body's own resilience is enhanced, the recovery is accelerated.
Emotionally - help people overcome fears, agitation, insecurity, anxiety, panic. This helps in recovery. As emotionally people feel resolved, psychosomatic symptoms are addressed.
Spiritually - mortal fears are addressed. The oneness the person experiences with the universe helps in coping with isolation and loneliness. Self awareness is heightened which brings holistic awareness and well being.
About the event organizer, Aashwasan:
5 years of hope, humanity and breakthroughs! At Aashwasan, we offer services that address health conditions and issues at their root cause level bringing permanent solutions and do not involve medications. The services are based on the techniques and methodology invented by Rashmi Aiyappa. They are natural and non-intrusive. Aashwasan services are not only able to identify root cause analysis of the issues and problems, but are able to bring about a transformatory solution. Aashwasan services enable individuals to explore, experience and express their maximum potential and live a beautiful life.
Our mission is to make a world that stands for the original creation of humanity towards preservation.