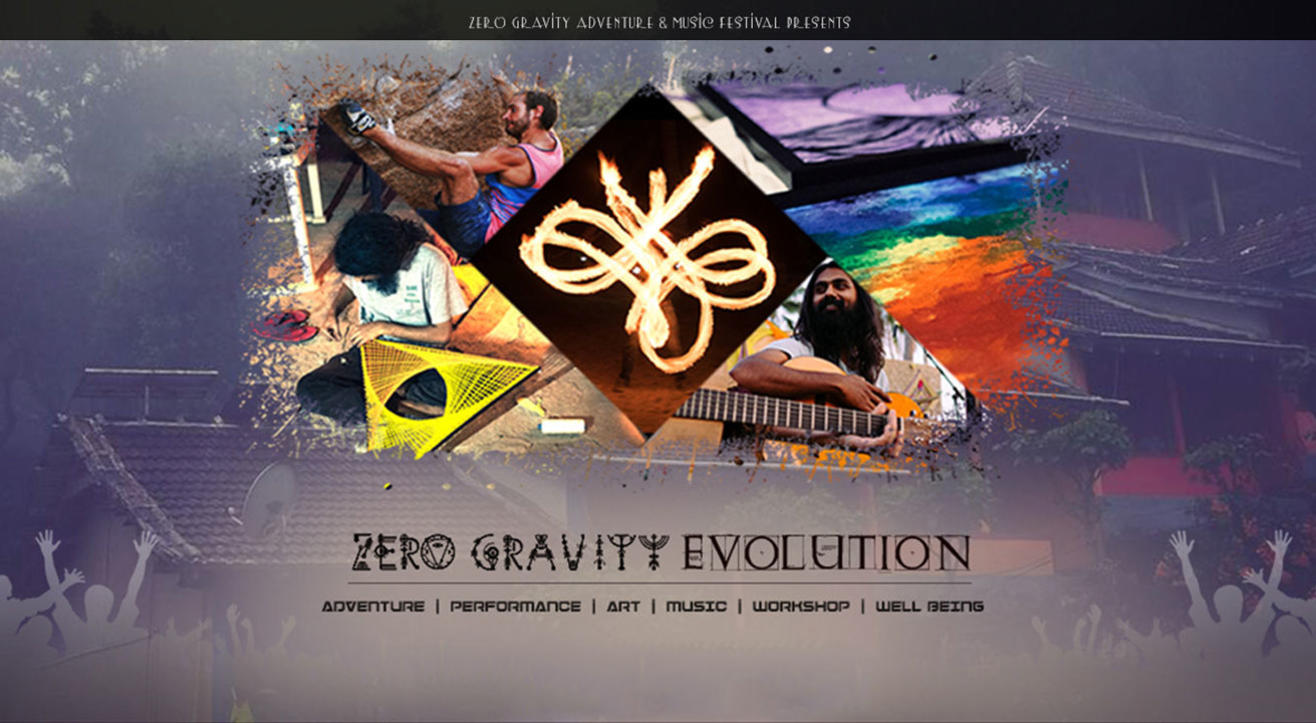 Camping
Zero Gravity Evolution
December 30 - January 1 | 9AM
Mountain Mist Coffee Valley
About
This New Year, are you planning to hit a party in city and toast for the midnight? Or would you want to break free of the stereotypes and escape the blitz of city?


Into the serene locales and coffee plantations, undulating plains and open skies with marvelous view of the forest and smell of earth in the air, a lazy evening watching the sun set and a lively night with some carefully curated music for a mind altering experience...

Head to the Scotland of India!


An incredible and exclusive location with tons of activities to indulge in and Zero Gravity make sure you don't miss the fun!
Come and join in for "Zero Gravity Evolution" at Mountain Mist Coffee Valley, Coorg, Karnataka.


Indulge in a nature walk, go camping, slack lining, rappelling; attend art and music Workshops, art installations, set out and dance, do some yoga and eat somr organic and healthy food through the day and then go wild by the bonfire with live music and dance - Chillout, Dub, Psybient, Progressive, Ambient and Fusion.
You may check in and relax in the evening with a beautiful sunset and sumptuous meal at a private estate

Get Off the Grid (Day 1)
Start your day with breakfast followed by nature walk to experience magnificent panoramas criss-crossing lush green forests and grasslands. Come back for some mouthwatering local dishes and join in talks by artists and performers. Sit back and enjoy some psybient and chill out music with bonfire under the stars for the rest of the evening.

Get in the Groove (Day 2)
Zero Gravity don't just spoil you, but also help you to rejuvenate to bring in a healthy New Year. Start the day early with yoga and sound healing session followed by breakfast. Participate in art/music workshops till lunch and get ready for the blast with some of the best music to greet the New Year.
Inclusions
The event pass includes entry to all the activities and workshops.
Camping under the stars with tents, sleeping bags with mats
Musical gathering for the new year

Exclusions
Food - there's restaurant available in the property and people can buy food from there which will be provided at reasonable prices (150-200) per meal
Transport - People should book their own transport. Arrangements to guide/ferry people from bus station to the venue will be made.
Good shoes
Winter wear
Personal medication and toiletries
Lots of enthusiasm!
Zero Gravity is a gathering of people from different paths of life who come together to experience adventure, art, music and well being.
Mountain Mist Coffee Valley provides you experienced, discreet and professional hospitality services, as well as cottages and arrange any kind of party, private gathering, tent stay, etc.
Venue
Mountain Mist Coffee Valley
Mountain Mist coffee valley, Doddatholur,Matnahalli, Somwarpet, Karnataka 571236