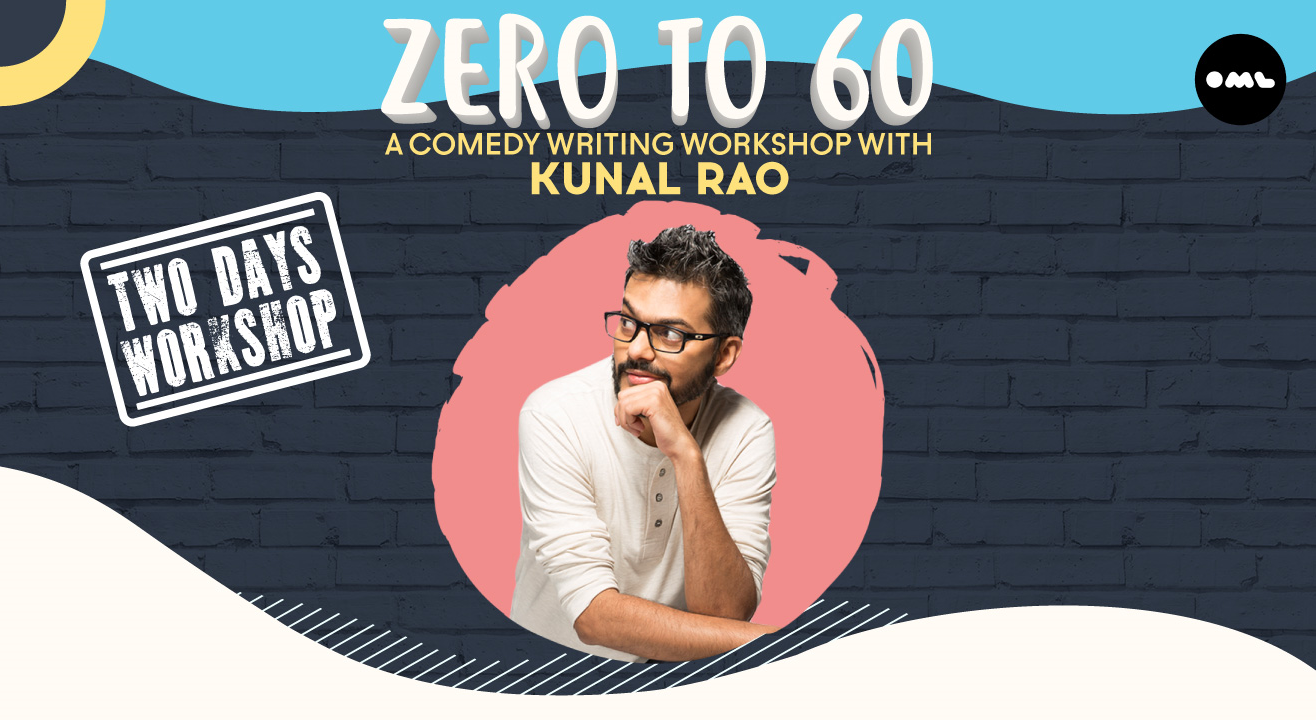 Zero to 60: A Two-Day Comedy Writing Workshop
Enjoy this event from your home
Event Guide
Masterclass
Learn from an expert
Invite your friends
and enjoy a shared experience
Event Guide
Masterclass
Learn from an expert
Invite your friends
and enjoy a shared experience
About the Event
Zero to 60: A Two-Day Comedy Writing Workshop
I got 99 premises but a punchline ain't one.
"…felt like the most important things of comedy were included in this workshop. Solid info."
"…a balance between the theoretical and the practical approach…"
"…it was safe space … gave me a lot of confidence…"
"Overall, I absolutely loved it! This was my first ever comedy/creative writing workshop and it was a blast! The knowledge you shared and the tips you gave us made it really worthwhile."
"A complex thing can be totally broken down and made really simple by Kunal."
"The practical examples and videos were very useful in understanding."
- Feedback from past attendees
Maybe you watched a comedian on stage and thought to yourself, "hey, I could do that!" Maybe you're really curious and wonder whether comedy can learned. Maybe you've even gone so far as to look up an open mic near you. But then you backspaced yourself the hell out of there because it's one thing to be the funny one in your friends' circle, but can you crack a room filled with strangers?
I'm here to tell you can! You probably won't—at least not the first three dozen times—but it is possible for anyone to learn the principles of standup comedy, even for those to whom it does not come "naturally".
If you've always wanted to try writing and performing standup comedy, but had no idea how or where to start, this workshop will cover some of the basics of standup comedy writing to help you get your first 3 minutes together—we call it the Tight 3. (Ok, I lied, it's a Tight 60, but baby steps.)
For whom is this workshop (or is it 'For who'?)?
This workshop is designed for newcomers who have not performed standup comedy at all, or tried it just a handful of times. And if you've been performing comedy for a while, I'm sure you'll find some techniques you didn't know of before! Together we'll tackle the basics: ideas, writing, structure, performance, delivery.
If all goes according to plan (both mine and yours), you'll leave the Zoom-room and never come back with 3 minutes of material that you can take straight to the next open mic!
Topics covered:
Why we find things funny
The basics of writing a joke
What premise do I start with
How to expand on an idea
News comedy writing
Standup tools and tricks
That ugly beast called 'Editing'
Top mistakes we make when starting out
Remember, failure is not an option. It's mandatory!
Date: Sat-Sun, 5-6 June2021 (Two days, 3 hours each)
Time: IST 5:00pm to 8:00pm
Length: 6 hours (3+3 hours)
Price: Rs 2499
Participants: 15
Venue: Zoom
This is an interactive workshop with limited seats - attendees will be required to keep their video and audio on to participate in the assignments during the sessions.
For discounts, follow Kunal on Instagram or other social media @kunalrao
Kunal Rao has been performing standup for over 10 years in India and internationally. He is also the co-founder and ex-member of one of the country's most popular comedy collectives, East India Comedy (EIC). In 2019, he released his first standup comedy special, "Done" on Amazon Prime Video. Kunal has been successfully running standup comedy writing workshops over the last few years, a process he enjoys thoroughly and values for its potential to exchange ideas and learn from one another.