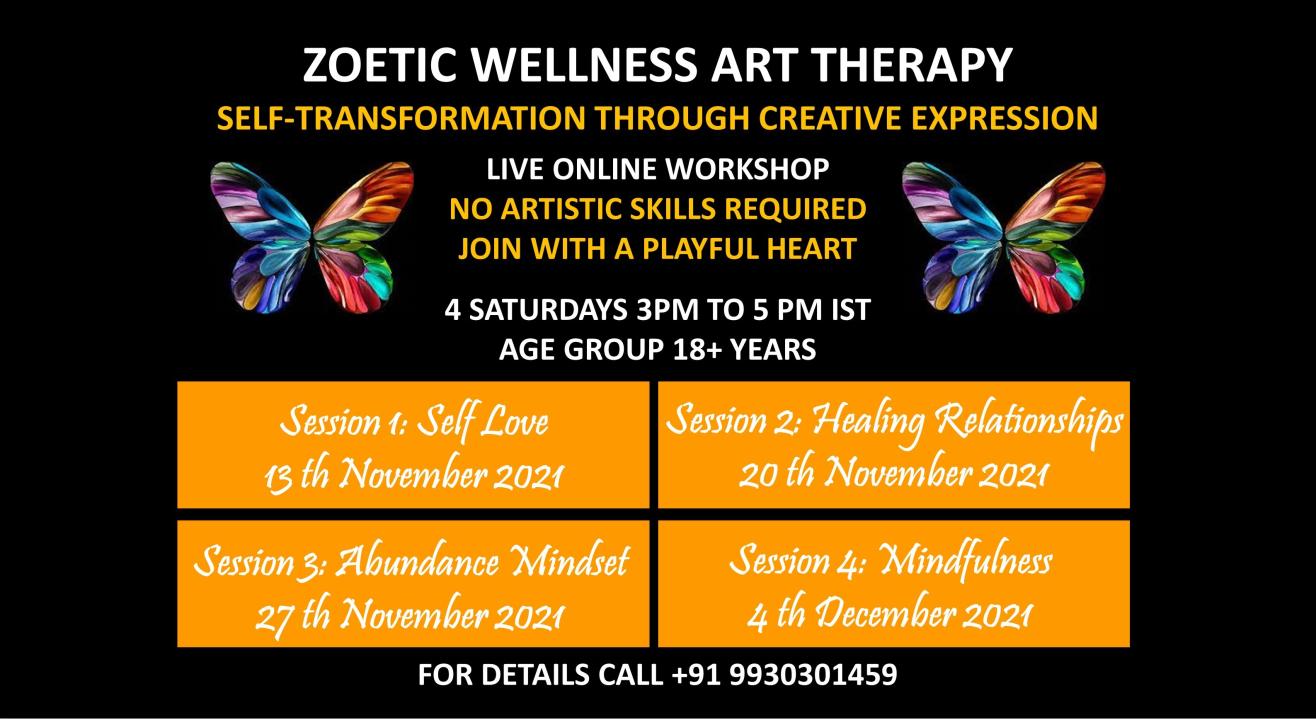 ZOETIC WELLNESS ART THERAPY
November 13 | 3PM - December 4 | 5PM
Venue to be announced - Mumbai
Step out and enjoy this event
Invite your friends
and enjoy a shared experience
ZOETIC WELLNESS ART THERAPY
November 13 | 3PM - December 4 | 5PM
Venue to be announced - Mumbai
Step out and enjoy this event
Invite your friends
and enjoy a shared experience
Invite your friends
and enjoy a shared experience
ZOETIC WELLNESS ART THERAPY
INTRODUCTION:
Art therapy is a technique rooted in the idea that creative expression can foster healing and mental well-being. Watch the short introductory video for details.
NO ARTISTIC SKILLS REQUIRED:
One doesn't need to have any artistic skills to experience therapeutic art. The focus is on spontaneous expression in various activities designed for wellness. So anyone can participate and benefit from it.
Zoetic Wellness Art Therapy is based on the principles of POSITIVE PSYCHOLOGY
Inviting you to TAKE A LEAP FROM BEING NORMAL TO BEING AMAZING
ZOETIC WELLNESS ART THERAPY OFFERS
A HOLISTIC APPROACH WITH BENEFITS IN BROADLY FOUR AREAS OF YOUR LIFE:
1. SELF-LOVE: Session 1 on 13th November 2021
Mental peace, Decluttering Mind and focusing on your Positive Qualities
2. HEALING RELATIONSHIPS: Session 2 on 20th November 2021
Healing personal and professional relationships and thereby creating a positive work environment and increasing productivity.
3. ABUNDANCE MINDSET: Session 3 on 27th November 2021
Achieving Goals, Activating Eight Dimensions of Wealth, Developing Life Vision
4. MINDFULNESS: Session 4 on 4th December 2021
Developing Focus, Concentration, Deepening Awareness and Loving Kindness
TIMINGS: 3 PM TO 5 PM IST
AGE GROUP: 18 + years
VENUE: This is an online workshop and joining link will be shared by whatsapp with the participants one day before the session.
MATERIAL REQUIRED FOR THE WORKSHOP:
7 sheets of white chart paper
Any colouring media like sketch pens, colour pencils, crayons, water colours
Stationery: pen, pencil,earaser, ruler, compass, scissor, cutter, glue stick
Your passport size photograph
Details will be shared before the session
FACILITATOR: BADAL SUCHAK (CERTIFIED THERAPEUTIC ART LIFE COACH)
WEBSITE: www.badalsuchak.com
TESTIMONIALS:
"Badal has unique way of expressing a deep subject with simplicity, clarity and beauty. The essence of his expression is minimal, poetic and zen like. Badal's Art Therapy Workshops have given me great insights into my health, emotions, life goals and reflecting on them in a wholesome manner. His article on Ashtalakshmi – Invoke the Goddesses of Prosperity in Life Positive magazine and its extension into an art therapy activity gives a rich perspective to what is wealth and how to create it. His writings in Life Positive magazine on Decoding Minimalism and Devotion present profound matter in gentle, subtle way. Badal's workshops are for anyone who is looking to clearing their path to their aspirations, for self-improvement while working with your own realities."
– Namita Sinha (Yoga Lifestyle Consultant)
"For someone who spends most of her day operating from the head , I joined the program thinking it would be fun to just let go and have fun with colours. Fun they certainly were but what came as a total surprise was how simple and therapeutic the sessions were. How much clarity they brought on some of the issues of relationships , self worth , abundance without being preachy, by just self realisation while having fun drawing and colouring with awareness! Thank you Badal for putting together such a beautiful program and for creating such a warm and secure environment online, so each of the participants were able to share freely . I look forward to doing it again after some time to see the progression of my journey through my drawings! Much gratitude."
– Deepa Motiani (Manufacturer, Exporter)
"I came into the workshop not knowing what to expect even though I had a faint idea. It impacted me so positively. I learned to forgive the long forgotten pain within me. I learned it is not just having goals, it is about having a vision, seeing where you are at and how to work towards it by linking the ways to reach your goal. The topic on wealth opened my mind to a deeper perspective. Finally being mindful of my emotions, how I feel and how to make myself be open to be filled with the goodness that the universe has to offer. How the head , heart and body can function as one and radiate so much more. Thank you Badal, I am forever grateful."
– Sharon Alex (Facilitator)
INTRODUCTION TO ZOETIC WELLNESS ART THERAPY