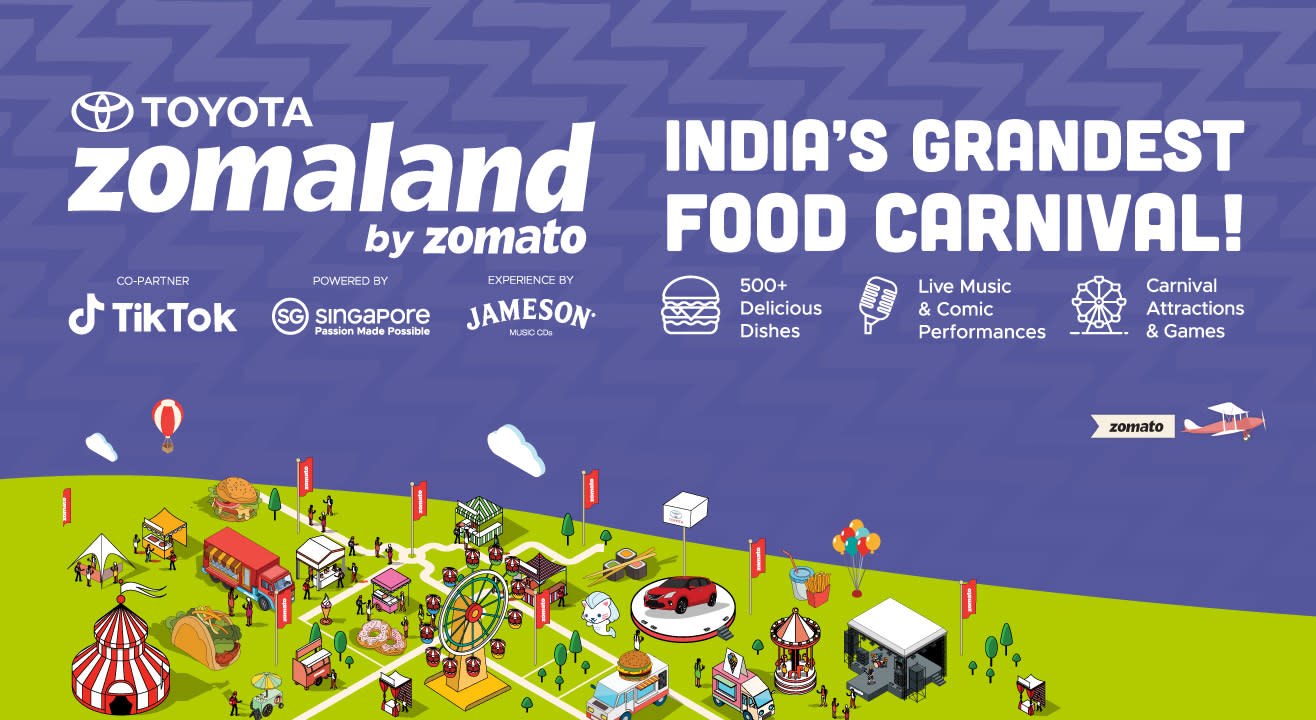 Food Fest
Ready for India's grandest food and entertainment carnival?
After having Delhi, Pune and Bengaluru drool over good food and incredible performances, Zomato's festival venture - Zomaland is back for the next round of the carnival.
Imagine being surrounded by over a 100 curated food stalls, with a good amount of music, entertainment, games to go with it. Where one street leads you to the food lanes of Beijing, while the other takes you to the mellow Mediterranean souk; where the fiery cuisine of Mexico meets some good ol' fast food - Zomaland has it all!

Get your tickets for Zomaland now!
Here's what went down at Zomaland season 1 in Delhi, Pune and Bengaluru
With its debut, the carnival managed to bring together top eateries from across the country, some of India's best comedians, along with a stellar lineup of artists from around the world! In addition to these, there were some stunning installations, fascinating photo booths, larger-than-life attractions, vibrant food parades, enthralling street performances, and a giant Ferris wheel - all under one roof.

The first edition of Zomaland featured some of the biggest names, like Lucky Ali, Divine, Jay Sean, Nucleya, Ritviz, When Chai Met Toast, Rohan Joshi and Varun Thakur.

Zomaland Season 1 Aftermovie
With Zomaland 2.0, it only gets bigger!
We're talking 10 cities. 400+ pop up restaurants. 50+ performances, and a lot more. With picturesque attractions at every corner, electrifying entertainment to set the mood, world-class chefs and mixologists, and above all, great food curated into multiple cuisine-based zones, all under one roof - the new edition of Zomaland will be bigger, grander & better!
So, come on down to the grandest carnival to sample delicacies from the best eateries from across the nation, and get into the festive spirit as some of the best entertainers hit the stage to make you laugh, sway, groove and be amazed.

Subscribe to receive our newsletter!
Find the best experiences happening out there in your city or enjoy handpicked content while sitting comfortably at home. Paytm Insider is your go-to place to figure out what to do today!