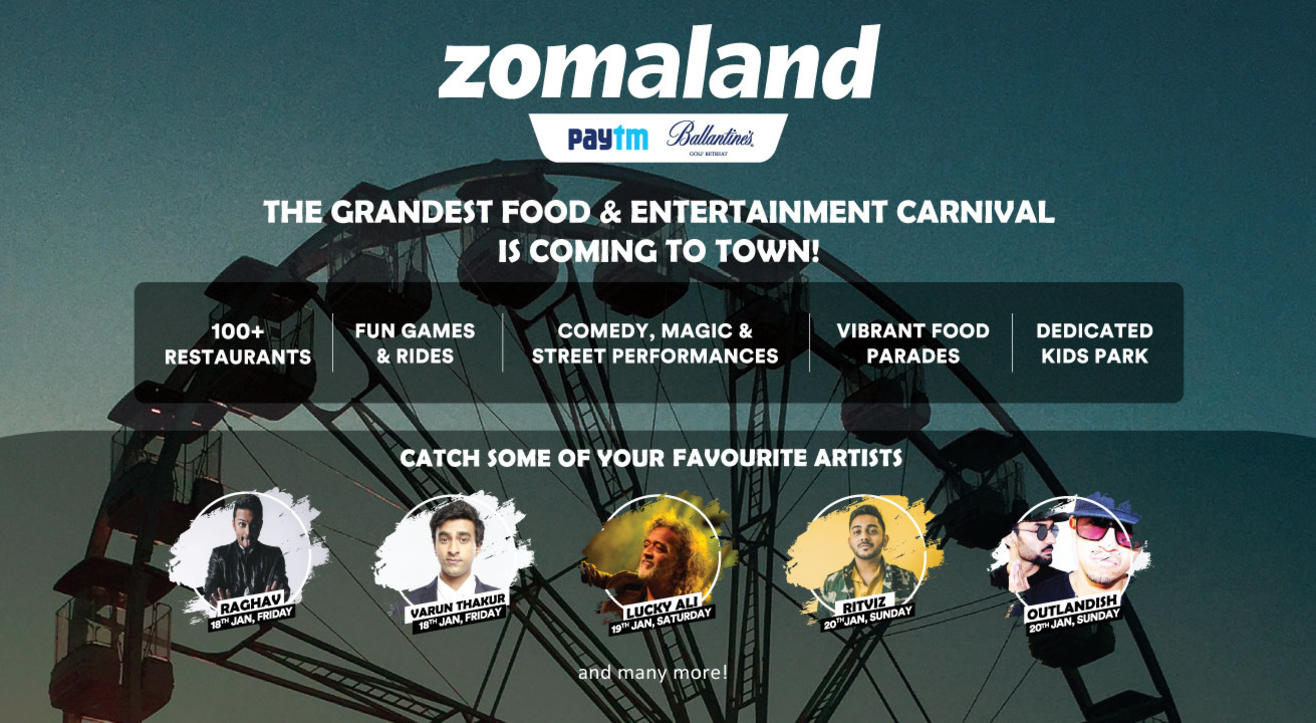 Food Fest
Zomaland | Delhi
January 18 - 20 | 12PM onwards
Jawaharlal Nehru Stadium, Delhi
About
Get a free Paytm movie voucher worth Rs.150 on each transaction (T&C apply)
Come one, come all

To the grandest carnival of food, frolic & fun!

Zomaland marks Zomato's much awaited entry into the space of large scale experiential events - Imagine being surrounded by over 100 handpicked eateries spread over 8 food zones, where the streets of Delhi 6 meet the by lanes of Beijing, and where the mellow flavours of the Mediterranean meet the flaming cuisine of Mexico!

Think music, entertainment, games - Zomaland will have it all. Replete with food for every palate, games for all age groups, music for all ears and incredible attractions to please every eye (and camera, of course!), it's a spectacle that you're not going to want to miss.

And that's not all!

Zomaland will be jam packed with things to do. It will have a carnival city with games and fascinating photo booths, along with larger-than-life attractions, vibrant food parades, comedy acts, enthralling street performances, a stellar line-up of music artists, and a dedicated zone for the little ones.

Here's a little bit more about what Zomaland has in-store -
Great Food & Countless Cuisines
From sushi to salad,
There will be food for every palate!

Stunning Attractions
With larger than life attractions all through,
There will be plenty of photo opportunities for you!

Incredible Entertainment
They've got music that'll make you sing and sway,
And performances that'll light up your day!

And much much more!
The Salad Stories
eat.fit
Rodeo Cantina and Kitchen
Namaste Asia
Fat Lulu's
Indian Republic Canteen by Veda
SET'Z
little.BIG
Crepe-fe
Baba Rolls
Uncle Jack's
Le Bistro du Parc
Roomali Garh
Sazerac
Twigly
Q. Is the ticket valid for one day only? Is it a single entry ticket?
A. Each ticket allows entry only for the date for which it has been purchased. Tickets are single entry only and no re-entry will be allowed into the venue.

Q. What all does the ticket include?
A. Ticket price only includes the entry/access to the event.

Q. Do we need to pay for food and beverages or other activities inside the event or is it included in the ticket?
A. Yes, food and beverages as well as other activities are not included in the ticket price and must be paid for separately. Ticket price only includes the entry/access to the event.

Q. Can I buy tickets at the venue?
A. You can buy tickets at the box office at the venue. To avoid the possibility of missing out or standing in long queues, we would strongly advise you to purchase them online.

Q. How and where do I collect my tickets?
A. Tickets purchased online do not require physical tickets. Tickets purchased from the box office at the venue will be given physically.

Q. Will I need to carry a photo id along for ticket verification purposes?
A. Yes. A government issued valid ID i.e. PAN Card, Driver's License, Aadhar Card.

Q. Are there additional charges for booking a ticket online?
A. No

Q. What is the maximum number of tickets I can purchase?
A. You can purchase a maximum of 10 tickets per user for each day of the event.

Q. What should I do to purchase a ticket if I live outside India?
A. You can purchase tickets online through the Zomato website and mobile application.

Q. Where can I read event terms?
A. The event terms are available on Insider & Zomato website and mobile application.

Q. Is there parking at the event? Is it chargeable? Can you pre-book parking?
A. Yes, there will be parking adjacent to the venue. Parking slots are limited and available on first come first serve basis and will be chargeable. You cannot pre-book parking slots.

Q. Is this a child friendly event?
A. Zomaland is designed for visitors of all ages! Children below the age of 10 have free entry when accompanied by an adult user.

Q. Is this a pet friendly event?
A. While we love pets, they will not be allowed inside the venue.

Q. Can I bring eatables or drinks into the event?
A. No outside eatables or drinks will be allowed inside the venue.

Q. Will there be any ATM machines on site?
A. There will be ATM machine(s) on site. However we advise you to carry adequate cash as per your requirement

Q. Are cigarettes, e-cigarettes and vape pens allowed at the event?
A. Zomaland is a non-smoking event. Vape pens & e-cigarettes are also prohibited.

Q. Are strollers allowed inside the venue?
A. Yes, strollers will be allowed for all kids below the age of 4.

Q. Is the event wheelchair accessible?
A. We are working to make Zomaland as accessible as possible. Wheelchair accessible toilets & separate queues into the event will be offered to all specially abled people. Feel free to reach out to our ground staff & volunteers at the event for further assistance.
Venue
Jawaharlal Nehru Stadium, Delhi
Jawaharlal Nehru Stadium, Pragati Vihar, New Delhi, Delhi 110003