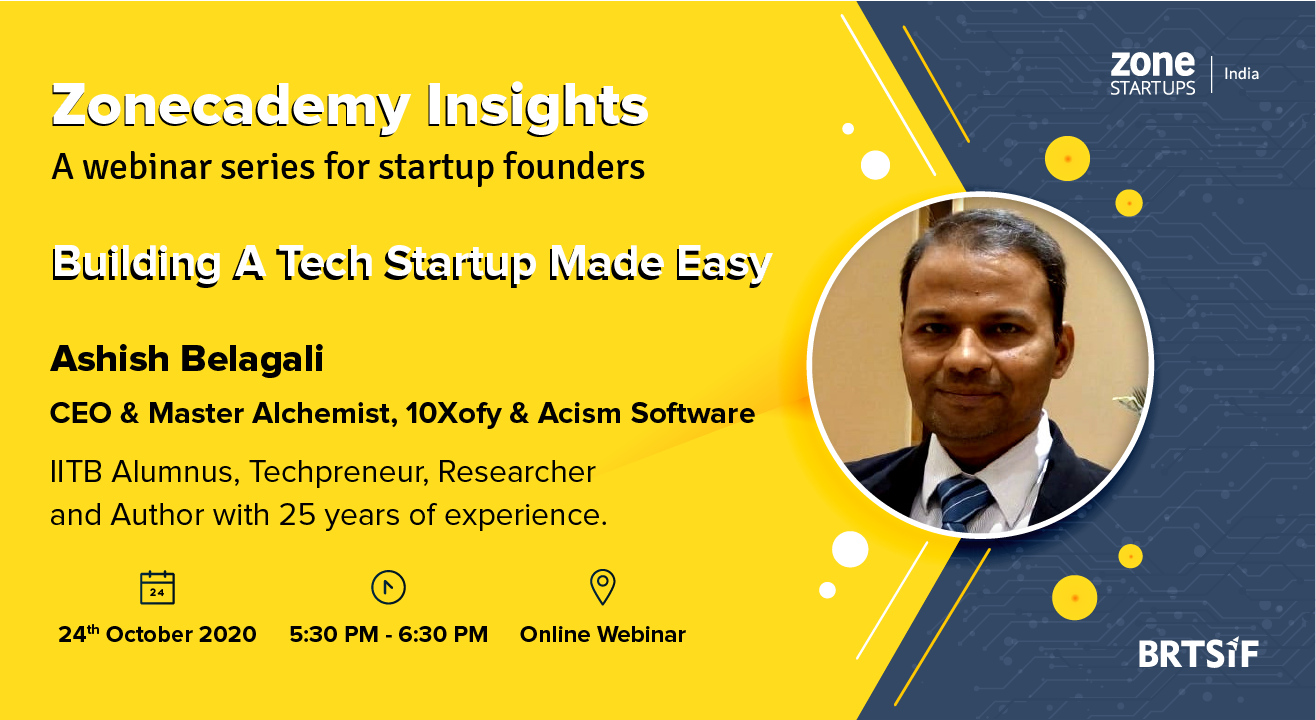 Enjoy this event from your home
Event Guide
Digital Event
Watch on Zoom
Masterclass
Learn from an expert
Invite your friends
and enjoy a shared experience
Enjoy this event from your home
Event Guide
Digital Event
Watch on Zoom
Masterclass
Learn from an expert
Invite your friends
and enjoy a shared experience
Event Guide
Digital Event
Watch on Zoom
Masterclass
Learn from an expert
Invite your friends
and enjoy a shared experience
About Zonecademy Insights:
Why and How can I access Global markets ? Why is B2B sales so much more challenging ? What are my Funding options ? One the leading Tech incubators in the country is bringing to you an insightful series to help you find answers to these and many more questions.
Zone Startups India (ZSI) launches "Zonecademy Insights", a web series built to provide you with actionable takeaways for succeeding, even in these turbulent times. We have curated a set of webinars that will focus on specific topics with smart and implementable action points to help you scale.
Over the course of the next few weeks, we will bring together speakers who will share their learning, wisdom and experience with you and ensure that you have at least 3 action points you can implement that will make an impact on your business.
The series will encourage entrepreneurs to take tough calls in the time of crisis in the right manner, guided through experience and backed with appropriate information.
Sample Takeaways:
Re-aligning and re-prioritising resources in the "new normal"
Strategizing sales, when the environment is challenging & dynamic
New opportunities to hit refresh in Global markets
Topic : Building a tech Startup Made Easy
It is apt to say that "technology increases the capacity and bandwidth of a company/business", whilst ensuring stakeholder satisfaction and revenue generation. Startups are called as the 'technological disruptors', who have disrupted the traditional business system with creative, innovative and sustainable technological products/solutions across sectors. Interestingly, ideas take birth day in and day out in the mind of the entrepreneurs, but the intimidating task is "where & how to start", you can have a blueprint of launching a product/solution but the core element is 'technology'. The session on "Building a Tech Startup Made Easy", will throw light on the key ingredients essential for building and launching a tech startup, whether you have or don't have a tech background.
Takeaways :
1. Demystify the tech in startup and bust the myth that non techies cannot build tech ventures
2. Understand available tools in the market to solve the growing tech needs of SME's as well as Startups Founders
3. Create your own roadmap by choosing to build your software or outsourcing it
Speaker :
Ashish is an entrepreneur, software technologist, researcher, author, leader and manager. He is an alumnus of IIT Bombay and has 25 years of experience. He got the title of a "Turnaround Specialist" because of the series of projects he turned around. His book "Kotlin Blueprints" was published by Packt Publishers, UK. Ashish led the largest startup group from Pune named "Pune Open Coffee Club" and has also served on the leadership team of a BNI chapter. He is now a mentor with AIC Pinnacle. Ashish has created a patent pending technology "Xsemble" which is used to make visual assembly of software components.
Please get touch with us for any quires +91 9558492437 or you can write to us at yash.kumar@brtsif.com
Enjoy this event from your home
Event Guide
Digital Event
Watch on Zoom
Masterclass
Learn from an expert
Invite your friends
and enjoy a shared experience