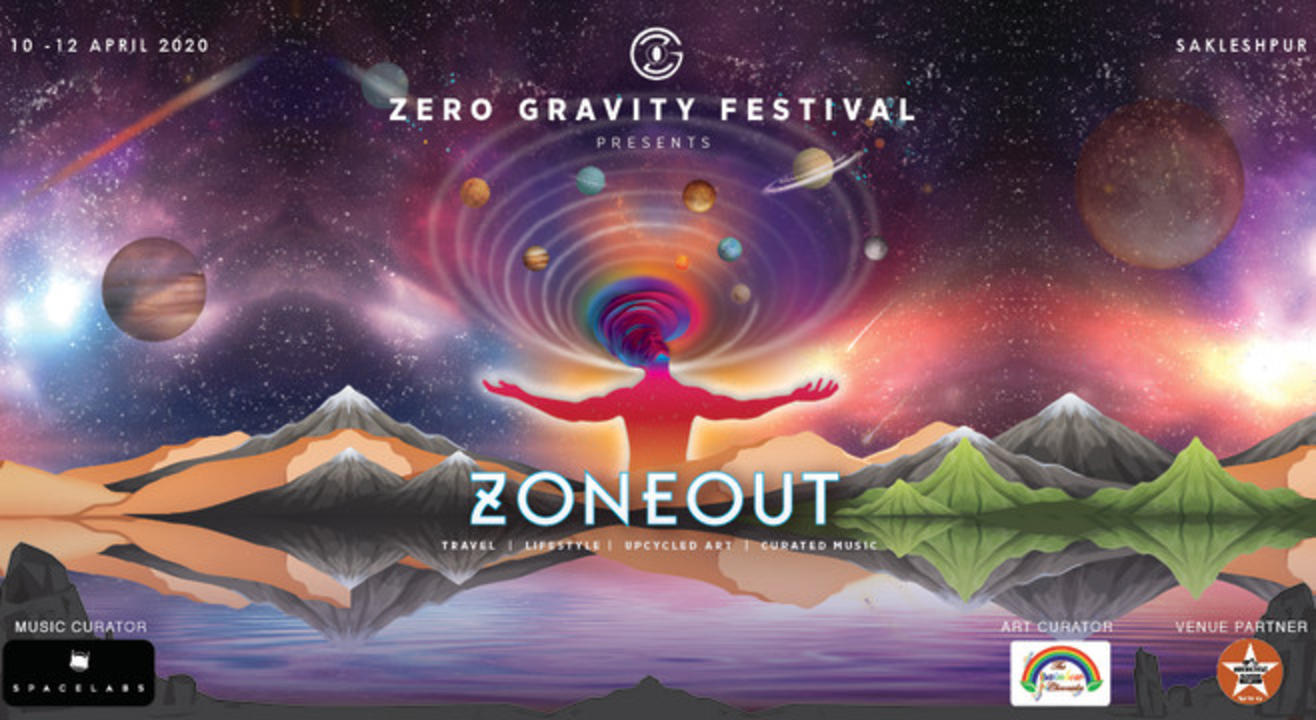 Music
ZoneOut
April 10 | 12AM - April 13 | 12AM
Motorcycle Diaries, Sakleshpur, Hassan
About
Travel it is said, is a book for your soul,
Art and Music is a reflection of your imagination,
Health is an outcome of your lifestyle.
Together it is the central plot of a lifetime!
Zero Gravity weaves together a narrative, connecting your soul, imagination and lifestyle into a cohesive whole.
Zoneout: The first and only Fusion gathering in India!
Encompassing Travel, Lifestyle, Up-cycled Art and Curated Music to create a compelling experience.
In the coffee valley of Malanad – Sakleshpur
Stage Concept
Hoysala Stage
Evolving through more than 2000 years, it is an engineering marvel that stands tall even today. Zero Gravity revers this embodiment of perfection by dedicating the main stage to Hoysala architecture.
Sunchaser Stage
Genesis of life, the supreme source of energy, Zero Gravity celebrates the power of Sun and seeds the idea for our next concept.
Travel talks & stories:
Responsible Tourism
Solo Travelling
Travel for Social Change
Travel and Volunteer
Bush Craft
Up-cycle art with an essence of local Culture and Craft:
"know each other" working together as group to paint
Painting with Natural Pigments
Block Painting
DIY Up-cycle daily waste to Artwork
Sip & Paint
Macrame Planters
Bird Feeders and many more
Secrets of Healthy and Organic Lifestyle:
DIY home essentials: Making Tooth Paste, Bio Enzymes, Bath Powder, other remedies
Grounding Meditation with Sound Healing
Acro Yoga
Eco friendly Daily Life
Organic Lifestyle a New way of Life
Best of Indian Techno//Deep House & Ambient DJ & producers
Social Inclusion
Interactive lunch with Govt School Kids
Be a part of this Story of Life!
Tickets
Festival Entry:
Festival Ticket Includes entry to the festival with access to all the 3 stages, all workshops and activities.
Stay:
There are some great homestays around the venue and we will be recommending a list of verified properties. Transportation from homestay to venue will be arranged.
You may choose form a list of some really great properties, location, distance from venue and pics to be shared soon.
will be available soon - Limited no of Tents
Venue
Motorcycle Diaries, Sakleshpur, Hassan
Motorcycle Diaries, Sakleshpur, Karnataka
GET DIRECTIONS