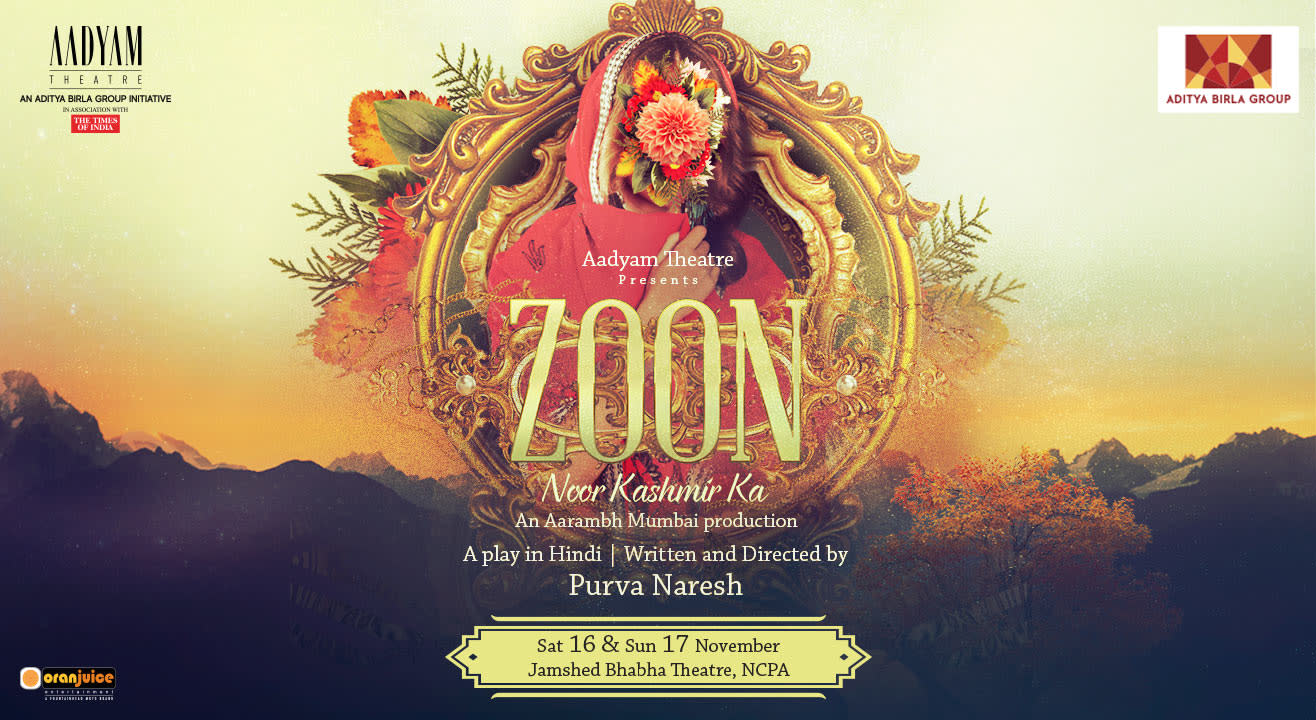 November 16 & 17 | 4PM & 7:30PM
Jamshed Bhabha Theatre, NCPA
Step out and enjoy this event
Invite your friends
and enjoy a shared experience
Invite your friends
and enjoy a shared experience
About the Event
The year is 1570. Yousuf Shah Chak, the warrior king of Kashmir captivated by a peasant girl, falls in love with the beauty of her voice and the richness of her rhyme. She is Zoon (the moon). They marry against all odds. Their love, destined to be short lived, is thwarted by a jealous Akbar, the great emperor. Renamed Habba Khatoun, she goes on to become the legendary last poet queen of Kashmir.
In 2019, in a maidaan somewhere in Kashmir, the stage is set for a dramatic retelling of Zoon's legendary tale. Five young college students wait to be assigned their roles for the show. Why have they caught the attention of a soldier stationed nearby? In another corner a mysterious woman sits silently. Who is she and what is she doing there? Little do they all know that the drama will unfold before anyone even gets onto stage.
As Kashmir's past and present collide through the richness of song and poetry, be enthralled by this compelling and dramatic reinterpretation of the story of Zoon, the nightingale of Kashmir.
Purva Naresh
Purva Naresh is an award-winning playwright and theatre producer from India. She has received the Laadli Media Award (supported by UNFP) for best play on Gender Sensitisation in 2012 for "Ok TataBye Bye". Recently, she received the Ustad Bismillah Khan Yuva Puruskar for young performing and theatre artists by the illustrious Sangeet Natak Akademi. To her name, she also has a Yash Bharti (awarded by the UP Government) and the Dada Saheb Phalke Memorial Honour (presented to the best performing student in the entire batch by FTII Pune). An established leading theatre artist in India, Purva's plays have crossed borders too. Her plays Jatinga, Pink Saree Revolution, OK TATA BYE BYE, among others have gained international recognition and critical success when playing outside India too. She's also got another show in the pipeline for a Japanese Arts Organisation set to hit the stage in 2020! Following these, and numerous other successes, Purva was listed amongst India's 50 powerful women by VERVE in 2013 and amongst the 'Top Under 40 Stars of Mumbai' in a survey by the leading daily The Hindustan Times in 2014.
Akhil Pratap Gautam
Akhil Pratap Gautam has completed a two-year diploma in acting from Shri Ram Centre (SRC) New Delhi. Following this, he served esteemed Shri Ram Centre Repertory, LTG Repertory for three years & eventually NSD repertory for 2 years. He has been part of over thirty-five theatre productions as an actor with eminent directors like Waman Kendre, Tripurari Sharma, Purva Naresh, Rajendra Nath, Devendra Raj Ankur, Sameep Singh, Danish Husain, Suman Mukhopadhyay, Chitranjan Tripathi, Meeta Mishra, Govind Singh Yadav, and more. Theater actor & singer, Akhil has been part of musical productions like Ghasiram Kotwal (as Sutradhar), Kabira Khada Bazar Mein (as Kabir), Jis Lahore Nahi Vekheya (as Nasir), Bandish 20-20,000Hz (as Kabir), and more. He recently directed a play by Eugene Ionesco, The Lesson, which is running successfully in New Delhi.



Amanjeet Proch
Amanjeet Proch is from Haryana. She graduated from the National School of Drama in 2012, where she also worked as an actor in the Repertory Company. She has worked on thirty-five plays with directors such as Anuradha Kapoor, Tripurari Sharma, Annie Ruth, Maya Rao, Waman Kendre, Suman Mukhopadhya, Ranjit Kapoor, and more. She also has two short films and two documentary films to her credit.



Asheish Nijhawan
Asheish Nijhawan, born in Srinagar, Kashmir is an Indian actor, director, scenographer, and an acting teacher. He is a recipient of the Ustad Bismillah Khan Yuva Purasakar. He is an Inlaks Shivdasani International scholar with a specialization in Lecoq`s Pedagogy from London International School of Performing Arts (LISPA), London and a graduate of the National school of Drama (NSD), India. He has also been associated with the NSD Repertory Company as an actor for two years. Asheish is the Artistic Director of 'RangRoots Theatre" which he founded with some of the alumni of the National School Of Drama. It aims to promote and develop the art of theatre, particularly among the displaced community of Kashmir valley.



Chirag Garg
Chirag graduated from the National School Of Drama in 2014. He has worked with theatre mavericks like Anuradha Kapur, Ranjit Kapoor, Abhilash Pillai, and more! Currently, he acts in Mughal-e-Azam, the musical directed by Feroze Abbas Khan. He writes stories and performs them on stage. He has also written and directed a play called Strangers which has been staged as a part of a few festivals.



Darshan Jayesh
Darshan studied acting at Mountview Academy of Theatre Arts, London and was a part of a few workshops in India by Niraj Kabi Theatre Lab. Currently, he is performing in Aarambh Mumbai productions and worked on Krishnapriya Meera. He's also worked on a few short films. A multidisciplinary artist, Darshan has also worked as a choreographer for the last six years.



Harsh Khurana
An actor by choice, and a writer by chance, Harsh Khurana started in New Delhi with 'Act One Art Group' under the guidance of Shri N.K.Sharma. Since moving to Mumbai, he has acted in various plays, and has adapted/translated a few too! An Aadyam alumnus – Harsh has already acted in two Aadyam productions, Bandish 20-20,000Hz and Ladies Sangeet, prior to this role.



Ipshita Chakraborty Singh
Ipshita Chakraborty Singh, a gold medalist from Rajasthan University in Economics, graduated from National School of Drama in 2010, specialising in acting. Along with Ajeet Singh Palawat, she runs a theatre group, 'Ujaagar Dramatic Association' in Jaipur, Rajasthan. She worked as a professional actor in the NSD repertory company, under directors like Anuradha Kapur, Robin Das, Kirti jain, K.N.Panikkar, Mohit Takalkar, Abhishek Majumdar, Ranjeet Kapur, Roysten Abel, Suman Mukhopadhyay, Sabir Khan, Waman Kendre, Prasanth Narayanan, and many more. Her adaptation of A Midsummer Night's Dream as Kasumal-Sapno in Rajasthani has won accolades in Karachi, Pakistan.



Kacho Ahmad Khan
A Ladakhi hailing from the Kargil district of Jammu & Kashmir, Kacho is the first National School of Drama graduate from Kargil. He is the founding director of the first theatre group in Kargil, Ladakh - Regional Art & Theatre Arts Group (RANTHAG). He has directed many Purgi / Balti plays like Balthoti Zongs, Sartaqs, Khonis Chi Samed, Achy Skalba Su Tangchin, Hrkunlen, Gut Looks, and more. He has written and directed many plays for radio for All India Radio, Kargil. He has also directed many short films like Date of Baraf (2016), Rgalooks (2011), and Metsay Tontaq - My Aim In Life.



Kaustav Sinha
Kaustav Sinha is a qualified engineer turned theatre practitioner hailing from Bengal. Having graduated from Drama School, Mumbai in 2016, he has worked in over twenty theatre productions across Delhi and Mumbai with directors like Mahesh Dattani, Sunil Shanbag, Neel Chaudhari, Faezeh Jalali, Shenna Gamat among others. Kaustav was briefly associated with a musical staged at Kingdom of Dreams, Gurgaon and an Improv group - Cueless Improv in Delhi. His theatre practice extends into workshops for children and corporate facilitations for D&I, effective communication.



Mir Sarwar
Mir is known for films like Bajrangi Bhaijaan, Kesari, Phantom, Jolly LLB 2, Jagga Jasoos, Kedarnath, Hamid, Notebook, The Family Man, and more. He started his career as a model in New Delhi in 1999 and after a couple of years switched to theatre!



Niiya Kumar
An English Literature graduate from Delhi University and a graduate from Duende School of Ensemble Physical Theatre, Niiya is also a trained dancer and choreographer. She has also been trained in contact improvisation. She is associated with various artists and theatre companies like The Theatre Company, aRANYA, Qissakothi, and Duende to name a few. Niiya is fluent in multiple Indian languages & dialects – using which she writes and recites poetry!



Nivedita Bhargava
Nivedita Bhargava is a post graduate diploma holder in Theatre Design and Direction from the National School of Drama New Delhi (1996). She is a trained classical singer. Nivedita has conducted several theatre workshops organized by the National School Of Drama and Whistling Woods International, under the guidance of Shri Naseer-ud-din Shah and has been associated with many schools in Mumbai as a personality development coach. She has trained few Bollywood child actors like Darsheel Safary, Markand, and Ahsaas for a german flimaker Candice Breitz's short film Prodigy. An Aadyam alumna – she has already acted in two Aadyam productions, Bandish 20-20,000Hz and Ladies Sangeet, prior to this role.



Prakriti Dutta Mukherji
Prakriti Dutta Mukherji is an alumna of the National School of Drama. She has acted in several plays and films in Kolkata, Delhi, and Mumbai. Her docu-fiction Nanhi Binodini, Directed by Tuhinabho Majumdar, received a national award in 2016.



Raghvendra Singh Kaurav
Raghvendra is from Madhya Pradesh - an MCAJ (Mass Communication Advertisement and Journalism) graduate from Punjab Technical University (2008). He has fourteen years of theatre experience under his belt as an actor and production manager with Vande Matram Samuh, Parivartan Samuh, Yuva Sanskratik Pratibha Manch, Artist Combined Group, and Jan Chetna Manch in Gwalior. He has also worked with National School of Drama alumni in Mody University Laxamangadh (Rajsthan). He has worked on thirty-two plays with directors such as Anil Sharma, late. Puran Shankhvar, late. Dr.Kamal Vashisth, Ayaz Khan, Chandra Pratap Sikarwar, and more. He was also worked on TV serials, short films, and documentary films.



Shubham Bagri
Shubham has been practicing theatre for seven years now, with eminent theatre personalities like Abhishek Majumdar, Mohit Takalkar, Ajeet Singh Palawat, Sabir Khan, and many National School of Drama graduates. He has also worked with Kumud Mishra. His major work includes Eidgah Ke Jinnat, Muawze, Comrade Godse, To Hazrein Hua Yun, Kasumal Sapno, Mukaam Dehru Jila Nagaur, Transfer Kid, and more.



Vivek Kumar
An alumnus of the National School of Drama, Vivek Kumar is an actor, instructor and a director. He has trained himself for many years in Red-nose Clowning, Chhau, Kudiyattam, and Alexander Technique. He has been a receipent of Inlaks India Foundation award and was also a winner of best director award at Short & Sweet Theatre Festival (2012). Apart from a decade long journey in theatre he has also acted in couple of films and web series. He will soon take the stage for upcoming live musical show Chhota Bheem. He is also associated with Whistling Woods International and Institute of Creative Excellence (ICE) as a freelance acting coach.



Vrinda Kacker
Vrinda Kacker is an actor and theatre maker from Delhi. She completed a PG Diploma course in Acting and Theatre Making from the Drama School, Mumbai. Presently, she freelances as an actor, designer, and production assistant in Mumbai. She recently performed with Dur Se Brothers, in their production Hello Farmaaish at the Hindu Festival in Chennai and Hyderabad. She has been working as a production assistant with Akvarious Productions on their newly premiered project The Kite Runner for Aadyam Theatre's 5th Season. Apart from making theatre and acting, Vrinda is professionally trained in Kathak from Kathak Kendra, New Delhi and often travels for the same with a troupe based in Delhi.



Yash Khan
Yash Khan was born in Delhi. He completed his schooling in Delhi. Theatre was always a centre of attraction for him since he was in school. In 2015, he joined Bela Theatre Karwaan formed by Mohammad Waseem Azaad where he practiced theatre for 3 years. He has acted in many productions in Delhi including Kanjoos, Baap Re Baap, Daayan, Men Without Shadows, Do Paise Ki Jannat, and Toba Tek Singh. After moving to Mumbai, he has worked with Sharmistha Saha, IIT professor with her theatre group Qissa Kothi as a stage manager. He also worked with Abhishekh Majumdar on his production Edigah Ke Jinnat and Kaumudi. Recently, he worked as a stage manager in US and THEM by Aarambh Mumbai.
Jamshed Bhabha Theatre, NCPA
NCPA Marg, Nariman Point, Mumbai
GET DIRECTIONS