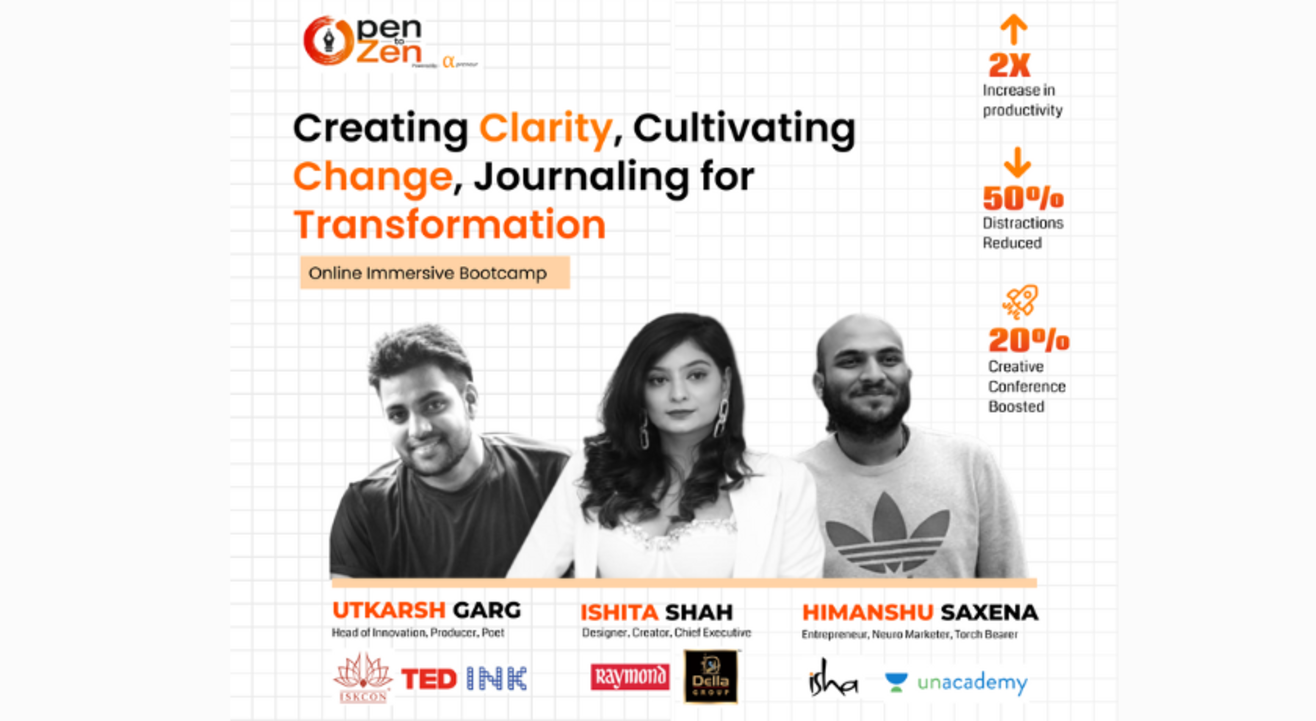 1-Day Journaling Bootcamp: Venture into next orbit of your growth
Event Guide
Interactive show
Be a part of the show
Invite your friends
and enjoy a shared experience
1-Day Journaling Bootcamp: Venture into next orbit of your growth
Event Guide
Interactive show
Be a part of the show
Invite your friends
and enjoy a shared experience
Event Guide
Interactive show
Be a part of the show
Invite your friends
and enjoy a shared experience
1 Day Journaling Bootcamp:
Venture Into the next orbit of your growth!


1-Day Immersive Bootcamp to:
Unlock your true potential and hack your habits
Harness powerful tools for cultivating change
Systemize and internalize your transformational growth
Who can join?
Individuals seeking self-reflection and lifestyle enhancement
Anyone seeking answers to challenging questions
Creators and entrepreneurs dealing with burnout
Misfits looking to grow and build resilience
Unlock your true potential. Unleash your creative prowess. Don't miss out on this life-changing opportunity!
Register Now (Seats Filling Fast)!
About Program Mentors:
Utkarsh Garg
Head of Innovation, Producer, Poet
From technology to working on film sets as an AD. Consultant to ISKCON, he invests in entrepreneurs and creators of tomorrow. A misfit and practitioner for 7+ years.
Ishita Shah
Fashion Stylist, Creator, Chief Executive
A fashion stylist and restless soul. She keeps a diary where she draws memes, portraits, abstracts, and sometimes a charming dress for a party next week. Consultant at Della Group.
Himanshu Saxena
Entrepreneur, Neuro Marketer
AI – freak, neuro-marketeer, who can scare people with buzzwords. But equally sweet and 'chill kinda guy". CMO at Pickright Technologies & Torchbearer at Isha Foundation.
Who can benefit?
Oftentimes, we lose touch with our inner thoughts and feelings in this fast-paced modern world. In this haste, we tend to lose ourselves.
Through our novel path to journaling, you can reunite with yourself and flourish in your growth, With PEN TO ZEN (PTZ)
Creating Clarity,
Cultivating Change
Journaling for Transformation
Join! Pen to Zen by Alphapreneur.
1-Day Journaling Bootcamp: Venture into next orbit of your growth
Event Guide
Interactive show
Be a part of the show
Invite your friends
and enjoy a shared experience