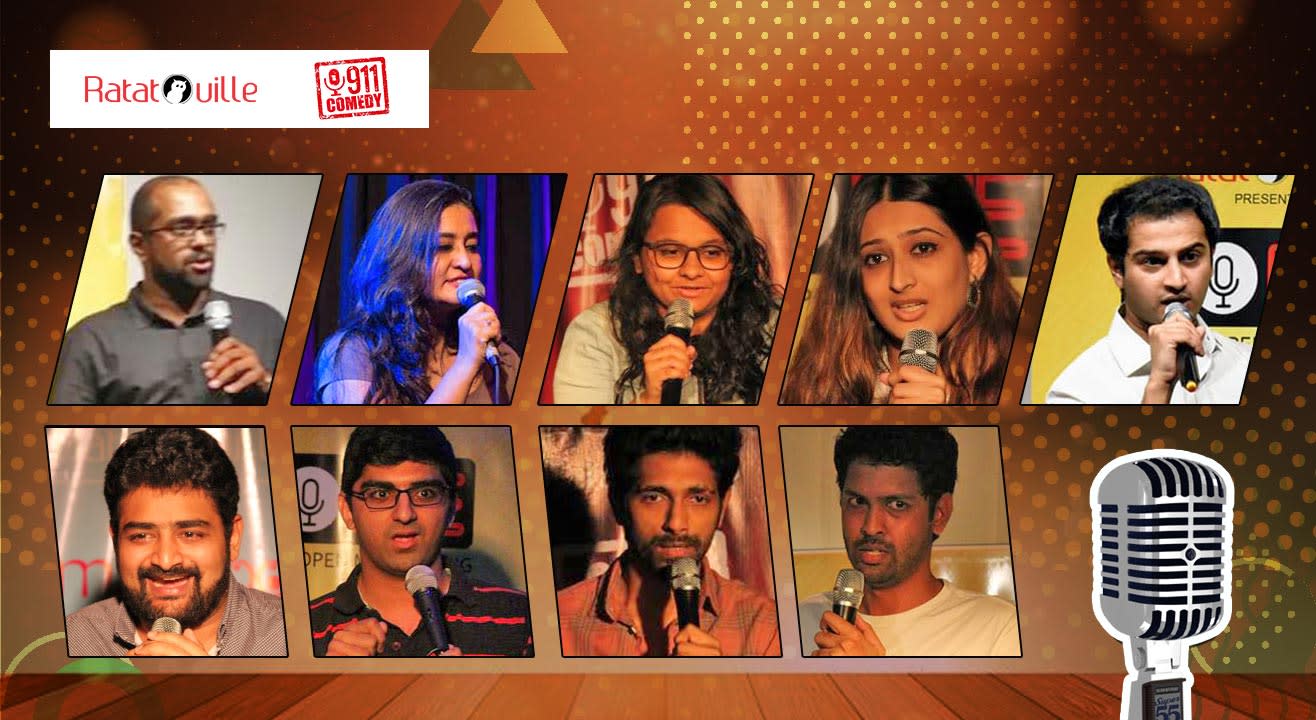 Comedy
911 Comedy
The Integral Space, Lower Parel
About
911 comedy is a show where 9 comedians get 11 minutes each, They have been doing comedy for a while and are already sort of famous. Come be part of their growth to success. Best way to spend your evening!
Artists:
Host Kabir Chandra
comics
Raunaq Rajani
Deepak 'Chuck' Gopalakrishnan
Shaurya Tyagi
Kajol srinivasan
Siddharth Gopinath
Devanshi shah
Dwijal Mehta
Jackie J Thakker
Kabir Chandra
Sales head for one of the country's leading music labels, Kabir also has been a radio jockey in his past avatars and responsible for being and honing some of India's very best on-air talent. He has been a theatre artist since his teens and a college stage sensation having won multiple awards for street plays from an early age. He is now among the most emerging voices in stand-up comedy in the city and a seasoned improvizer.
Raunaq Rajani
Raunaq Rajani is a known comic artist. He has done many stand-up shows. A few to name are Open Mic + New Stuff, Best in Stand-up with Rahul Subramanian, Raunaq Rajani, Vinay Sharma and Andy Reghu, The Leftovers: Sindhi Quota, Best In Stand-Up with Tushar Singh, A Culture Shoq Stand-Up Guys Show With Raunaq Rajani, Navin Noronha and Vinay Sharma, A Culture Shoq Stand-Up Guys Show with Raunaq Rajani, Abbas Momin and Naveen Polishetty, Culture shoq's 18+ College Humour, Comedy on the Big Mic with Raunaq Rajani and Best in Stand-Up with Raunaq Rajani.
Deepak Gopalakrishnan
Deepak Gopalakrishnan a.k.a Chuck is a marketing and content guy who loves rock music, cycling, headphones and water - ideally not at the same time. He's done comedy shows in several of the top BSchools in the country, after figuring out comedy would be the only way to get into said institutes.
Shaurya Tyagi
Shaurya Tyagi is a stage actor and a freelance writer. Like the majority of the unambitious Indian population he too has an MBA degree, which may not promise him a job but would definitely get him a good marriage proposal.
Kajol Srinivasan
Kajol is an upcoming stand-up comedian who has done many featured shows as well.
Siddharth Gopinath
A very, very tall person from Chennai.
Devanshi Shah
Devanshi Shah is an upcoming stand-up comedian.
Dwijal Mehta
New to the scene, she is taking all open mics by storm, she has won FemaPalooza. Watch out for this funny lady, she will leave you in splits!
Jackie J Thakker
Jackie Thakker is an upcoming standup comedian and has featured in several shows.
Venue
The Integral Space, Lower Parel
The Integral Space, Opp Palladium Mall High Street Phoenix, 14 Janata Estate,, Senapati Bapat Marg, Lower Parel, Mumbai, Maharashtra 400013