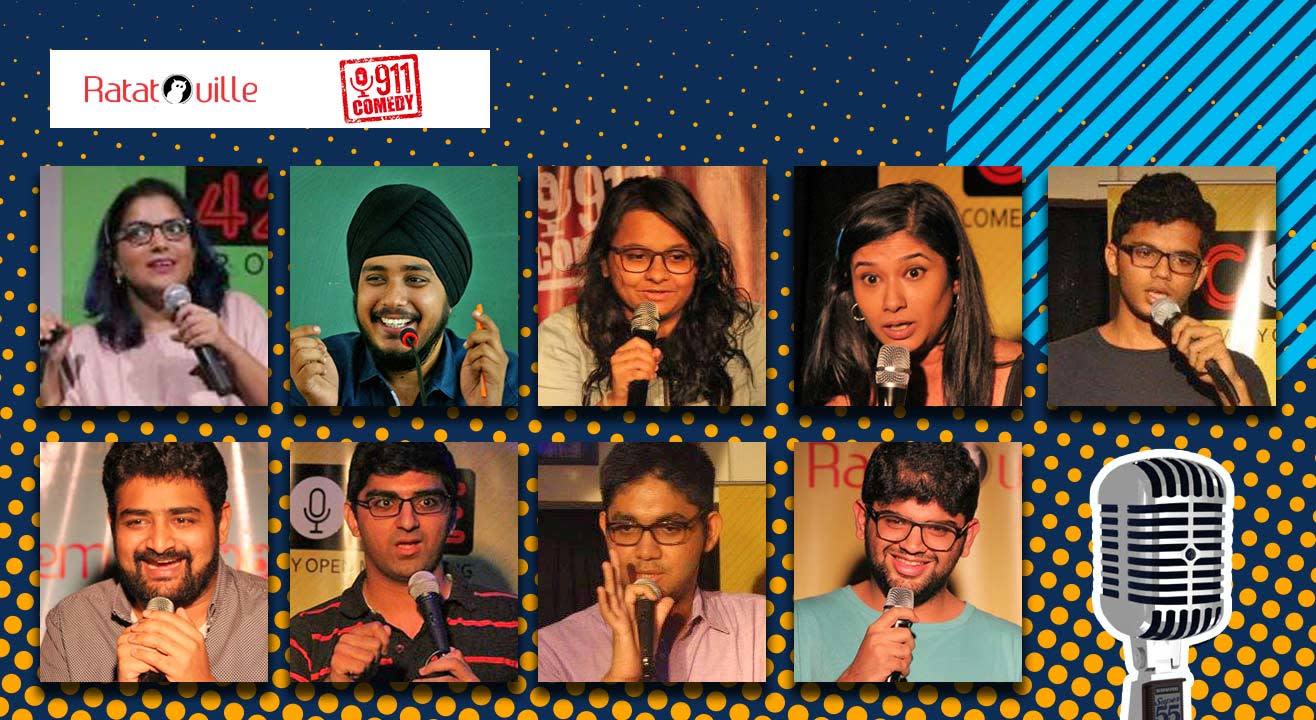 911 Comedy Presented by Ratatouille
Jeff Goldberg Studio, Khar
Step out and enjoy this event
Invite your friends
and enjoy a shared experience
911 Comedy Presented by Ratatouille
Jeff Goldberg Studio, Khar
Step out and enjoy this event
Invite your friends
and enjoy a shared experience
Invite your friends
and enjoy a shared experience
911 comedy is a show where 9 comedians get 11 minutes each, They have been doing comedy for a while and are already sort of famous. Come be part of their growth to success. Best way to spend your evening.
Artists Info
Siddarth Dudeja
Siddharth Dudeja is a 23-year-old graduate on a perpetual sabbatical. Between writing projects and trips to space, Duds also delivers flashes of brilliance on stage. Having performed at major festivals and also as a part of 'The best in Stand-up' he is trying to figure out what to do with the rest of his sabbatical. Siddharth talks about how school and vegetarians ruined his childhood and sometimes he talks about world peace.
Shlok Siddhant
He calls himself a regular Assamese boy with a South Indian name; he is from Mumbai and born in Delhi. A lawyer in the making, he believes his jokes will land him in the ranks of Tanmay Bhat (and eventually on the Newshour Debate). Having won his first open mic at the age of 16 and after performing at various cities, he believes he is funnier than his Assamese friend, Arnab Goswami.
Aditi Mittal
Aditi Mittal is one of the top ten comics in the country and the girl Alok Nath warned his daughters about. After all the features in print, web, radio and television including BBC World and BBC America, there are very adjectives left unused in describing Mittal's brand of stand-up. Her comedy like her career choices are very Kamikaze but people still line-up for her shows and later remark 'Did She Just Say That?'
As a regular feature at the biggest venues and comedy festivals across the country and the first Indian comedian to have performed at The Laugh Facory in Los Angeles, Aditi is doing something right and has made us believe Bad Girls will one day save the world.
Raunaq Rajani
Raunaq Rajani is a known comic artist. He has done many stand-up shows. A few to name are Open Mic + New Stuff, Best in Stand-up with Rahul Subramanian, Raunaq Rajani, Vinay Sharma and Andy Reghu, The Leftovers: Sindhi Quota, Best In Stand-Up with Tushar Singh, A Culture Shoq Stand-Up Guys Show With Raunaq Rajani, Navin Noronha and Vinay Sharma, A Culture Shoq Stand-Up Guys Show with Raunaq Rajani, Abbas Momin and Naveen Polishetty, Culture shoq's 18+ College Humour, Comedy on the Big Mic with Raunaq Rajani and Best in Stand-Up with Raunaq Rajani.
Bownit Sing
Bownit Sing is an upcoming standup comedian and has perfromed in various featured shows.
Kabir Chandra
Sales head for one of the country's leading music labels, Kabir also has been a radio jockey in his past avatars and responsible for being and honing some of India's very best on-air talent. He has been a theatre artist since his teens and a college stage sensation having won multiple awards for street plays from an early age. He is now among the most emerging voices in stand-up comedy in the city and a seasoned improvizer.
Jeeya Sethi
Jeeya believes if you are fat once (by fat she means FAAAAT) you are fat forever, mentally you never become thin even after losing all the weight. An event manager turned stand-up comedian, improviser and actor, she has made entertainment her new life's mission since nothing else is going for her!
Devanshi Shah
Devanshi Shah is an upcoming stand-up comedian.
Joel Dsouza
Devanshi Shah is an upcoming stand-up comedian.
Jeff Goldberg Studio, Khar
Links Building, 4th Floor, Corner of 14th Rd. & Linking Rd, Above Fascination Store, Opp Domino's Pizza, Khar West, Mumbai 400 052
GET DIRECTIONS