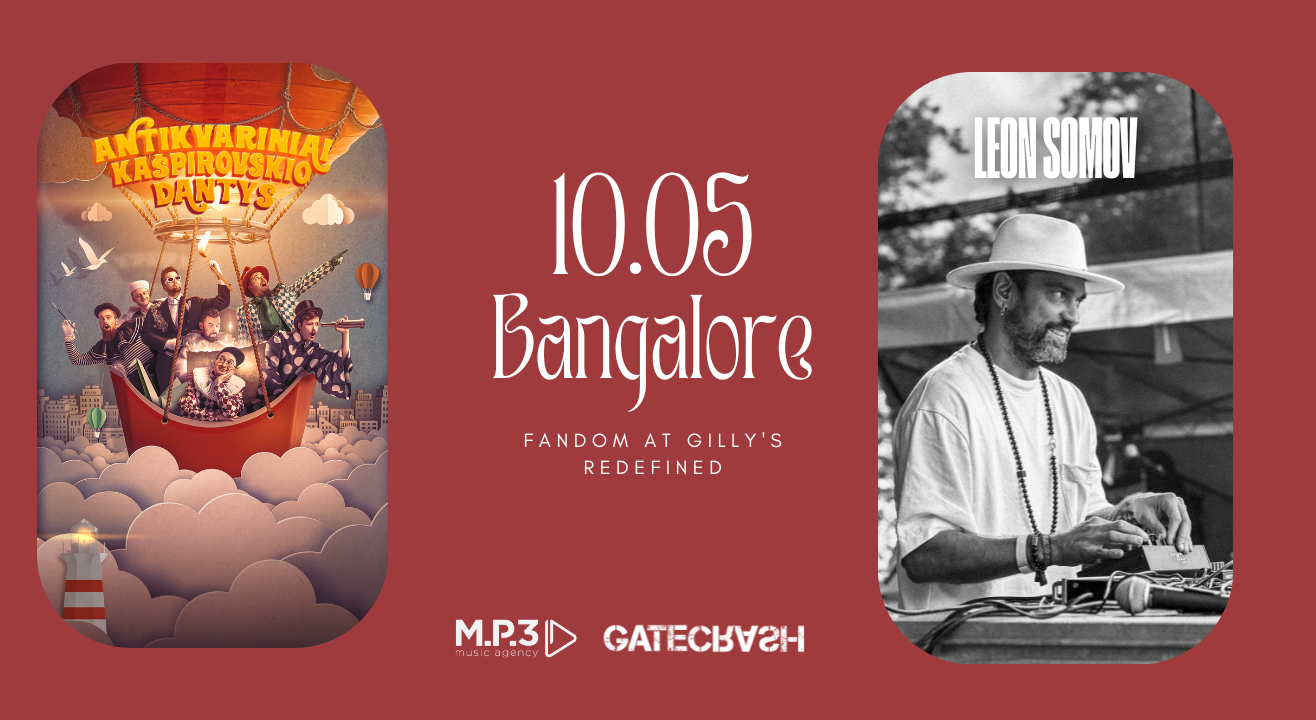 AKD x Leon Somov | Bangalore
October 5 | Gates Open at 7:30PM | Event Starts at 8:00PM
Fandom at Gilly's Redefined, Bengaluru
Event Guide
Live Performance
Enjoy a unique experience
Invite your friends
and enjoy a shared experience
AKD x Leon Somov | Bangalore
October 5 | Gates Open at 7:30PM | Event Starts at 8:00PM
Fandom at Gilly's Redefined, Bengaluru
Event Guide
Live Performance
Enjoy a unique experience
Invite your friends
and enjoy a shared experience
Event Guide
Live Performance
Enjoy a unique experience
Invite your friends
and enjoy a shared experience
Get ready for a double dose of musical magic! Antikvariniai Kašpirovskio Dantys and renowned Lithuanian electronic music maestro Leon Somov are set to captivate audiences with their unique sounds.
Antikvariniai Kašpirovskio Dantys, with their crazy name and even crazier tunes, offer a joyous, humorous take on life's quirks. Their eclectic mix of musical styles, from Baltic to mariachi, even a little of bhangra, creates a one-of-a-kind experience. Whether singing about miracles, fashion trends, or firefighters, AKD fearlessly tackles any topic with a lighthearted touch that appeals to all ages.
On the electronic front, Leon Somov, known for his MTV European Music Award-winning duo and involvement in Highly Sedated, brings a fresh, experimental twist to his performances. From blending electronic beats with Nikola Tesla coils to crafting soundtracks from sewing machines, his creativity knows no bounds. His latest release is called Yakairol (The Beginning) and features Manipurian singer Mangka. Don't miss the chance to groove to his latest tunes, as he's set to share his new material during his India tour. Two distinct musical journeys await you!
Fandom at Gilly's Redefined
1st floor of Gillys redefined,# 413, 100 Feet Road,, 4th Block, Koramangala, KHB Block Koramangala, Koramangala 4-B Block, 5th Block, Koramangala, Bengaluru, Karnataka 560034, India
GET DIRECTIONS
AKD x Leon Somov | Bangalore
October 5 | Gates Open at 7:30PM | Event Starts at 8:00PM
Fandom at Gilly's Redefined, Bengaluru
Event Guide
Live Performance
Enjoy a unique experience
Invite your friends
and enjoy a shared experience