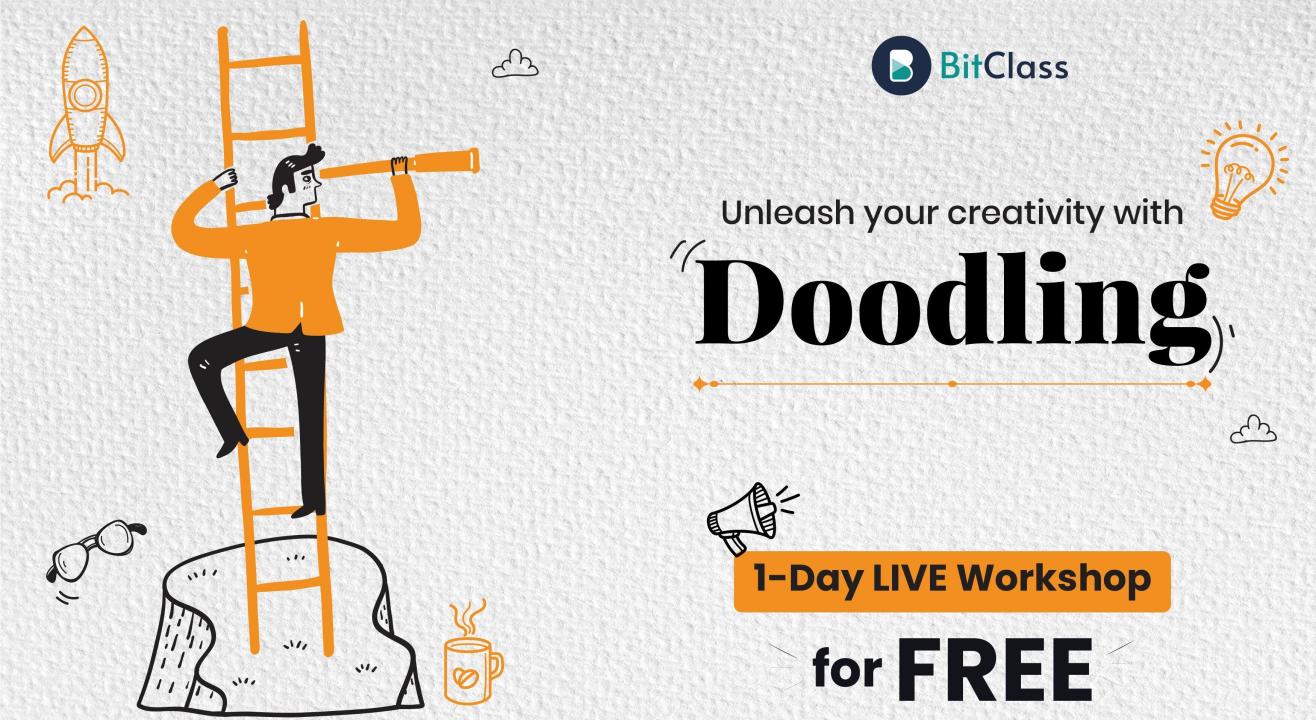 Art of Doodling | Complete One Page of Doodle Artwork
Enjoy this event from your home
Event Guide
Masterclass
Learn from an expert
Invite your friends
and enjoy a shared experience
Art of Doodling | Complete One Page of Doodle Artwork
Enjoy this event from your home
Event Guide
Masterclass
Learn from an expert
Invite your friends
and enjoy a shared experience
Event Guide
Masterclass
Learn from an expert
Invite your friends
and enjoy a shared experience
Are your books totally smeared with doodles of cartoonish ideas that popped out of your creative mind in a boring history class? Do you create your own characters with big mustaches and prominent features that could totally be the start cast of an animated movie?
We all have been victims of it and we can say, we loved it too! And your love for doodling is what we care about; so are you passionate to doodle out your imaginations?
If yes, then this is the perfect course for you!
Doodles are spontaneous drawings that can take many forms, from abstract patterns or designs to images of objects, landscapes, people, or faces. Anyone can learn to doodle and for many artists, it has been beneficial for many other reasons such as enhanced creativity and a major stress buster. Today, artists also create doodle art on shoes, clothes, walls, and other diverse canvases that make it definitely look out of the box!
In this course, you'll learn the simple techniques which will open the doors to your creativity and help you create stunning-looking personalized doodles. You'll also learn how to make the doodles nice looking by applying line, light, and shadows.
What this session will cover?
Basics of doodle art
Simple shapes to draw features
Circles, Ovals, Dots
Outlines & Fills
Different shapes combinations
Completing one page of artwork - doodle
Benefits of this workshop:
Learn more about basic drawing elements, shapes, and colors
Know new techniques & tips to create doodles
Create your own cartoons and characters
Boost your creativity and authenticity
Feel other psychological benefits like concentration, memory recall, moods regulation, etc.
Make your own comics, art and mix media with Doodling
By the end of this course, you will be able to put your doodle techniques to use and will help believe in your drawing skills. If you are a beginner this artform can be the starting point of your artistic journey. If you are an artist already then brush up your skills with doodling and create your original art pieces!
So, get your doodle pens out, and let's make some doodle mayhem!
REGISTER TODAY and let's doodle it out!
Art of Doodling | Complete One Page of Doodle Artwork
Enjoy this event from your home
Event Guide
Masterclass
Learn from an expert
Invite your friends
and enjoy a shared experience