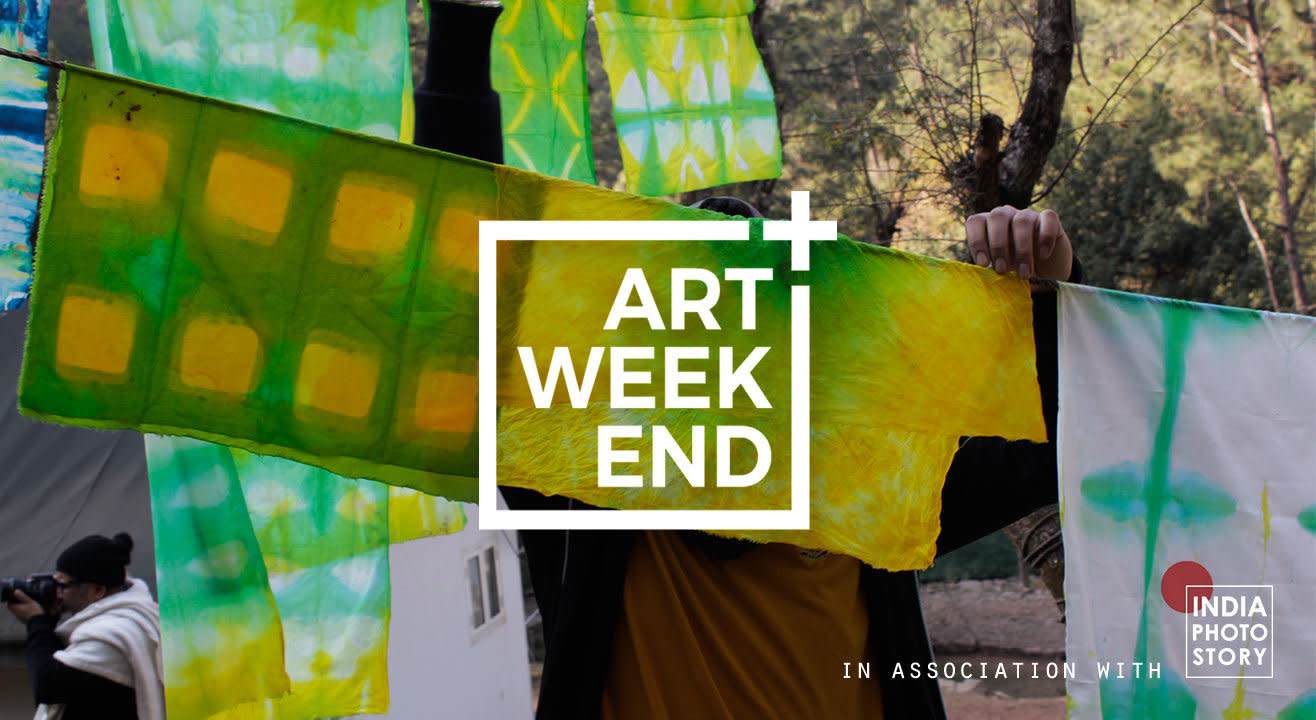 Art+Weekend: Your Weekend Art Festival
Step out and enjoy this event
Invite your friends
and enjoy a shared experience
Art+Weekend: Your Weekend Art Festival
Step out and enjoy this event
Invite your friends
and enjoy a shared experience
Invite your friends
and enjoy a shared experience
Art Plus Weekend is back, bigger, and better! Get ready to enjoy a unique artistic experience in nature's loveliest nooks.
A torrential river, a valley of sal tree forestry, the north-belt of Jim Corbett National Park in the distance. Welcome to Vanvasa Resort. Enormous works of your art will stand tall next to trees that sway before majestic mountains. This is where groups of friends shall come together to forge memories that will last forever.
Rather than an art convention, Art+Weekend is a cultural collaborative art experiment that hopes to transform the way people interact with nature on a daily basis. An intense, exciting combination of art workshops, activities, live art and music, it focuses on addressing aesthetic beauty and representing it through art.
Participants will be able to interact with Senior Artists as well as each other, in a natural environment that seeks to create discursive opportunities, promote the exchange of ideas, and inspire people to access, engage and create art.
Sanjay Kumar
Warring with one's self and circumstances often finds expressions that resonate with many other hearts. Sanjay has experienced struggle and expressed himself through the beautiful landscapes of Orchha using watercolors. His love for painting led to a Bachelor of Fine Arts in Painting at College of Art, New Delhi.
To learn more about him, visit here

Nida Hussain
Nida is a photographer and a creative visualizer based in New Delhi,India with an experience of more than 10 years in the areas of fine art, abstract and storytelling photography. He is currently the founder and curator of an online photo community on instagram - India Photo Story
Nida loves to observe and express his feelings through his pictures. He primarily expresses himself in the forms of meditative abstraction, storytelling daily life and fine art photography. His abstract photo work has its roots in the spiritual lineage of his family which basically originates from Kashmir Shaivism philosophy. He got his sight of art through his lineage as he belong to a family of artists. To learn more about him, visit here

Pallav Chaudhary
A graduate from Pearl Academy in New Delhi, Pallav is an upcoming tie-dye artist. He has spent the last few years mastering the art of Shibori (a Japanese tie-dye technique). His range of textiles are the result of uniquely developed dyeing and surface techniques. His interests have always centered on modernizing traditional textile techniques to create new dimensions. He finds his inspiration through traveling and experiences.
Pallav has worked as a Textile Artist with Thukral and Tagra, and Siddhartha Das Studio. He was also a Design Researcher for Jabbar Khatri and Ismail Khatri.
To learn more about him, visit here

Deepanshu Joshi
Hailing from the foothills of the Himalayas, Deepanshu Joshi is a Fine Art graduate of College of Art, New Delhi. A keen observer, he pursues his art with great passion. His recent participation at the prestigious Student Kochi Beinnale at Kochi as a contributing artist has added a distinguished feather in his cap. Deepanshu's works have been renditioned on paper, canvas, and often, directly on walls! His concerns are the dichotomies of focusing on the present. He is deeply interested in Anthropology, Astrology, and Philosophy. He believes that his works are the release (like an orgasm) of his mind, which is an outcome of his constant self-reflection and analysis.
To learn more about him, visit here

Paperboat
Paperboat is a band of sailors that fuses ingredients like blues, funk, pop, reggae, jazz and tops it up with a whole lot of groove! From being featured on the Rolling stones, to Vh1, to the MTV labs wall of fame in its first 2 years since formation, this band has just released its very first EP. Going on an all India tour this august covering cities like Pune, Bombay, Guwahati and Delhi. The band's final stop will be the Art+Weekend.
To learn more about them, visit here

FlopSho
With more than 4 years of experience and a lot of professional experiences Shiva has become the go to artist for all type of events. He was first exposed to the world of visuals after witnessing a live Audio visual sets of international DJ and producer Deadmau5. Since than he's developed a unique style and mix build around his passion. He takes his skills as a means of story telling and let his viewers deep dive in the moment. Awesome sounds coupled with the exciting visuals and energy he puts into every appearance has helped to quickly established himself as one of the most sought after local A/V artist. He loves expressing the full force of his creativity at every gig and he is thankful for the support and forward momentum that local scene has provided him.
To learn more about him, visit here
Vanvasa Resort
Kalagarh Tiger Reserve, Village - Juee, Lansdowne Division, Uttarakhand-246170
GET DIRECTIONS