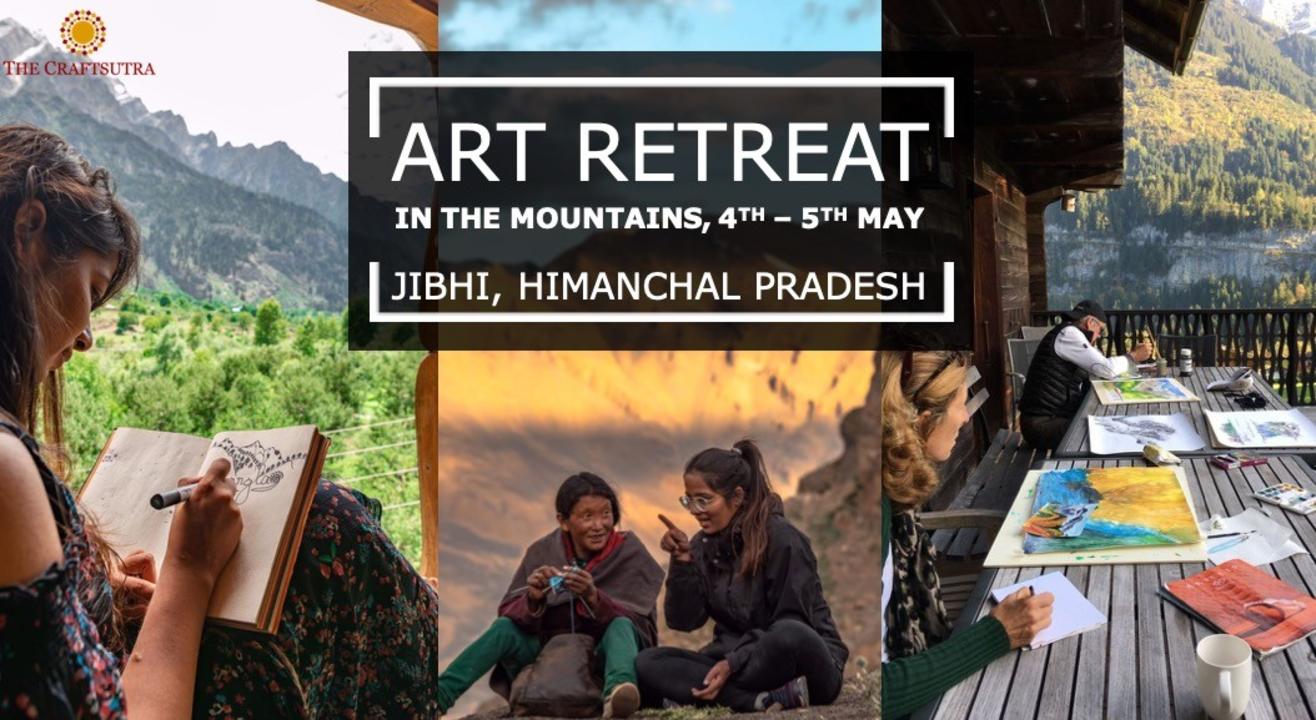 Tour
About
What Is It?
'The Craftsutra' along with 'Travel bug Bytes' is organising an arty & relaxing weekend getaway. Along with our art buddies, we will take you to the mountains to spend the weekend at an art residency in Jibhi, Himanchal Pradesh, wherein you get to dive into multiple artistic adventures.
Who Is It For?
Creative souls, artists, enthusiasts, and everyone interested in bringing out their expressive side with art. If you'd like to explore and learn new art techniques, make new friends with fellow travellers, and have an offbeat weekend, you're in for a treat. Best part? You need no prior art experience for this!
Why Should You Go For It?
Nishi from 'The Craftsutra' & Himani (Doodles by Himani) will be your art guides throughout the experience. For the kind of art you'll be undertaking, you'll be learning mindful doodling, yarn mandala, basics of Mural Art (wall art), different expressive art exercises along with some local art exploration.
Anything Else?
You'll be staying in an art residency with lush greenery all around in the hills, with all the amenities you could need. Female travellers will be paired with fellow female travellers and the experience will last for two days.
When: May 4–5
Last day to register: May 1st (Registration fee of Rs 999 will be adjusted)
Itinerary:
- 3rdMay, Meet at 7:30 pm in Delhi (meeting point would be shared).
- Leave for Jibhi by bus/traveller at 8 pm (not later than this).
Day 1, 4thMay
- Reach the cottage in Jibhi at around 8 am.
- Breakfast to satisfy your taste buds while you sit back, relax and admire the nature.
- Get to explore your creativity through some Mindful doodling with Himani (we will be doing some calming exercises inspired by the beautiful scenic beauty).
- Hearty meal prepared from local ingredients.
- Delve into Exploration of local art culture (a guided tour to the local market), take inspiration and paint on rocks.
- Chill around bonfire in the mountain air. Sing, dance, share stories, basically indulge in your inner naturalist
- Enjoy some snacks and food along with the all the arty stuff.
Day 2, 5thMay
- Start the day at 7 am with a Relaxing meditation session and soothing breathing exercises in the fresh mountain air.
- Followed by breakfast.
- Show your warmth and add atmosphere with a Wall mural painting session with Himani and Nishi.
- Have lunch and create Yarn mandala with Nishi in the midst of nature with the repetitive movement making it a zen like experience.
- Leave from the cottage at around 6pm after the evening snacks.
- Reach Delhi by 6:00 am.
ALL THE ART MATERIAL WILL BE PROVIDED.
COST: Rs 8,499 (per head)
Bring Your Buddies (Group of 3 or more) : Rs. 8,299 (per head)
The above costs include travel, accommodation, all meals and the required material for the art sessions.
To know more about us follow us on Instagram @TheCraftsutra @Travelbugbytes