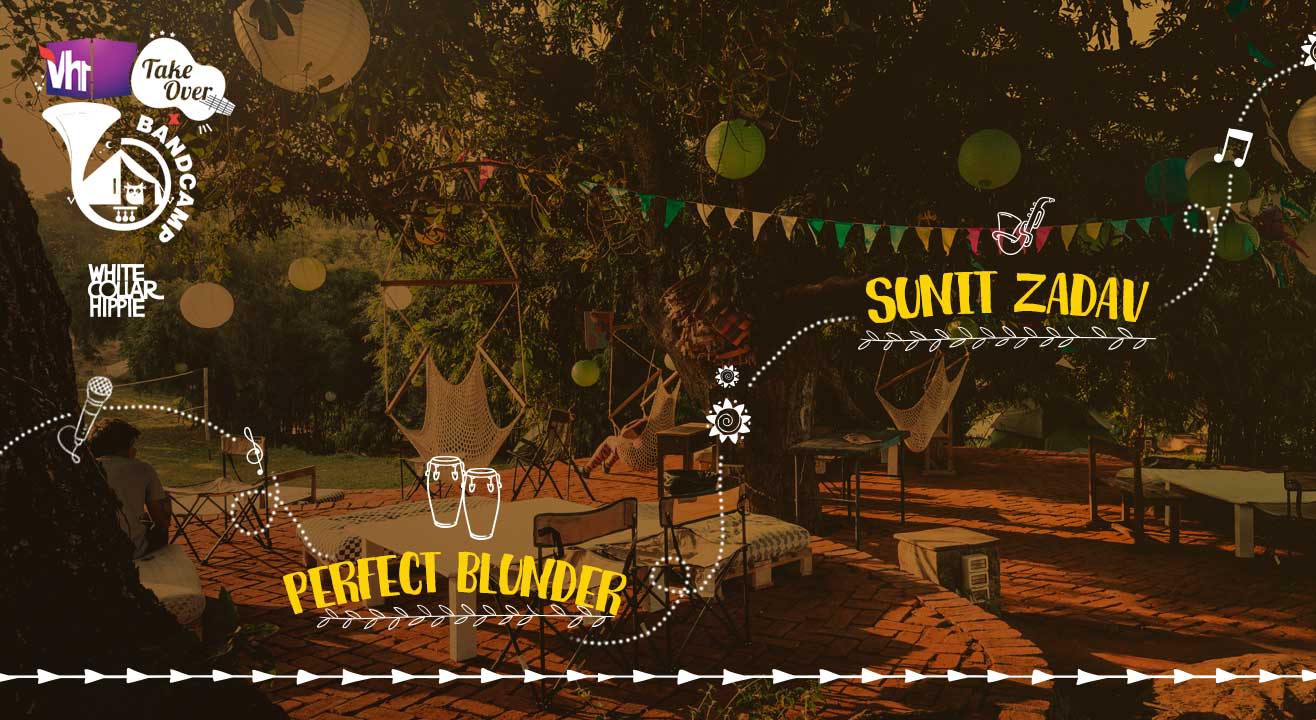 Camping
BandCamp: Music Under The Stars
About
BandCamp Season 4 is on!


Music Nights at BandCamp is a great way to help you reconnect with cinema out in the open in a beautiful, camping environment. Also, since the venue is BandCamp, there is going to be some great live music before the screening. You can expect the movies to come from an assorted mix of world cinema, classics and crowd favourites. The gig before that will be indie, blues, retro music and so on.


There will also be bonfires, a barbeque, long walks, and some great food! The campsite has huge grounds and there are hammocks, books and games to ensure that there is something for everyone. Expect tents, sleeping bags and camping goodies while you can also unwind in the main area or walk around the fishing village down to the sea anytime. Sundown brings with it a pre-gig BBQ and beer that sets the mood for the rest of the evening. BandCamp is best suited for groups, solo campers, families, couples and pets. Basically, everybody!
A stone's throw away from the city, BandCamp is located off Gorai beach. The layout is such that you can enjoy nature and have your privacy even though it's a bustling campsite.
Sunit Zadav is a singer-songwriter from Pune. His music can chiefly be classified as acoustic pop with subtle influences from blues, country, jazz and folk. The music, says he, is lyrically inspired by "matters of the heart" and includes predominantly guitar-centric, peppy numbers that will surely get you tapping your feet and singing along. Amongst the popular songwriters, his influences include James Taylor, John Mayer, Jason Mraz, Jack Johnson, Chris Martin and Justin Timberlake. After having played at numerous venues in Pune: Swig, High Spirits and Doolally, to name a few; he has recently moved to Mumbai to promote his music in this city. He has performed at The Habitat, Khar and has been a part of Sundown Sessions 2.0. Currently, Sunit is recording his debut EP titled Quarter Life Crisis, under his mentor Mr. Sanjay Divecha. The EP is slated for release in early 2018.
Perfect Blunder are an indie singer-songwriter duo that was formed while they were studying music production at music school. Their aim is to create a dynamic listening experience by infusing their otherwise acoustic music with electronic soundscapes and elements. Kush Asher controls the electronic side of the duo, using his MIDI to play around various patches while Andrew Sabu plays his guitar and is the lead vocalist of the duo. However, they will be performing unplugged versions of their songs and a few chill covers at the event.
Stay
1 spacious tent for two
Foam mattress
1 sleeping bag per person
1 solar lamp per tent
White Collar Hippie Goodie bag
Meals
Evening: tea, coffee
A super barbeque (Veg, non-veg & Jain options)
Elaborate dinner (Veg, Non Veg & Jain Options)
Hearty breakfast
Chips, biscuits and other munchies all day
Other Things
Band performance and/or movie screening.
Clean and well-functional loos and showers.
House full of board games books etc for entertainment.
Beautiful walks, conversations and memories.
Bonfire, which you can also help build.
White Collar Hippie's curated stash of music
Exclusions:
Travel to the campsite and back
Alcohol and aerated drinks purchased at the bar. (Outside alcohol not allowed)
Any purchase/ extra cost you incur
Any extra meals
Boat ride/ swimming pool charges
Personal toiletries
Personal medicines
A shawl or a jacket to keep you warm (full sleeves to ward away the mosquitoes!)
A bed sheet if required
Any munchies or snacks you might want to nibble on
A camper attitude

Cab
A cab from anywhere in Mumbai will typically cost you INR 400-1000 and will get you right to the campsite. Best options: Uber, Ola, Meru. Drop Location: U-Tan Sea Resort.
Train
Take a Train to Bhayander, get out on the west Side and then a rickshaw (INR 180) to U-Tan Sea Resort, Chowk, Uttan. Or stake a sharing rickshaw to Uttan Market (INR 25 per seat) and then another rickshaw to U-Tan Sea Resort (INR 10 per seat). The campsite is right behind the resort. You can take the Bus No. 1, which will be your cheapest option.
Ferry
From Borivali, take a ferry from Gorai Creek which will get you to Gorai Village. Hire a rickshaw directly to the resort or take a bus to Uttan and thereafter, Bus No. 1 to the resort.

7 calendar days or more prior to the departure of the tour – 100 % of the ticket price
5 calendar days prior to the departure of the tour - 75% of the ticket price
2 calendar days prior to the departure of the tour - NIL
Please write us a mail at bandcamp@whitecollarhippie.com Or help@insider.in

Policy on drugs:No drugs are allowed at the campsite. If you are seen handling, consuming or under the influence of any illegal substances, we have the right to deny you entry and ask you to leave the premises. Any monies given to us will be forfeit.
Policy on alcohol: We will have our own bar serving alcohol at nominal rates. No outside alcohol is permitted at the campsite. Any such alcohol shall be confiscated at the campsite.
Insurance:It is advisable that the traveller acquires adequate insurance cover to secure his/her life, health and property whilst on a trip with us.Please note that any claim would have to be referred directly to the insurance company by you.

Venue
BandCamp
CHOWK DONGRI VIA UTTAN, Bhayandar West, Near Pali Beach Resort, Dongri, Uttan, Mumbai, Maharashtra 401106