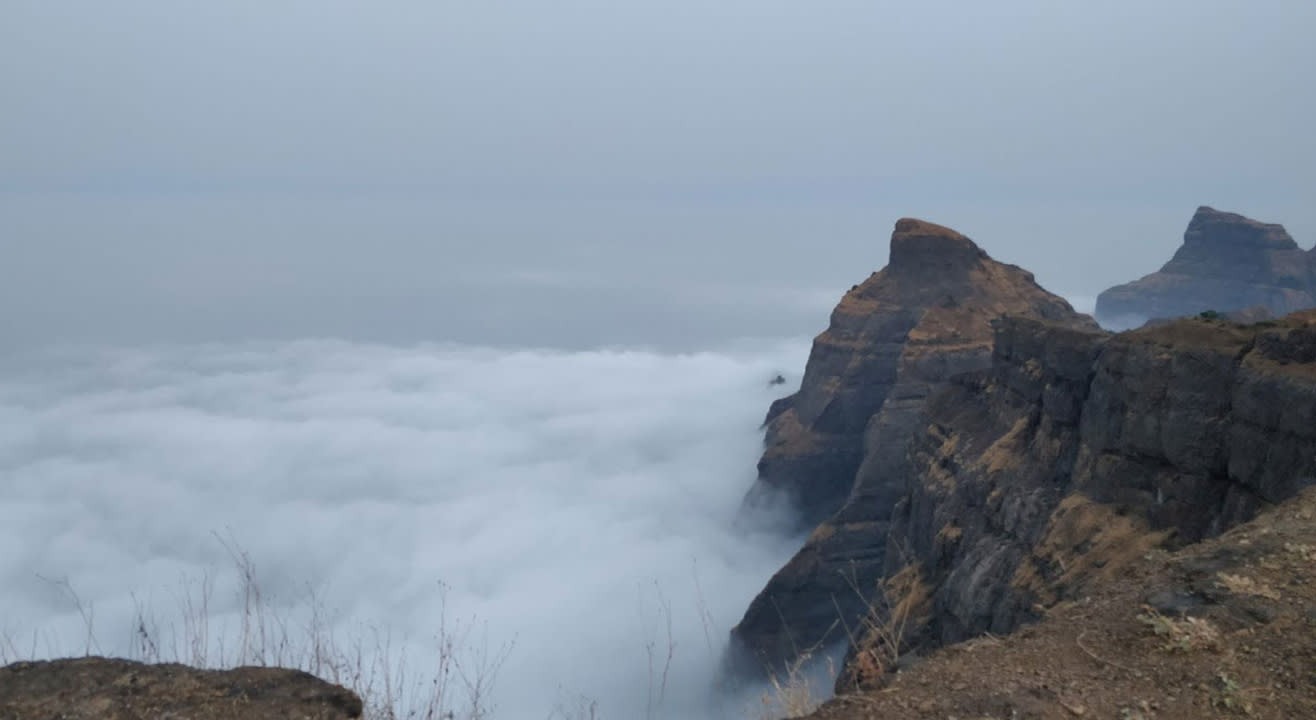 Trek
Bhandardara Overnight Stay and Trek to Harischandragad
September | October | 5PM
About
Overnight Stay at Bhandardara is a unique experience which you may have never experienced till now with Harishchandragad Mountain Trekking the next day .Bhandardara is Surrounded by the Turquoise pristine water. Bhandardara is one of the best weekend getaways from Mumbai, Pune & Nasik . This Place is always beautiful with its tranquil serenity and unspoiled nature. But during monsoon and post-monsoon period, it's natural beauty increases much folds with numerous small & medium seasonal waterfalls and glowing greenery. During monsoon, it is difficult to arrange for camping in Bhandardara , But we provide Accommodation in our Guest House on sharing basis in our Dormitory Rooms on sharing Basis for Large Groups. We have Separate Rooms for Boys and Girls. We will provide you BBQ in the evening and also offer you unlimited Starters!!. It will surely be a memorable experience for you.
Length: 1 day and 1 night stay at Bhandardara and Trekking at Harishchandragad
Height: 2430 ft above sea level
Best season: Round the year
Accommodation timing: You have to reach Bhandardara by 4 - 5 PM in the evening. Its a 1 day and 1 night stay arrangement.
Highlights-
Bonfire

Unlimited Veg and Non Veg Starters

Unlimited Veg, Non Veg and Jain Buffet Dinner

Unlimited BBQ
Bandardara Check-in time: 5 PM (Day 1)
Bhandardara Check out time: 5 PM (Day 2)
Day 01: Arrival at Bhandardara & Harishchandragad trekking
Arrive at Bhandardara by 4-5 PM in the EVENING by own vehicle/other means. You can reach Igatpuri or Kasara and then take local transport (state transport bus or shared jeep) to reach Bhandardara.Having own vehicle is highly advisable. Enjoy evening snacks and also a walk at Bhandardara lakeside, Relish the delicious BBQ along with Scrumptious homemade dinner(Veg/Non Veg/Jain) will be served thereafter. Night stay at dormitory rooms or tents in shaded area to protect from rain.
Day 2: Trekking and return journey to Mumbai
Wake up early in the morning,get ready for trekking at Harishchandragad peak, Harishchandragad is 40kms bhandardara from bhandardara so you will be leaving bhandardara by 6.30am,breakfast will be given at or on the way to Harishchandragad. Harishchandragad trekking will take approx. 7 hrs to and fro.After finishing the trek you will be brought back to bhandardara,lunch will be provided at bhandardara,After relaxing for some time you can start your return journey to Mumbai or Pune and say Bid Adieu to Bhandardara.
Trek Grade: Easy
Endurance Level: Medium
Height of fort: 4665ft approx.
Location: Ahmednagar
Total time required for climbing: 2.5 hrs of normal climb.
Duration: 1 Night 1 day



Trek Itinerary-
30 AM- Wake Up Call, Freshen Up, Have Breakfast & Tea.
6.15 AM- Introduction Round and brief about the rules and regulation to be followed by every trekkers and leave for Harishchandragad trek point.
8.00 AM- Start the Trek
10:30 AM Reach kedareshwar temple,take some rest.
11.00 AM- Reach Konkankada, cherish the mighty scenery and enjoy the glimpse of the surrounding

11.30 AM- Start Descending and reach base point.
1.30 PM- Reach the Base point and leave for bhandardara.
3.00 PM- Reach Bhandardara,have lunch,take rest for sometime.
5.00 PM- Start the Return Journey to Mumbai,Pune.

Major Attractions

Saptatirtha Pushkarni Temple
Kedareshwar Cave,there is a big Shiva Linga, which is completely surrounded by water. Its height from the base is five feet, and the water is waist-deep. It is quite difficult to reach the Shiva Linga because the water is ice-cold
Temple of Harishchandreshwar, which is a marvelous exAMple of the fine art of carving sculptures out of stones that prevailed in ancient India
Konkan Kada, It provides a scenic view of the surrounding region and the setting sun
Caves on Harishchandragad, these are situated at the foot of TarAMati peak, a few are near the temple, whereas some are near the citadel and some far away in the forests.
TarAMati peak, this is the toPMost point on the fort.
Night stay at Dormitory rooms/tents placed in shaded area.

1 evening snacks and Tea, Evening Unlimited Starters ( Veg and Non Veg Both) , 1 Dinner (Veg ,Non Veg and Jain),1 Lunch & 1 breakfast

BBQ (Veg/Non-Veg)

Guide Expertise charges
All kinds of extra meals / soft drinks ordered.

Insurance, tips, porters, bottled mineral water, aerated drinks etc.

Any kind of personal expenses.

Any kind of cost which is not mentioned in the cost includes above

All expenses incurred due to unforeseen and unavoidable circumstances like road blocks, bad weather.




Valid Photo ID Proof (Aadhar Card/Driving License)

Comfortable Footwear

Water bottle (2 litres each person)

Mosquito Repellent Cream

Extra Set of Clothes

Sunscreen

Sunglasses

Waterproof Bag

Compulsory Torch with Extra batteries

Blankets or (Chaddar)

Electoral 1 pack

Medicine if required

Portable Mobile Charger

Bluetooth Speakers

Towel

Torch with extra batteries

Some ready to eat food like- plum cakes, fruits, chocolates, biscuits, etc

Wind Cheater and Good trekking shoes

Extra pair of clothes, socks

Cap, Camera as Optional

1 packet of electrol, enerzal, glucon-D




Medications if required for individual

Avoid wearing precious ornaments on an event, if possible

And a haversack or backpack to put all the above things to be carried, so hands are free to help each other while trekking. Sling bags / jholas / trolley bags etc not allowed on the event. Please pack accordingly.




100% amount to be paid in advance to book the trip.
If the booking is cancelled 10 days or before the event date, then 50% of the booking amount will be refunded.
If the booking is cancelled 5 days before the event date then no refunds will be given.
Venue
Bhandardara, Maharashtra
Bhandardara, Maharashtra 422604
GET DIRECTIONS