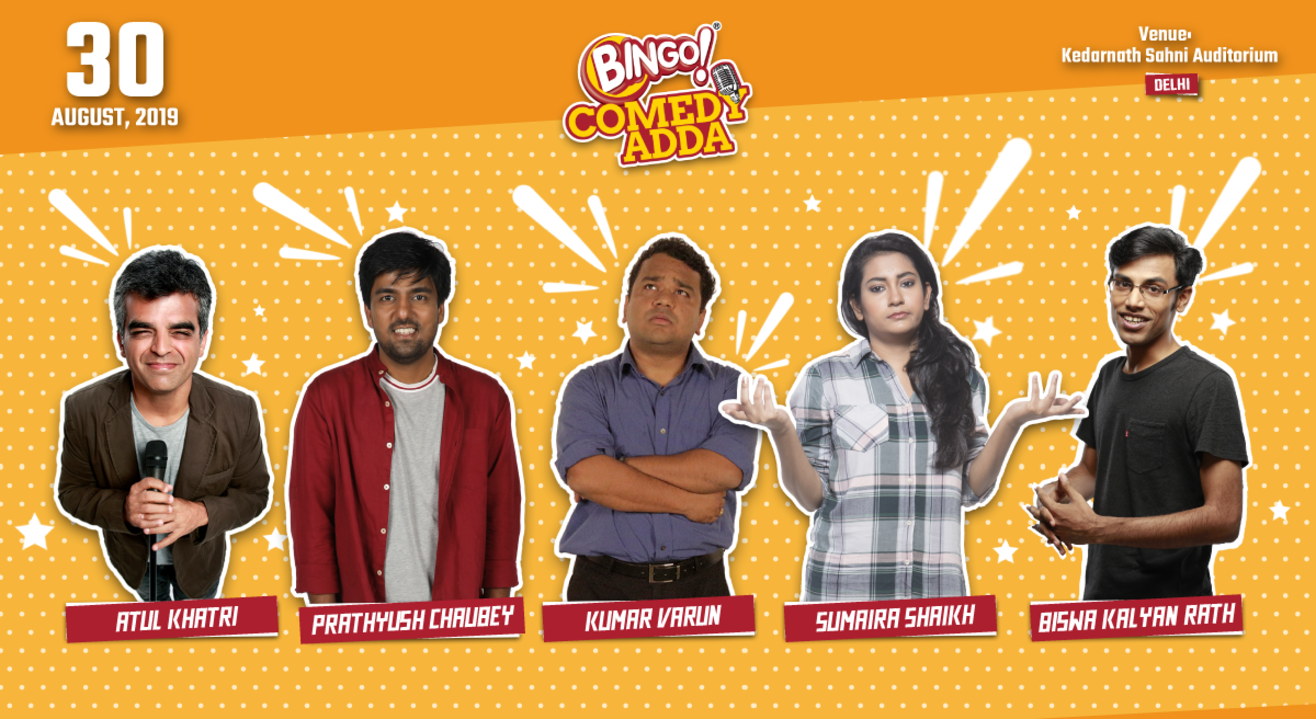 Comedy
Bingo! Comedy Adda, Delhi
Kedarnath Sahni Auditorium
About
Bingo! Comedy Adda, a night with some of India's biggest comedians who come together to guarantee you an evening full of laughter and make you fall off your chair to ROFL.
Artist Lineup
Atul Khatri
Can businessmen be funny? Yes. Meet Atul Khatri, a middle-aged businessman-turned-comedian who now makes a living making people laugh harder than they ever have. A former member of one of the country's leading comedy collectives, East India Comedy, Atul has often been spotted on their YouTube series like EIC Outrage, and specials such as EIC vs Bollywood. Bringing his 40+-year-old perspective with every show, he performs regularly at comedy clubs and does private shows in India and abroad. The comedian has showcased his skills at the prestigious Utrecht International Comedy Festival in the Netherlands and Belgium, and at the 8th Annual Hong Kong International Comedy Festival in 2014. CNN-IBN recently rated him as one of the Top 20 Comedians in India to Watch Out For, post winning the competition CEOs Got Talent..
Pratyush Chaubey
Hailing from a small town of Varanasi, Chaubey Ji's act revolves around his weird experiences, stories of his upbringing, his town and hence his small town insecurities. A software engineer who quit his job for comedy, has been a regular in the comedy scene for 3+ years. With regular appearances at canvas laugh club, Pratyush has performed in more than 100 shows including Corporate, College, Public and Club Gigs. He has been featured on the NDTV Show "The rising Star of Comedy" 3 times.
Sumaira Shaikh
Sumaira Shaikh is a Dongri-bred psychology graduate who gave up being a counsellor and decided to focus all her energies on Stand up comedy and content creation. Along with hitting open mics she has worked with AIB and as a writer on Son of Abish. She then joined Sumukhi Suresh to write Amazon Prime Exclusive- Pushpavalli, HotStar Exclusive- Beauty and the Feast and is currently working on multiple titles with her. She is also script supervisor for Sumukhi's YouTube series Behti Naak. When she isn't writing content or performing she watches wildlife documentaries and takes her mother's fabulous cooking for granted.
Kumar Varun
Kumar Varun is a member of Random Chikibum, a comedy collective with fellow comedian Rahul Subramanian. Self-described as "a group of over-enthusiastic, furniture-loving, animal-agnostic, clingy individuals on a mission to make no sense", they won the Comedy Hunt on YouTube in 2015, and have a popular office-humour series, Random Daftar, as part of Laughter Games on YouTube. Kumar is a popular feature of several AIB sketches, and has recently forayed into stand-up comedy.
Biswa Kalyan Rath
Remember the Pretentious Movie Reviews on YouTube? Good. Now forget them. That was just a warm-up to comic Biswa Kalyan Rath's full comedy prowess. The comedian has moved up a few notches since his YouTube glory days and is using his IIT-Bombay education, along with his knowledge of mathematics, language and life, to make jokes that have never been cracked before. He recently released his comedy special, Biswa Mast Aadmi, to rave reviews, with which he toured every pocket in India. Soon after, he released 'Laakhon Mein Ek', a surprisingly dark web-series on the IIT coaching industry. One of the most-followed comedians in the country, Biswa's angry rant-styled delivery and his unique perspective turns every topic he touches into comedy gold, making audiences crack up instantly. The stand-up comedian, writer, actor, size-zero enthusiast and blogger, has done countless shows across all sorts of venues in the country and has managed to garner 14+ million views on YouTube. Currently, Biswa is part of a panel of judges in Comicstaan, a nine episode series, to mentor and find India's next comic sensation! Need we say more?
Atul Khatri on the Justin Bieber Concert
Biswa Kalyan Rath - Extroverts and Chaos