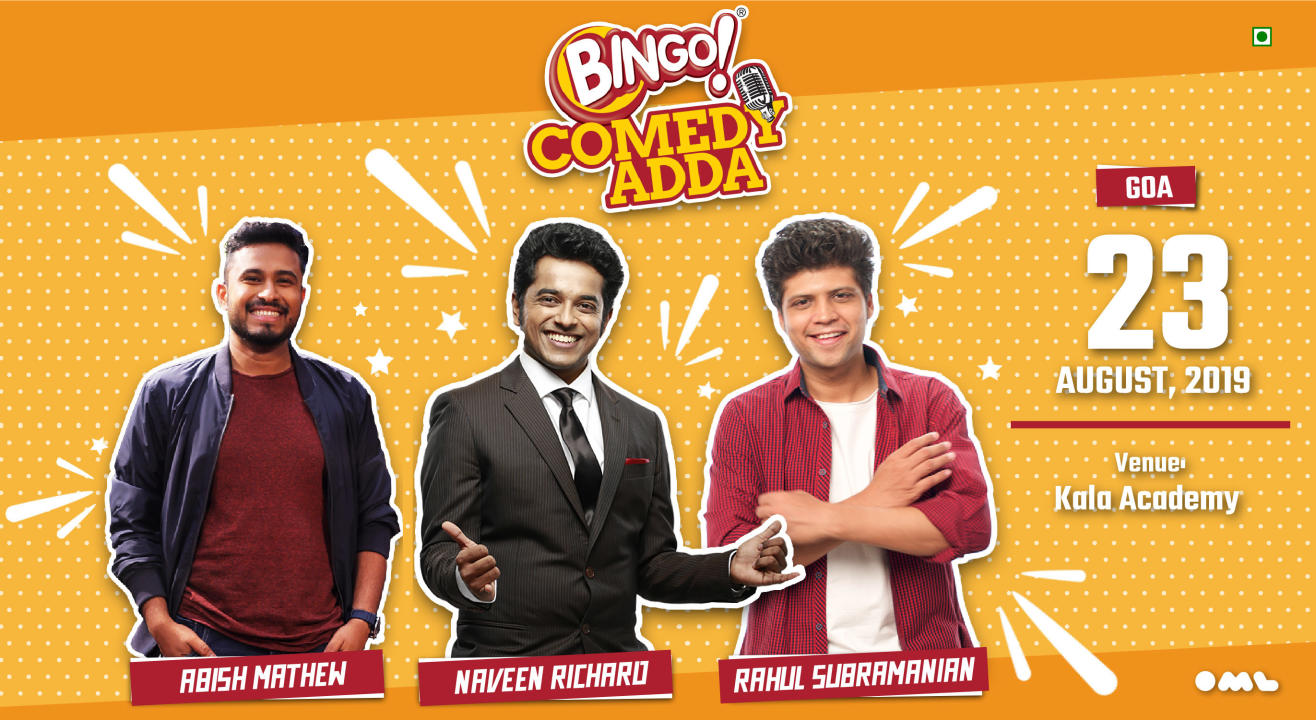 Comedy
About
Bingo! Comedy Adda, a night with some of India's biggest comedians who come together to guarantee you an evening full of laughter and make you fall off your chair to ROFL.
Abish Mathew
He sings, he dances, and when neither are enough, he tells jokes. One of the most recognized faces of Indian comedy, Abish Mathew was one of the first Indian Youtube stars, who has over 30 million views on his channel. These videos include sketches, stand-up, and of course, his hit talk-show, Son of Abish, which has featured stars like AIB, Vishal Dadlani, Kanan Gill, Badshah, Taapsee Pannu, Cyrus Broacha, and Vir Das. Son of Abish is now into its third season and brings with it something different each time! The stand-up comedian has performed 1000+ shows across India and the world, including New York, Canada and the prestigious Utrecht International Comedy Festival (Holland). Abish has created content for brands like Breezer Vivid and Netflix, and his brand of clean humor has won over crowds in clubs, colleges and corporates alike. He made his Bollywood debut in the film Meri Pyaari Bindu in 2017.

Rahul Subramanian
Rahul Subramanian is a brand-manager-turned-comedian who realized a little too late in life that he was too redundant for the corporate world. Since this realization, he has been a regular at all the leading comedy venues in the country, and is currently touring his one hour solo titled Kal Main Udega. If you are someone who enjoys humour with a message then Rahul's comedy is made just for you, only disclaimer being you've to come up with a message of your own as Rahul has none to offer. This Mumbai-based comedian has been performing since 2014, as he broke into the scene by winning stand up competitions like Virgin Pants and Canvas Laugh Club (All India open-mics) and also the first ever YouTube Comedy Hunt (sketch video competition) along with his friend Kumar Varun for their channel Random Chikibum. When he is not doing stand up, or acting in videos by Random Chikibum or All India Bakchod, you will see him pursuing his hobbies which include seeing, waiting, and getting stuck in traffic, all things that help him write better jokes and sketches that make you go "that's happened to me too!"

Naveen Richard
One of India's most versatile comedians, Naveen recently showcased his comic dexterity with released his hour-long comedy special, Don't Make That Face, on Amazon Prime. A member of comedy collective Them Boxer Shorts, they created the acclaimed web series Better Life Foundation. He has also acted in Challenge Accepted (a Comedy Central TV show), Starboyz (a comedy sci-fi web series with Kenny Sebastian) and acts as Uncle Francis, a comedic avatar which has found a cult following.From being a finalist on Comedy Central's Indian Comedy Festival 2012, he's performed over 400 stand-up shows, and headlined comedy events such as Stage42, Bangalore Comedy Festival and Chennai's Fringe Comedy Festival. In 2017, he wrote episodes and played Pankaj for the hilarious web series Pushpavalli. As Uncle Francis would say, "Hello children, just keep calm and just go to his show, da dei!"