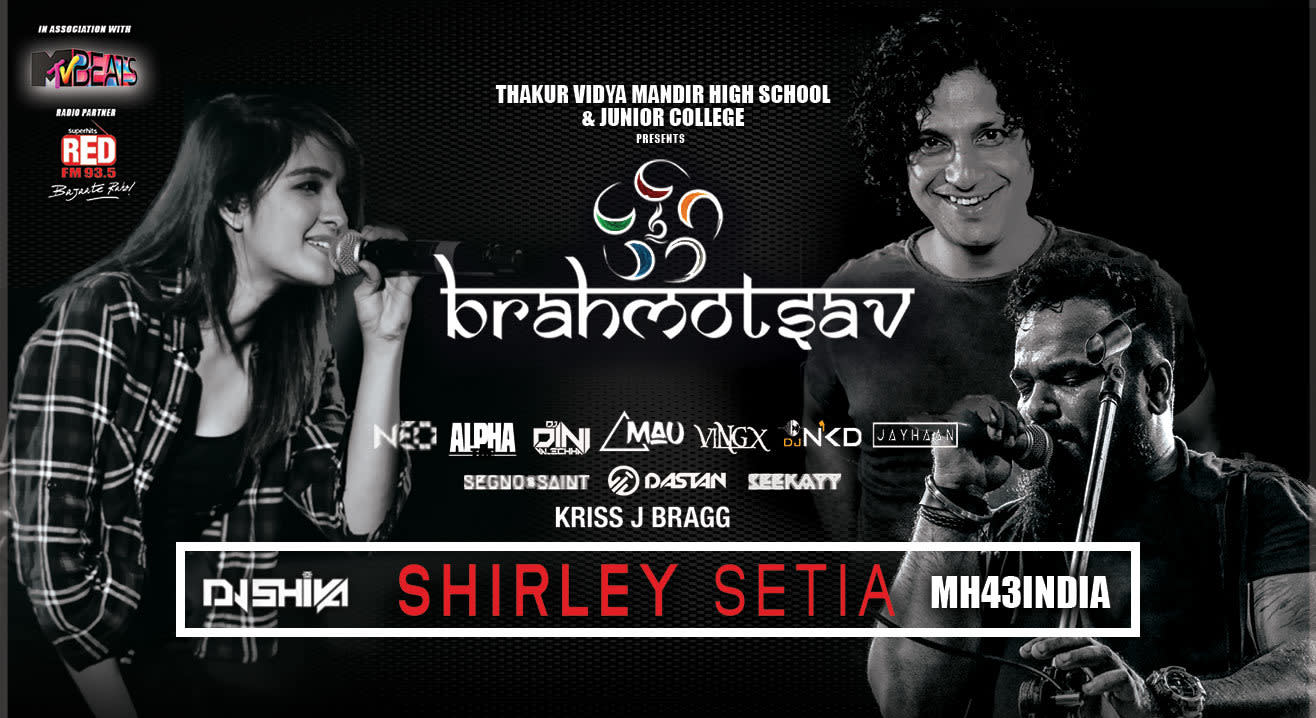 Music
Brahmotsav, 2017
Thakur Vidya Mandir High School & Junior College
About
Hello Mumbai…, hold your heart for a moment because what you are about to learn will certainly make it skip more than a few beats.
For the first time ever, probably the biggest Youtube sensation which India has seen in the past few years – "Shirley Setia", is all geared to give a rocking performance in Mumbai – Thakur Vidya Mandir ( Kandivali ) in associated with MTV beats and Radio 93.5 redfm . Get ready to be blown away by her sheer charm.
Shirley Setia is considered as one of the best upcoming talent in India. She has more than 2.5 Million followers on facebook and more than a million subscribers on You Tube..
The voice which has melted millions of hearts and ruled the internet with an angel face and extremely melodious voice & never before will be heard live in Mumbai (Thakur Vidya Mandir), this is something which everyone was eagerly waiting for .
Not only this we have much more for you , 6 big Dj's Artist to blow your mind.
This is arguably the biggest and most awaited concert of 2017, and it's going to be simply BIGGGGGGG.
Grab Your Ticket soon ……
Featuring Artist
Shirley Setia is considered as one of the best upcoming talent in India. She has more than 2.5 Million followers on facebook and more than a million subscribers on You Tube.
Special Performance
MH43 india is one of the finest band . they have done 200 + commercial shows in past 2 years.
Headliner DJ Artist
DJ Shiva
Venue
Thakur Vidya Mandir High School & Junior College
Thakur Complex, Western Express Highway, Saraf Chaudhary Nagar, Kandivali East, Mumbai, Maharashtra 400101