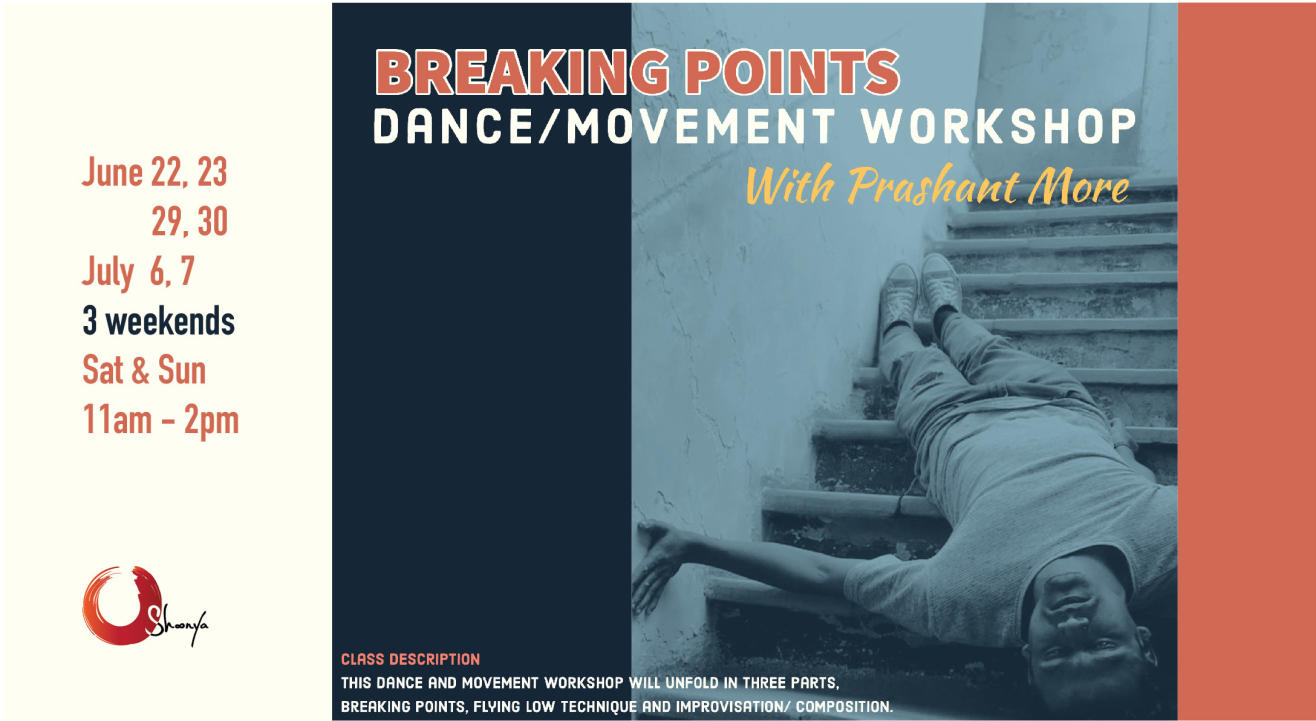 Dance
Breaking Points: Dance/Movement Exploration Workshop with Prashant More
Shoonya - Centre for Art and Somatic Practices, Bangalore
About
Breaking Points: Dance/Movement Exploration Workshop with Prashant More
3 weekends | Saturday & Sunday
June 22, 23 | June 29, 30 | July 6, 7
Time: 11AM - 2PM
Cost: Rs 3000 full | Rs 700 drop-in
Class description:
Prashant will give you an insight of different movement techniques, and methods experienced and developed from his researched movement practice. Primarily the module deals in transformation of movement, by enhancing one's relationship with the floor and the space, in building up deep dance vocabulary. The exercises consist of spatial awareness, body work, floor work and influences from disciplines like yoga and martial arts. Sequences will be inspired from Flying Low, Contemporary technique and Acrobatics. Although very physical, the class will follow a clear structure of never breaking the flow, but systematically guiding one from the beginning to the end.
Structure:
This dance and movement workshop will unfold in three parts: Breaking Points, Flying Low Technique and Improvisation/ Composition.
Breaking Points -
This Physical Movement Practice offers a dancer/mover the opportunity to critically develop a skill-set and physical intelligence by actively deconstructing the current movement vocabulary he/she has, in order to create a risk-based space for exploration leading to an encountering of the next physical challenge that pushes the body to go deep into their own dance language derived consciously through stepping out of one's comfort zone.
Flying low -
This technique focuses mainly on a dancer's relationship with the floor, utilizing simple movement patterns, speed, alertness, awareness with space and other fellow dancers, and spirals which explore cohesion and expansion of the body.
Improvisation/Composition -
In these sessions you will be provided with different frames of work, tasks and methods that include understanding spaces and performance, body control, exchange of weight with partners using contact work among others. This module will invite you to practice and expand your awareness, what your interests are relating to movement or a physical performance, how you make choices and help you navigate your process of creativity and composition.
Although very physical, the class will follow a clear structure never breaking the flow but systematically guiding one from the beginning to the end, maintaining a synergy of one energy that binds all, with a non-judgmental but a friendly approach.
About Prashant More
Prashant More is a performing artist, choreographer and dance teacher based in Bangalore, India. He started his dance career as a B-boying/Hip-hop dancer and also took formal training in Bharatanatyam and Indian folk dance. He graduated in contemporary dance, and worked with Attakkalari's repertory company. Later, he travelled to Europe and other countries for further dance education. He has participated in a Choreographic Intensive course in Amsterdam, an Intensive in Physical Experimental Performances in Berlin, an Interdisciplinary program in Bali, and Flying Low intensives in Berlin and Hong Kong.
Venue
Shoonya - Centre for Art and Somatic Practices, Bangalore
4th Floor, Rear Wing, Brahmananda Court, #37 Lal Bagh Road, Bangalore