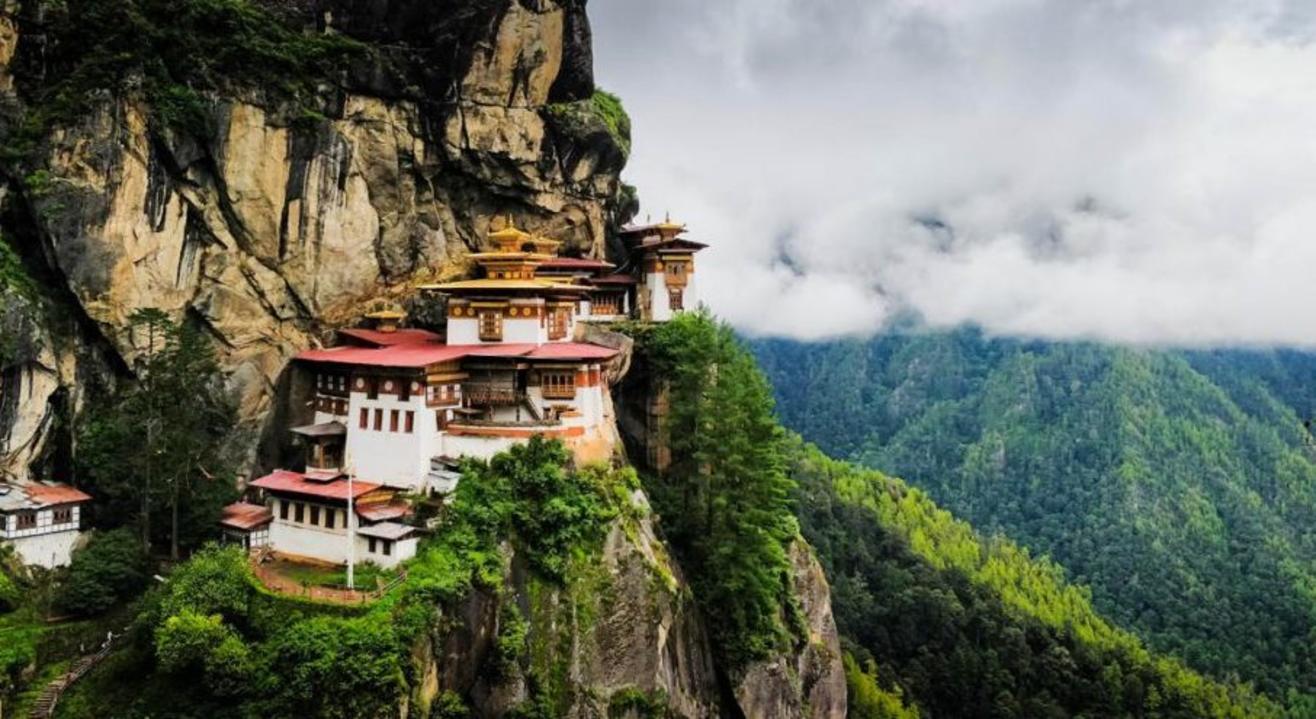 Adventure
Budget Trip To Bhutan | Plan The Unplanned
39,638 - 41,999 (*inclusive of taxes)
About
"The Land Of the Thunder Dragon" – as it is rightly called, Bhutan is a little Himalayan hamlet that has gained the title to be the "Happiest Country". And you shall feel the vibes of happiness all around you – as soon as you'll entire Bhutan. With lofty Himalayan mountains, gusty rivulets crossing the valleys, the aroma of Momos and Datshi in the air, colourful prayer flags and huge Dzongs – Bhutan can never fail to mesmerize the visitors.
This 7 days road trip through the towns and countrysides of Bhutan will let to see the country's diverse sides, visit the numerous old forts and hike up to one of the highest monasteries in the world – and you shall return back home, a lot happier!
This would probably be the best budget trip to Bhutan that you can ever wish for, and we promise to unveil the hidden gems of the land for you.
Day 0/ 24th Feb: Reach Phuntsholing
Make sure you reach Bagdogra Airport before 12 PM. The trip will start the next day at Phuentsholing – Immigration Office – 9:00 am, 24th Feb 2019.
Overnight stay at the hotel in Phuentsholing. (Self Sponsored)
---
Day 1/ 25th Feb: Begin at Phuentsholing, stop at Chuzom and Checkin at Thimphu
Phuntsholing, the second largest town in Bhutan is where your adventure with us begins. We personally think of this town as the gateway to travel to heaven because every travellerler stops here to enter this beautiful country. The clean air, greenery, and mountains serve as the first glimpse of your travel destination.
We begin by completing all immigration formalities and baggage checks and then set off on our journey to Thimphu. En-route we will stop at Chhuzom which is the confluence point of the Thimpu and Paro river. "Chhu" means river and "zom" means to join and the Bhutanese consider it as the confluence of the mother and father river.
The sight of clear blue waters combining while 3 different styles of "stupas" or shrines overlook the river is a pleasurable start to the day.
As we arrive at Thimphu, you will check-in to the hotel, freshen up after all that travel and get ready for an evening walk.
As evening comes, we stroll through Thimphu Main street and the market area. As you walk around the city, you'll notice that it comprises of a mix of modern and ancient tradition, making it special in its own way. We'll stay the night at Thimpu with eager anticipation of the adventures that tomorrow holds.
---
Day 2/ 26th Feb: Thimphu/Hike to Tango Goemba.

Today we travel towards the northern end of Thimphu valley to reach Tango Monastery.
The hike up to the Monastery follows a zig-zag trail through forests filled with oak and pine trees. Keep a look out for the magnificent rhododendron flower trees as well which will be in full bloom during the spring season.
The Tango Monastery built in 1689, is presently the center for higher studies for monks and offers breathtaking views of the surrounding regions and is guaranteed to help you find your inner peace.
In the latter half of the day, we shall take a tour of the capital city, Thimphu, visiting the Buddha Point that has the largest Buddha statue in the country followed by Tashicho Dzong and The National Memorial Chorten.
We'll also take a tour of the local markets and 'craft bazaars' where craftsmen and artisans from across the country display and sell their handicrafts.
This is a perfect place to get yourself some souvenirs such as wooden masks, thangkas, silverware, jewelry, and bamboo crafts.
Overnight stay at Thimphu.
---
Day 3/ 27th Feb: Dochula Pass, Lobesa Village, and Punakha Dzong
After a good breakfast, we will move ahead on our journey by driving to Punakha through the Dochula Pass. Look out the window and witness perfect panoramic views of the Himalayan mountain ranges that will take your breath away.
Perched at an elevation of 3,100 meters, the Dochula Pass is a mountain pass that is surrounded by the snow-capped Himalayan mountains. Dochula Pass holds within it 108 memorial chortens or stupas and is also home to a monastery called the Druk Wangyal Lhakhang (temple).
Next Stop: Lobesa Village. What's so special about this village is that it holds within it the Chimi Lhakhang Monastery also known as the Divine Madman's Monastery. This monastery is famously known as the fertility shrine and women pilgrims come here seeking blessings to beget children.
We will then head to what is considered to be the most beautiful Dzongs amongst Bhutan's 21 Dzongs ) – Punakha Dzong.
The Punakha Dzong is strategically located at the confluence of the Mo Chu and Pho Chu Rivers and is one of the most majestic structures of Bhutan. In springtime, the lilac-colored jacaranda trees that encompass the dzong make it a place of true scenic beauty.
We will stay overnight at Punakha.
---
Day 4/ 28th Feb: Punakha Sightseeing
After breakfast, we will go on a short hike to the Khamsum Yulley Namgyal Chorten, which is a fine example of Bhutanese architecture and artistic traditions and stands out on a beautiful ridge above the Punakha valley.
This temple has been dedicated for the well being of the kingdom, its people and all sentient beings and offers a beautiful view of the Punakha Valley.
Once here, you have the option to raft back on the Mo Chhu River (On the spot reservation).
The latter half of the day will be spent visiting the Sangchchen Dorji Lhuendrup Nunnery which is a large temple complex located on a ridge amidst pine trees and offers one much opportunity to explore.
Overnight stay at Punakha
---
Day 5/ 1st Mar: Gangtey Valley
Our next stop is the Phobjikha or Gangtey valley. From the small hilltop overlooking Gangtey Goemba, we will head downhill through flower meadows to Semchubara village and from here through beautiful forests and into the open valley.
The trail ends with a community school and a 15th-century Buddhist temple called Khewa Lhakhang which features three two-story statues of the past, present and future Buddhas.
In the valley, we will visit the Gangteng Monastery. During winter, black-necked cranes visit central Bhutan to roost, circling the monastery three times on arrival and repeating the same when returning to Tibet.
We will stay the night at this culturally rich valley.
---
Day 6/ 2nd Mar: Paro Valley
Apart from it being home to the sole international airport in Bhutan, Paro Airport, Paro is a historic town with about 155 temples and monasteries. Rinpung Dzong a fortress-monastery overlooking the valley houses within it a collection of sacred masks and costumes. The national museum, Ta Dzong, is also set in Paro. Hence, Paro preserves the rich cultural traditions of the country.
---
Day 7/ 3rd Mar: Trek to Taktsang Monastery, the Tiger's Nest
The last day of our wonderful Bhutanese backpacking trip starts with an early morning excursion to the most breathtaking spot in Bhutan. The Taktsang Monastery or the Tiger's Nest perched majestically on a cliff which is 2,950m above sea level, defies all engineering logic.
Feel the adrenaline rush and take a two-hour hike up to the cliff or a pony ride, which can be arranged at an additional cost. We will also visit one of the oldest temples in Bhutan called Kyichu Lhakhang and interact with the locals at a farmhouse. The evening will be spent exploring the outskirts of the town of Paro together.
After a long and satisfying last day, we will spend our last night in Paro.
Day 8/ 4th Mar: Journey onwards
Wake up, get ready and grab some breakfast before we depart to Phuntsholinga and make our way back home.
Experience a soul-satisfying trek up to a rustic monastery perched on the edge of a cliff. Feel alive as you witness the traditional song and dance of Bhutan's biggest cultural festival.
Let nature's brilliance astound you as you see two magnificent rivers converge into one. Admire the countless heritage spots that make Bhutan famous for its unique culture.
Whether you love photography, want to embark on an exciting new trek or are drawn towards places that boast of rich cultural diversity, the beauty of Bhutan is bound to mesmerize you with a perfect blend of scenic landscapes, majestic monasteries, and terrific trek locales.
If it isn't already, a trip to Bhutan must be on your travel bucket list. What better way than through Plan The Unplanned – Sign Up for our early bird special offer!
Overnight stay at Bagdogara ( Self Sponsored )
Accommodation in Rooms (Twin/Triple Sharing Basis) (25th Feb -3rd Mar)
Breakfast
Transportation pick/drop and local sightseeing
Guide Charges, Tigers Nest Hike Permit
Permits to enter Bhutan
Pick and drop is from Phuentsholing and to Phuentsholing only
Monuments fee
Beverage (Drinks)
Lunch and Dinner on all days
Travel from Bagdogara to Phuentsholing and Phuentsholing to Bagdogara
Anything not included in the inclusions above
We request you to kindly carry the following. It's better to be prepared rather than not prepared.
Passport along with 2 xerox copy
5 passport size photo
Rucksack (Just stuff your things in!)
Small Back Pack(20-30 ltr)
2 water bottle – 1 litre each (Hydration is much needed.)
Torch/Headlamp (It'll be really dark at night.)
Portable charger (You might just want to keep your phone aside, but then, selfies toh banta hai!)
Deodorant (You shouldn't stink!)
Energy Food ( Chocolate bars, Electrolyte drinks – Glucon-D, etc ) (You can carry some extra – we don't mind to share!)
Raincoat / Bag cover (Of course, you don't want your rucksack to get all wet!)
Flip-flops (Just to laze around.)
First Aid Kit (along with personal medicine as per your requirement)
Toilet kit
Towel (Oh! We believe in saving water.)
OPTIONAL: AUX CABLE, UNO, BLUETOOTH SPEAKER, GUITAR/ANY MUSIC INSTRUMENT, or any other games.
10000/- INR (Booking Fee) is not refundable.
If you have paid the total amount before 25th Jan 2019 and cancel for any reasons, then there would be a 50% refund
If you cancel the plan after 25th Jan 2019 – No Refund.
Min number of travelers required for the event to happen is 5. Plan The Unplanned would be not responsible for any flight cancellation charges/any other cost.
It is mandatory to reach Bagdogra on/by 24th Feb 2019 before 12 PM.
You need to carry the Original Passport and 5 Passport size Photographs. Make sure your passport has a validity of min 6 months.
Personal expenses are to be borne by you.
Travel Insurance isn't required for your trip to Bhutan.
Currencies of INR 10, 20, 50, 100, and 500 can only be used! 2000 INR notes will not work in Bhutan. You can also exchange currency while in the country.
Alternatively, one can take a Bus from Siliguri to Phuentsholing. The timing of the bus is 2 PM and it would cost about INR 150- 250/person.
If anyone is taking a flight directly to Paro, transport can be arranged at an additional cost. You should inform us about your timing and plan so that we can arrange everything accordingly.
You can check the cancellation policy by clicking on the cancellation tab.
You may book your return ticket for 5th Mar 2018.