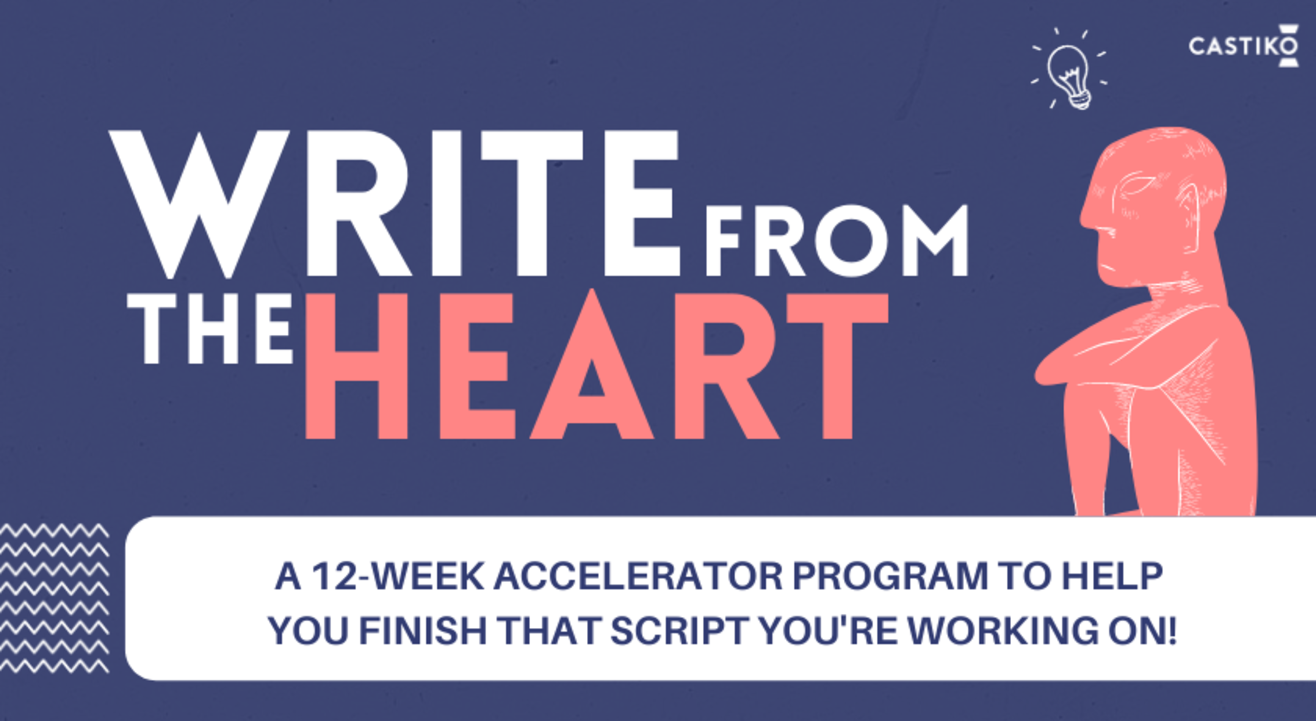 Castiko's Writing Accelerator - Write from the Heart!
July 10 | 3PM - September 25 | 6PM
Enjoy this event from your home
Event Guide
For Age(s)
Family Friendly
Masterclass
Learn from an expert
Invite your friends
and enjoy a shared experience
Event Guide
For Age(s)
Family Friendly
Masterclass
Learn from an expert
Invite your friends
and enjoy a shared experience
About the Event
Good writing has two key ingredients: heart and clarity.
If you're reading this, you probably already have heart.
Through this workshop, we'll work on the latter – clarity. Here's how.
Through weekly, mentored sessions, we will go through your new pages and give careful, considered, constructive feedback. We will guide you towards your goal of completing your script by finding the right resources, inspirations, and methods that work for you.
But most of all, we'll dig deep and help you find your unique artistic voice. We'll ask some questions repeatedly – why is this story so important to you? Why must it be told? Why must you be the one to tell it? Week by week, we'll get you closer to answering these questions, and help you get those words on the page.
We'll do this by listening. It's not rocket science, but it's really hard. Listening with care, listening with an open mind, and listening with the singular goal of helping you with your writing. We could have just made a lecture series with a set syllabus and talking points and writing conventions, rules, structures, devices and tricks... That would be easy. But it would be pointless. Until we sift through the chaff and find what you as a writer are really trying to say, none of that will help.
So we'll do it the right way. By listening.
Get Clarity
Life has become noisy, and noise is what stands between your heart and the page. In these weekly sessions, we'll create a noise-less, focused artistic space for you to dive deep into your thinking and writing. We'll spend hours discussing what you're developing, why you're developing it, and help you achieve what you want to achieve as a writer.
In our sessions, there will be no shortcuts. Writing is one of the hardest jobs in the world, and we will accept that to be so. No 5-step program will help you write your best work. There are countless YouTube videos you can watch, lectures you can attend, books you can read - but in this mentor's humble opinion, they only serve to confuse you.
We are all already storytellers. We can naturally make something as mundane as a trip to the market sound riveting when we tell it our way. We all know good drama when we see it. This workshop is not about that. This workshop is aimed at helping you get to the heart of the matter: you. Beyond the techniques and tarkeebs, there is an artistic voice that needs to nurtured, encouraged and developed. That's what we will work on: we'll help you find the story only you can tell. And then help you tell it your way.
Get a Deadline
Too often, self-driven projects often tend to lose momentum because, let's face it, no one is waiting for you to finish it. And that's dangerous – because what you really want to write gets pushed further and further back, until a time comes when the inspiration itself has faded. It's important to create deadlines and pressure for creativity to flow.
We'll do just that for you. Every single week, you'll have to bring new, original writing to class, and share it with me and your classmates. Step by step, over 12 weeks, we'll help you write, edit and polish your work. The eventual aim is to have a completed script by the end of it.
Find a Tribe
Writing is a lonely job. One of the key benefits of this workshop is that you'll join a tribe of like-minded, soulful writers who are all there for the same reason. As a mentor-facilitator with a decade's worth of experience, it will be my job to create the environment for you to create lasting connections with other writers. This safe group – this Tribe – is yours for life. You'll join the Write from the Heart community of writers, so that feedback, help and advice can continue beyond the 12 weeks as well.
Culmination
The final day of our workshop will be an all-day script reading marathon, where all your completed works will be read out, critiqued and appreciated. This will also be the launch of your Write From The Heart community, where you can then get help to embark on the next stage of the writing journey - the pitch!
Some Details
Groups available for ages 13 and above.
Once you register, you'll be placed in a group that's right for you.
Each group will have a maximum of 8 participants.
3-hour sessions every Saturday for 12 weeks.
Hindi and English writing only.
Film and theatre scriptwriting only.
Register only if you have some ideas that you want to develop into full scripts, or if you're already working on something you need help finishing!
Drop a message at 8454096250 if you have any questions.
About The Mentor
Shiv Tandan is an award-winning playwright and screenwriter. As a writer, his salient works include:
The Good, the Bad and the Sholay (Checkpoint Theatre, Singapore). Sholay was selected as one of the top 50 plays in 50 years of Singapore theatre, was published, and nominated for 4 national awards including Production of the Year and Best Original Script.
The Next Stage (Google Labs, Australia and Griffin Theatre Company, Sydney), a trans-media storytelling project that traversed film, theatre, social media and activism.
A Fistful of Rupees (independent) adjudged second in the International Sultan Padamsee Playwriting Awards and featured at the Tata LitLive! Mumbai Literature Festival, 2018 and at the Singapore Writers Festival. The play has now toured 15 venues across 4 cities.
A Systems Engineering graduate from the National University of Singapore, Shiv is passionate about education and mentorship. He has thousands of hours of direct teaching and facilitation experience across film, theatre, photography and creative writing. He learnt the art of creative mentorship under the tutelage of Huzir Sulaiman and Claire Wong, at Checkpoint Theatre, Singapore. He is also the co-creator Clicking Together, a Davis Projects for Peace project, and is currently Head Writer of an education themed web-series with Dice Media (Pocket Aces). He is looking forward to creating an encouraging, dynamic learning and writing environment through this workshop.
Visit www.shivtandan.com for more on Shiv.