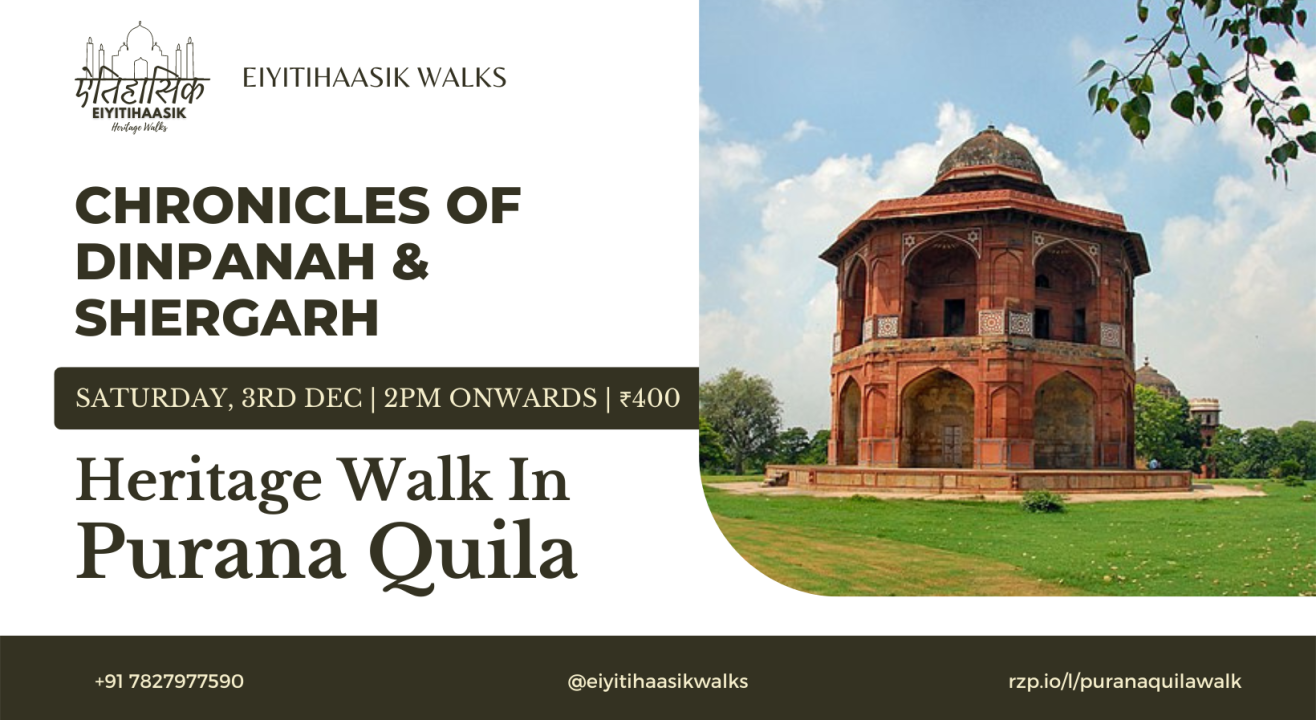 Chronicles of Dinpanah & Shergarh | Heritage Walk in Purana Quila
Step out and enjoy this event
Event Guide
For Age(s)
Family Friendly
Getaways
Enjoy the outdoors
Invite your friends
and enjoy a shared experience
Chronicles of Dinpanah & Shergarh | Heritage Walk in Purana Quila
Step out and enjoy this event
Event Guide
For Age(s)
Family Friendly
Getaways
Enjoy the outdoors
Invite your friends
and enjoy a shared experience
Event Guide
For Age(s)
Family Friendly
Getaways
Enjoy the outdoors
Covid 19 Safety Measures
This event adheres to the following

Health & safety measures
Invite your friends
and enjoy a shared experience
Covid 19 Safety Measures
This event adheres to the following

Health & safety measures
Chronicles of Dinpanah & Shergarh | Heritage Walk in Purana Quila
About the event:
We will be covering Purana Quila on Saturday, the 3rd of December evening. Purana Quila is one of the oldest forts in Delhi. It is often referred to as Shergarh or Sher Fort after the Sher Shah Suri began its construction. It is said to be inhabited for the past 2,500 years, and excavations at the site show evidence of materials belonging to the pre-Mauryan era. The fort is said to be built at the site of Indraprastha, which according to the Mahabharata, was the capital of the kingdom of the Pandavas. This 1.5 km long site of construction is known to have three gateways – Bada Darwaza, Humayun Darwaza, and the Talaqqi Darwaza. All of the gates are double-story and comprise huge semi-circular bastions flanking either of their sides. We will cover each monument & dynasty in detail.
Monuments will be covered:
- Khair-ul Manzil Mosque
- Bada Darwaza
- Talaqqi Darwaza
- Humayun Darwaza
- Sher Mandal
- Qila-e-kuhna Mosque
- Hammam Khana
- Remains at the site.
Venue & Details:
Date & Time - Saturday, 3rd December | 2 PM - 5PM
Walk Duration - Approx. 3 Hours
Language - Hindi
Meeting point - Purana Quila Ticket Counter
Google Maps Location: https://goo.gl/maps/chv9qTEc3FL585fcA
Walk leader - Bonny Kusari
Charges:
₹400/PAX(Monument Tickets Included)
Students up to 18 years old are free from charge.
Essentials:
Do wear comfortable footwear. We don't want that you hurt your feet. Please take water bottles with you.
Best way to reach:
Please reach out at the meeting point by 1:45 PM. The nearest metro station is Khan Market(Violet Line). Take an auto from the metro station towards National Zoo, and you will be at the destination. Public buses and cabs are also an option. Purana Quila has an Adequate Parking space near the Zoo for those in their vehicles.
For any assistance and query(will be there at the walk)
Yuvraj Kadam - +91-7827977590(WhatsApp/Call)
eiyitihaasikwalks@gmail.com
https://www.instagram.com/eiyitihaasikwalks
https://www.facebook.com/eiyitihaasikwalks
Cancellation & Refund Policy:
-If you cancel at least 2 days prior to the day of the walk/event, there is no cancellation fee.
-If you cancel between 24 hours prior to the walk, there is a 50% cancellation fee.
- If you're cancelling due to medical reasons or any unforeseen circumstances then 100% payment will be refunded or can be adjusted in the next walk/event.
- Kindly inform us beforehand if you will be accompanied by your kid(s) on the walk. There is no registration fee for students below the age of 18 years.
Purana Qila
Mathura Rd, Near Delhi Zoo, Pragati Maidan, New Delhi, Delhi 110003, India
GET DIRECTIONS
Chronicles of Dinpanah & Shergarh | Heritage Walk in Purana Quila
Step out and enjoy this event
Event Guide
For Age(s)
Family Friendly
Getaways
Enjoy the outdoors
Invite your friends
and enjoy a shared experience