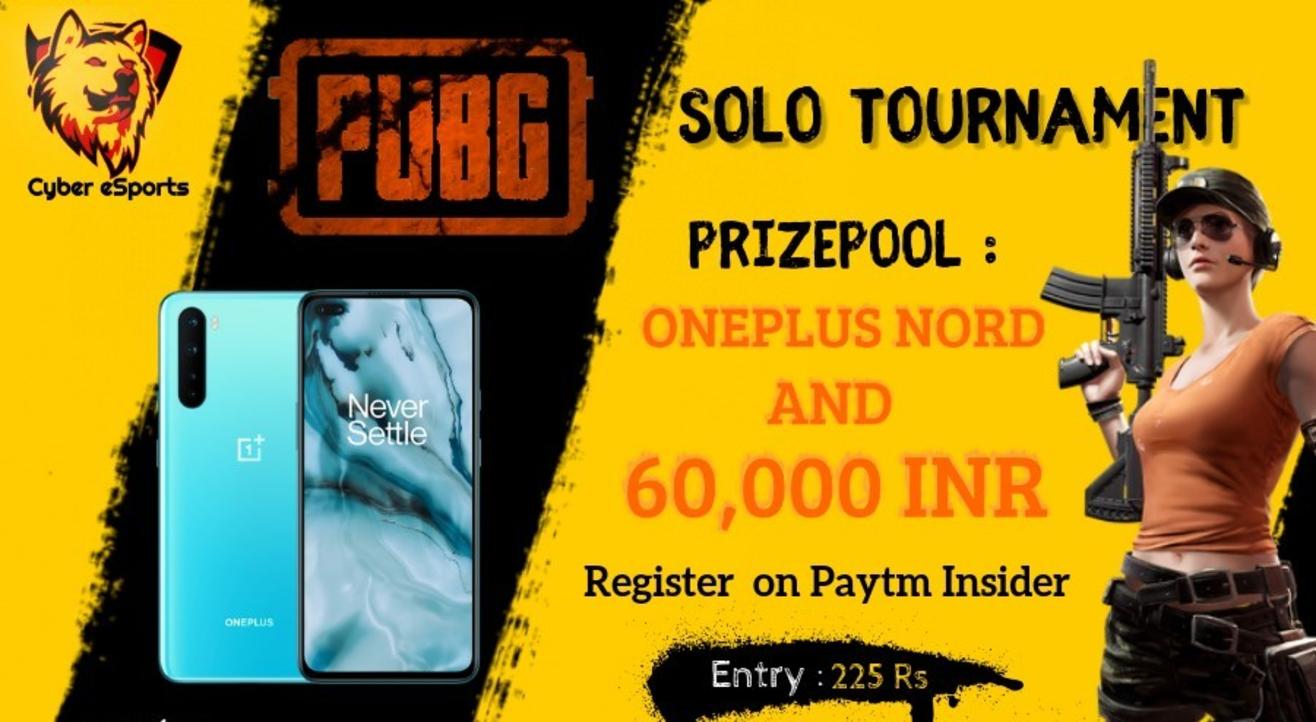 Cyber eSPORTS PUBG SOLO TOURNAMENT
October 4 | 12:30PM onwards
Invite your friends
and enjoy a shared experience
Invite your friends
and enjoy a shared experience
About the Event
Expert in PUBG? Want to make some cash out of it??
PRICE POOL AND DISTRIBUTION
SOLO TOURNAMENT:
1st prize- New Oneplus NORD
2nd prize- 15000 INR
3rd prize- 7000 INR
4th prize- 3500 INR
5th prize- 2000 INR
6th - 10th prize – 1500 INR
11th-20th prize – 1000 INR
21th-30th prize – 700 INR
31th-40th prize – 500 INR
41th-50th prize – 300 INR
Per Kill Prize - 20 Rs Per Kill [ Only In Final 3 Matches]


MATCH FORMAT AND ROAD MAP
(PLAY FROM HOME CONTEST)
⁌━•━•━•━•━•━•━•━•━•━•━•━•━•━•━•━•━•━•━⁍
SOLO TOURNAMENT:
Qualifiers(1 match) > Quarter Final(1 match) > Semi-Final(2 matches) > Grand Final(3 matches)
IN QUALIFIERS:
Top 50% from each match of qualifiers will be promoted to Quarter Final.
Map : Erangel
IN QUARTER FINAL:
Roughly top 40% from each match of quarter final will be promoted to Semi Final.
Map : Erangel
IN SEMI FINAL:
Each player will get 2 matches to get select in Grand Final.
Map : Erangel
IN GRAND FINAL:
Each player will play 3 matches. Rank will be according to points table with kill points and position points.
Map : Erangel, Miramar, Vikendi
TIME SLOTS WILL BE GIVEN TO YOU FEW DAYS BEFORE THE EVENT ACCORDING TO YOUR SLOT.
HOW TO REGISTER
STEP 1 : CLICK BUY NOW BUTTON AND FILL THE DETAILS.
STEP 2 : COMPLETE THE PURCHASE.
ALL SET YOU'VE SUCCESSFULLY REGISTERED FOR THE TOURNAMENT.
IF STILL ANY DOUBTS YOU HAVE, FEEL FREE TO REACH US OUT.
CONTACT
ALL COMMUNICATION MUST BE OVER WHATS APP AND DISCORD SERVER
CYBER E-SPORTS - 8623859521
CYBER E-SPORTS- 9403621116
INSTAGRAM = @gaming_csl
FACEBOOK = Cyber Esports
RULES
AGE REQUIREMENTS 13+
TIMINGS OF MATCHES WILL BE AVAILABLE FEW DAYS BEFORE THE MATCH
TEAM CAPTAINS RESPONSIBLE TO REGISTER HIS TEAM ON OUR DISCORD SERVER OR OVER WHAT'S APP
ALL TEAM MATES MUST BE JOINED OUR SERVER AND INFORMED US OVER DISCORD SERVER OR OVER WHAT'S APP
HACKER'S ARE NOT ALLOWED IF ANY PLAYER CAUGHT DOING IT'LL BE KICKED OUT FROM TOURNAMENT
NO EMULATORS
ALL THE MAPS MUST BE DOWNLOADED
ONE'S TICKETS BOUGHT IT'LL NOT BE REFUNDED
PRIZE MONEY MUST BE CLAIMED OVER REGISTERED WHAT'S APP NUMBER
PRIZE MONEY WILL BE GIVEN IMMEDIATELY AFTER RESULTS DECLARED
IF REGISTRATION ARE NOT ENOUGH THEN PRIZE MONEY COULD BE CHANGE.
FOR MORE INFO CONTACT US