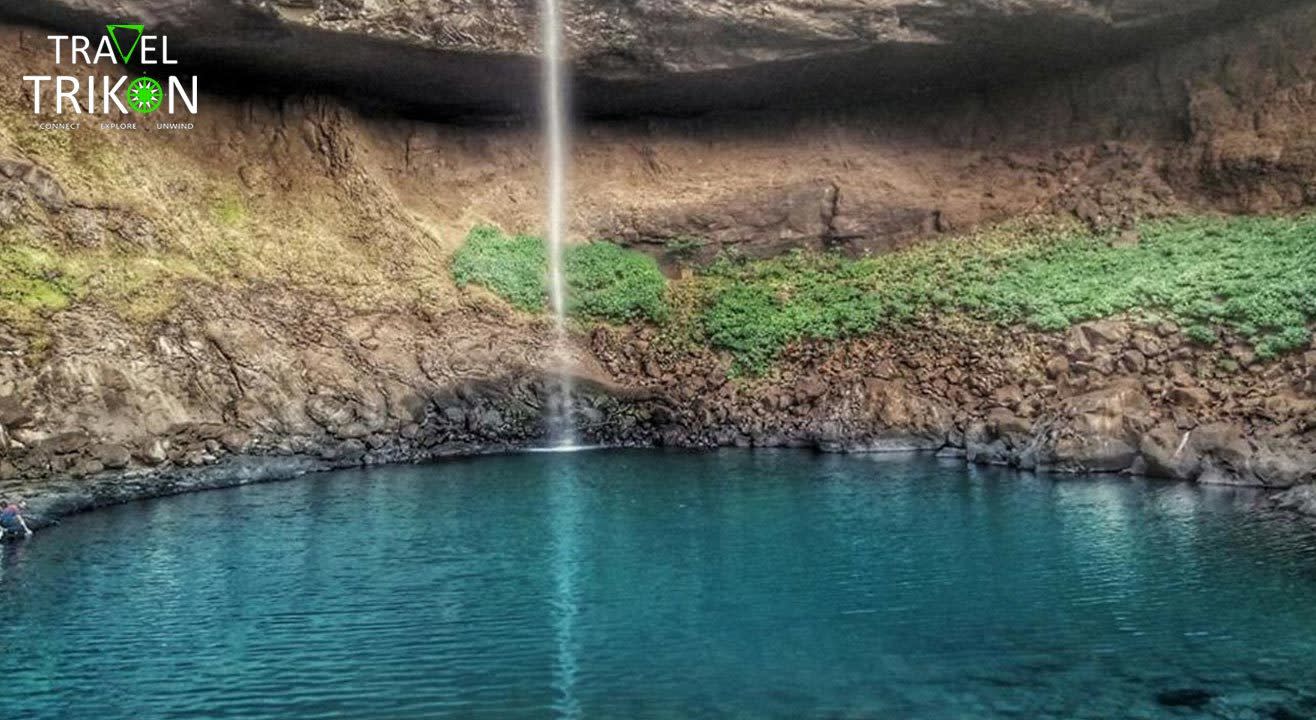 Trek
Devkund Waterfalls Trek - Unveiling a Hidden Secret
About
Your hunt for a secluded and away from the chaotic ambience ends at Devkund Waterfalls Trek. Here's a chance to visit one of the most unexplored and unheard waterfalls in Maharashtra. The destination next that keeps the monsoon bliss on is none other than the Devkund Falls. Dense, beautiful and filled with various shades of green, Devkund Waterfalls is a home to many unexplored species of wilderness.
As you trek along the paths, you'll get a thrilling experience of embarking on unmapped trails pushing behind all the hurdles and bushes that come your way. A sight to behold would be the moment you reach the Waterfalls!!! Relish! Jump! Splash and Play!!!
Magnificent Waterfalls
Play around the natural pool formed under the waterfalls
Crossing over the famous Tamhini Ghat
Clear bluish green water body

Dense trails filled with flora and fauna Fun-filled and exhilarating trekking experience
05:50 am: Meet Travel Trikon at Kotak Mahindra Atm near Pritam Hotel Dadar (E)
06:20 am: Pickup Point : K star Mall , Chembur East
07:00 am: Pickup Point : Vashi Below Main Bridge
07:20 am: Pickup Point : Hotel 3 Star, Kharghar
07:25 am: Leave for Bhira
09:00 am: Breakfast at Pali
10:00 am: Reach the base village
10:15 am: Post introduction commence the trek
12:30 pm: Reach the waterfall and spend quality time amidst the nature
01:00 pm: Have lunch
02:00 pm: Start trekking back to the base village
04:00 pm: Evening snacks (poha or vada pao) and tea at the base village
05:00 pm: Start return journey
08:30 pm: Reach Mumbai Tentatively
Transport by Private Non Ac Bus
Food: Breakfast & Evening Snacks
Trikon Trekking Expertise Charges
Any personal expenses such as soft drinks etc.
Lunch
If cancellation done prior to 10 days of outing 75% will be refunded.
If done prior to 5 days of outing 50% will be refunded
After that no refund will be provided.

Transfer of booking to another event will be permitted where feasible and will be at the discretion of the management and participant consent.
If Travel Trikon cancels the event and transfer of the booking amount is done, the full amount will be transferred to the participant.
If the participant cancels a booking and opts for transfer of the booking to any other event, only the refund amount (as per applicable policy), will be transferred to the new event.
In case participant cancels the booking of an event where transfer of booking is done, the participant will be refunded the amount as per applicable cancellation policy.
In case of cancellation of any event due to reasons beyond control (like Natural calamities, riots, political uncertainty, public transport failure etc.), refund shall be payable with respect to the given refund norms.
Venue
Pritam Hotel, Dadar
Dharamputra, Survey No. 32, Pritam Estate, Dadar T. T, Mumbai, Maharashtra 400014