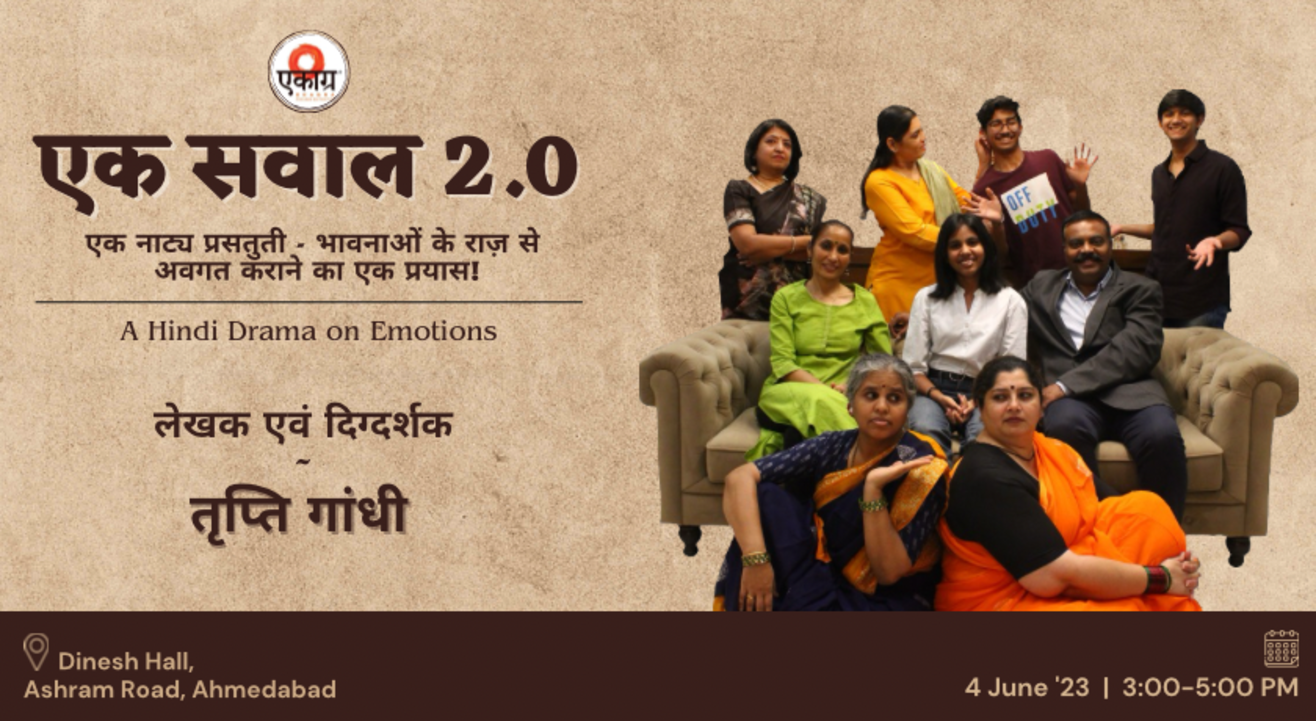 Ek Sawaal 2.0- A Hindi Drama on Emotions
Dinesh Hall - THE TEXTILE ASSOCIATION (INDIA), Ahmedabad
Event Guide
For Age(s)
Family Friendly
Invite your friends
and enjoy a shared experience
Ek Sawaal 2.0- A Hindi Drama on Emotions
Dinesh Hall - THE TEXTILE ASSOCIATION (INDIA), Ahmedabad
Event Guide
For Age(s)
Family Friendly
Invite your friends
and enjoy a shared experience
Event Guide
For Age(s)
Family Friendly
Invite your friends
and enjoy a shared experience
Our thoughts rule our lives and we should we mindful around them! Almost all of us have been or are in or will be in Emotional Crisis at some point in our lives. We are sad, angry, disgusted, happy and what not. Do they end up doing good to us or are bad for us?
EKAGRA has an interesting and a dramatic way to answer that for you. Come witness the creative colours and dive deep into the most basic yet key aspect in our lives, EMOTIONS!
Ek Sawaal 2.0
Objective: Stories are powerful means to influence teach and inspire. While connecting people with ideas, it conveys culture, values, history and now is a language to unite people and convey complex ideas.
Ek sawaal 2.0 is also one such no profit no loss awareness initiative to convey importance of emotional literacy in life.
Background: Through this Hindi drama, the Ek Sawaal 2.0 team has taken up a common covid experience of a family and tried to show how they were able to help others in need due to their ability to handle emotions.
Content: Four basic emotions- Happy, Sad, Fear and Anger are going to be reflected on and discussed to find solutions based on the experience. Through this initiative we aspire to create society of happy individuals!
Dinesh Hall - THE TEXTILE ASSOCIATION (INDIA)
Dinesh Hall, Dinesh Hall, Riverfront Rd, Shreyas Colony, Navrangpura, Ahmedabad, Gujarat 380009, India
GET DIRECTIONS
Ek Sawaal 2.0- A Hindi Drama on Emotions
Dinesh Hall - THE TEXTILE ASSOCIATION (INDIA), Ahmedabad
Event Guide
For Age(s)
Family Friendly
Invite your friends
and enjoy a shared experience